Looking Back at the Week in College Football Betting
by Trevor Whenham - 10/29/2012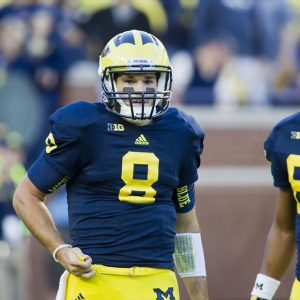 It's time again for our weekly look at the highs and lows of this past week in college football from a betting perspective. There were some real soul-crushing results for bettors this week. Sadly, most of them worked out nicely for sportsbooks.
North Carolina 43, North Carolina State 35
Not only was this a battle for state pride, but the winner would be bowl eligible so the game had added significance. Given that, you would think N.C. State would be determined to win, but the Wolfpack sure didn't come to play for four quarters. At the end of the third quarter they were up 35-25 and in control, but then they took the fourth quarter off. A field goal with 1:24 left tied the game up and overtime seemed inevitable as long as the Wolfpack could kill the clock. North Carolina was a seven-point favorite, so for N.C. State backers there was still hope as long as the game was decided by a field goal. Impossibly, though, they couldn't kill the clock and were forced to punt with 13 seconds left. They didn't bother to cover the kick, and the punt was returned for a touchdown. A two-point conversion seemed unnecessary, but it was enough to cover the spread and crush the majority of bettors who had backed the Wolfpack.
Boston College 20, Maryland 17
Very little has gone right for Maryland this year, and this game continued the trend. Boston College was favored by 2.5 but was down by four late in the game after Maryland scored on a spectacular 66-yard TD pass about halfway through the final stanza. With under a minute left, though, Boston College capped a last-ditch drive with a 14-yard TD pass to not only win the game, but to also cover the spread by a half point. Again, a solid majority of bets were on Maryland, so this was another very good break for the books.
Houston 45, UTEP 35
More than three-quarters of bettors on this game were on Houston at -14.5, and every one of them probably had nightmares last night about the second half of this one. Less than five minutes into the third quarter Houston kicked a field goal to take a dominating 45-7 lead. The game had been as one-sided as the score suggests, and Houston shifted into neutral to coast the rest of the way. Four UTEP touchdowns later it was 45-35, and the Miners had covered the spread. Besides the bizarre finish this game was noteworthy for UTEP for another reason — the Miners had four different guys complete at least two passes, including wide receiver Jim Jones.
Syracuse 37, South Florida 36
With Syracuse this year you really can't assume the game is over until the final whistle. South Florida kicked a field goal with 1:23 left to go up 36-31. Syracuse didn't give up, though. The Orange drove down the field and scored with a one-yard pass with just three seconds on the clock. They failed on the two-point conversion but still won by a single point — and stole the cover as three-point underdogs as well.
Texas A&M 63, Auburn 21
Nothing remarkable happened in this one in terms of late action — the Aggies were favored by 14, covered that less than 10 minutes in, and never looked back. The reason I mention this one, though, is that it seems absolutely impossible that a team just two years removed from a National Championship can be as bad as Auburn. The loss drops them to 1-7, 0-6 in the SEC, and 2-6 ATS. Just plain terrible. The road back from this debacle isn't going to be smooth or short, either. I don't think we've ever seen anything quite like this.
Nebraska 23, Michigan 9
This game featured a lesson for every other team out there — you have to have a Plan B. Michigan was in a tough fight, but in my admittedly biased situation the Wolverines looked like they were going to come out on top. Late in the second quarter, though, QB Denard Robinson went down with a nerve injury in his throwing elbow. He wasn't able to grip the ball, so he couldn't play. At that very moment the chances of Michigan to win the game, and as a result quite possibly their division, crashed to the ground. Redshirt freshman Russell Bellomy played the rest of the way and was so impossibly bad it's beyond description. In 16 pass attempts he completed as many — three — to Nebraska defenders as he did to his own team. It was beyond frustrating for fans, and especially for the many bettors who had taken Michigan +1 and watched helplessly as their money vaporized in the hands of sheer incompetence. No team with serious national aspirations can afford to have a second option this bad — especially when their starter is as fragile as Robinson has proven to be.

Washington 20, Oregon State 17
A late field goal sealed this one for the Huskies. What's interesting about this one, though, is how impossibly difficult the Huskies are to handicap. This was the second Top-10 team they have beaten this year — Stanford was ranked eighth when they lost to the Huskies. That's impressive. Far less impressive, though, is that the Huskies have also lost three different games — including one against unranked Arizona — by 31 or more points. It's all or nothing for this team. That's a nightmare for bettors.
Doc's Sports wants to give you a great offer to try out our expert college football handicappers for free with no obligation, no credit card required and no salesman ever! These are the same college football picks that our clients receive from any of our Advisory Board handicappers and you can get $60 in picks credit in minutes. Click here for more details and to take advantage of this free $60 picks credit today.