Looking Back at the Week in College Football Betting
by Trevor Whenham - 11/6/2012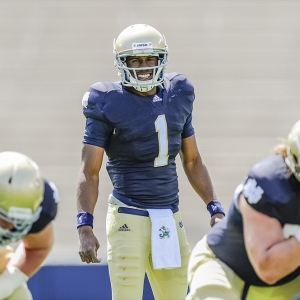 It was another crazy week in college football betting — just like pretty much every week seems to be in some way or another. What makes betting on the sport both so fun and so frustrating is that it finds different and strange way to be unpredictable each week. Here's a look back at the highs and lows of the week in college football betting:
LSU 23, South Carolina 21
This one was a heartbreaking loss for Gamecocks fans who were desperate to become truly relevant for the first time, well, ever. It was also tough on LSU backers. The Tigers had a great fourth quarter, scoring 13 unanswered points to go up 23-14. In the final two minutes, though, South Carolina scored a touchdown to close the gap to two points — and to cover the spread by a single point.
Ohio State 52, Indiana 49
Ohio State was favored by 19 on the road in this one, so needless to say it wasn't supposed to be this close. The craziest part, though, was the total in this one. The number was posted at a reasonably healthy 64 points. They had exceeded that mark by the end of the third quarter, though, and then they added 36 more points in the fourth. I find it extremely hard to believe in an Ohio State team that allows 49 against Indiana. As a Michigan fan that makes me very happy.
Texas A&M 59, Louisiana Tech 57
This one was straight out of a video game. With a few ticks more than two minutes left, Texas A&M scored to open up a 15-point gap — well over the 9.5-point spread they were giving up. Less than 20 seconds later, though, Louisiana Tech scored. A minute later they did it again. Only a missed two-point conversion spared the Aggies from overtime. Three touchdowns in 1:26. Insane.
The State of Florida is out to get us
It seemed like every team from Florida — except for Florida State — had a betting wrinkle or two to throw at us.
Florida 31, Vanderbilt 17
With Florida favored by 9.5, it seemed like Vandy was going to pull off a moral victory when they scored with 2:35 left to close to within a TD. Unfortunately, they forgot to defend the run. Florida uncorked a 70-yard TD run in their next opportunity — just 15 seconds after the Commodores scored — to move up by 14 for good. For those 15 seconds, though, underdog backers felt great.
Middle Tennessee 34, Florida International 30
Florida International scored with one minute left to take the three-point lead thanks to a 30-yard pass. They were one-point home dogs, so it seemed like a win and a cover was theirs. 24 seconds later, though, the Blue Raiders scored their own TD to steal both the win and the cover.
Louisiana Monroe 35, Florida Atlantic 14
New public darlings Louisiana Monroe were totally cruising here after scoring with 11 minutes left to go up 35-7. They did what you would expect — emptied the benches and got ready for next week. Florida Atlantic couldn't really take advantage — until they scored a meaningless TD with just 24 seconds left on a desperation pass play that certainly wasn't designed. Louisiana Monroe was favored by 23.5, so well after everyone had stopped caring about the game the Owls stole the cover.
Central Florida 38, Southern Mississippi 31
The total here was at 52. Thanks to a Southern Miss field goal with just 13 seconds left the game was tied at 24 — still under the total. Under bettors just needed a field goal in overtime and they would be fine. It really didn't happen that way. Three overtime touchdowns crushed the total and left those under bettors weeping.
North Carolina 18, Miami 14
Only two games on the whole week had a higher total than the 71 that was posted here. This one clearly didn't turn out how oddsmakers expected, though, as the 32 points scored was a full 39 under that total.
Big 12 betting nightmare
The Big 12 is known for their explosive, exciting brand of football. In these two games, though, only one team did their part — and bettors were crushed both times.
Texas Tech 49, West Virginia 14
West Virginia's coaching staff tried to blame the wind for the team's offensive problems. I blame their totally inept defense for this one. The Mountaineers were more than ugly in this one. The public jumped all over West Virginia as three-point road favorites in this one — more than 85 percent of bets were on them — so there were a lot of people staring in disbelief and frustration as this one played out.
Oklahoma 63, Texas 21
By now we know two things — Mack Brown really can't coach against Oklahoma, and his defensive overhaul lead by Manny Diaz has been a total disaster. This game wasn't nearly as close as the score suggests since Texas scored twice in the last five minutes after things were totally out of hand. Texas was just a three-point underdog, so they fell short of covering by 39 points. Ouch.