NBA Handicapping: NBA Championship Contenders Each Have Fatal Flaw
by Trevor Whenham - 4/18/2012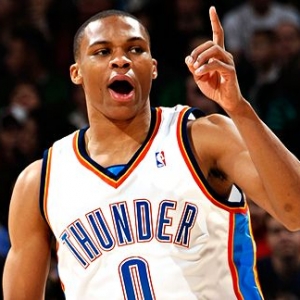 With the NBA playoffs just around the corner you can look for teams like Indiana, Boston, Atlanta, and Memphis to make things interesting. But there are six teams that are pretty clearly above the rest of the league and I'd personally be very surprised if it wasn't one of the six teams on this list that ultimately win it all.
Each of these six contenders is very talented. Each team has a big flaw, though, and those flaws are more significant for some teams than others. Here's a look at the biggest flaws of the six most likely NBA Championship winners, according to the NBA odds:

Chicago Bulls
This one doesn't take a rocket scientist to figure out — their biggest weakness is the health of Derrick Rose. Rose, the reigning MVP, is the best point guard in the league. When he is at the helm of this team they are the best in the league. They aren't a terrible team without him by any means — their win percentage in his absence is still the fourth best in the league. Without him, though, they are not a championship team. They can win a round or two, but when they meet an elite squad they are in trouble. The story is the same from a betting perspective. With Rose they are a very profitable team on the season. Without him they are just a break-even proposition.
So, can Rose stay healthy? It's not a safe bet at this point. He is a very physical player, and a target for tough fouls from opponents. He hasn't dealt with a recurring injury this year — good news — but he has faced a long list of issues. At times he has been out because of his toe, back, ankle, or groin. Any one of those, especially the groin or back, could be a problem again, or something new could pop up at any time. If Rose played at full strength from now until the finals I believe the Bulls would win. I just don't believe that will happen, though.
Miami Heat
You could make a case their that their biggest issues are ego and questionable toughness, but that wouldn't be nice. Dwyane Wade's health is a concern, too. The biggest problem they have right now, though, is their inconsistency in shooting from outside. Mario Chalmers has forgotten how to shoot, Mike Miller is old and fragile, and no one else is stepping up.
If the team isn't potent from the outside then opposing defenses can collapse on Wade and Lebron James. That puts tremendous pressure on those two, and the team is not at their best when those two face all that pressure. James is already facing enough pressure this year heading into the playoffs without that problem.
Oklahoma City Thunder
The Thunder need to get back on track in a hurry; they are just 5-5 in April, and have looked flat and largely unimpressive. A slump is inevitable at some point for every team, though.
What's more of a concern for this squad is Russell Westbrook. The point guard isn't all bad in that he scores a lot of points. That probably doesn't make up for his shortcomings, though. He's among the league leaders in turnovers, and his assist production has fallen off a cliff this year. He has a whole lot of talent around him, but he just doesn't produce enough given those tools. The Thunder could win a championship with him, but he could very easily cost them the title as well.
San Antonio Spurs
It seems incredible to me that a team that seemed to easy to write off coming into the season because of age and depth issues has consistently been the most complete, consistent team in the league. It's harder to find a fault here than with the other teams on this list. Despite the fact that Tim Duncan is about to turn 36 and is fully on the decline in his career he still represents the biggest flaw. His minutes are the lowest they have ever been, and he has missed five games because of general physical issues, but his numbers are up from last year, and the team is still much more of a defensive force with him than without him. With Duncan healthy and productive I can see this defensive carrying them all the way. Without him that's much harder to envision. Does the old man have another run in him?
L.A. Lakers
To be honest I'm not entirely sure that this team fits in here. They get their spot because of the respect they get from NBA bettors and because of how dangerous they can be in the playoffs. They have a laundry list of issues, though. Kobe's health could be a concern. His chemistry with his teammates has certainly been better at times, and he is trying to do too much himself. The transition away from the Phil Jackson era has been far from smooth. You can choose any of those as the biggest flaw and I couldn't argue with you.
L.A Clippers
I put the Clippers last on this list because I have the hardest time believing in them. Chris Paul has been brilliant, and makes this team as good as it can be. The biggest problems, though, all come down to Blake Griffin. I don't question his talent at all — he's a beast, and he's productive. He has not been able to build chemistry with Paul like he needs to, though, and seems unwilling or unable to adjust his game to do so. He's a massive liability on the foul line, too, and that's a real concern since he gets there so often. More significantly, as the season has progressed we have seen teams find more and more success from fouling him hard. He seems to get offended by it, and it rattles his game. Griffin has the ability to lead a team to the championship, or the downside to derail a title run.
Doc's Sports is offering $60 worth of member's picks absolutely free – no obligation, no sales people – you don't even have to enter credit card information. You can use this $60 credit any way you please on any of our top NBA handicappers. Click here for more details and take advantage of this free $60 picks credit today.