2012 NBA Draft Prospects: Underrated Players
by Robert Ferringo - 6/11/2012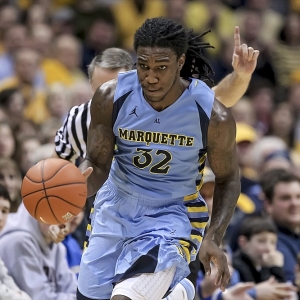 Building a championship team in the NBA isn't just about finding the next superstar.
If you look at the four teams that made the conference finals you will see several guys that weren't expected to amount to much in The League but now find themselves playing key roles for the top title contenders.
Rajon Rondo, Tiago Splitter and Kendrick Perkins were taken late in the first round as almost afterthoughts. Mario Chalmers, Brandon Bass, Danny Green, Stephen Jackson and DeJuan Blair were second-round picks. Udonis Haslem and Gary Neal were undrafted free agents.
There are a host of NBA players that were either underrated or overlooked coming out of the college ranks. Every summer there is quality talent that slips through the cracks in favor of other "sexier" players. And as I look at the 2012 draft class I see a group that is short on top talent and a crop that will likely have an even higher bust rate than normal. That should leave the door open for several unpolished gems to come out of nowhere and steal the thunder from this draft class.
Hereis a look at the most underrated college players in the 2012 NBA Draft:
Marquis Teague
The point guard for the National Champion Kentucky Wildcats is currently listed as the fourth-best point man in the draft. I admit that his game has some flaws. But I think he is better than a couple PGs that may go before him, which makes him a little underrated. Teague has the athleticism and size to develop into an NBA point guard. He has a good handle, he never seemed overwhelmed, and he was the leading minuteman and floor general on the National Champions. He has a lot of potential (and a long way to go) but I think that Teague will end up going later than he probably should.
Royce White
I think that White is one of only a handful of players out of this crop with a chance to be an all star. There is nothing that White can't do. He is a 6-8 guy that really played the point guard position in Iowa State's half court offense. And White led his team in points, rebounds, assists, steals and blocks this year. And that was in the Big 12, not some rinky-dink conference. He has had some off-court issues and apparently a lot of front office folk are turned off by his anxiety disorder. But this guy has a tremendous upside if he can find himself in the right spot. He needs to chisel his body and improve his conditioning. And he just needs a lot of reps on his jumper. But the guy could end up being an absolute steal if he goes in the second round.
Orlando Johnson
Johnson is one of the better all-around players in the draft and has the potential to be a prototype No. 2 guard. He and Andrew Nicholson were probably the best mid-major players in the country, yet they may both slide into the second round. Johnson played his best against the best competition that UC-Santa Barbara played this year, including scoring 26 against San Diego State, 36 against UNLV and 24 against Washington, each of whom had their own NBA prospects. His only weakness is his overall athleticism is mediocre. But the kid can play. And I think he has the potential to turn into a very nice NBA 2.
Kevin Jones
I have not seen Jones projected in the first round in any mock draft this season. However, the guy was a second-team All-American this year and has several skills that are already NBA-caliber. He is an NBA-level defender and rebounder and he is just a smart, crafty player. Jones doesn't have elite athleticism, which limits his overall potential. But he has the potential to be a very strong bench player (or a random starter on a really bad team) for the next decade.
Jae Crowder
If Crowder were smart he would throw on some pads and make the transition to NFL tight end, where he would be the next Antonio Gates. Instead, he will be a second-round pick with some potential. You can't measure heart. And if guys like Harrison Barnes or Terrence Jones had half the heart of Crowder they would be the top picks. Crowder defends with intensity, is an excellent passer and decision-maker, and he can score from all over the court. But at 6-5 he's undersized at the No. 3 spot. But if he catches on in the right rotation he could turn out to be a great energy guy off the bench.
Marcus Denmon
Denmon doesn't have elite NBA size, and some people question whether or not he can create his own shot in the NBA. And I, personally, question his overall court vision. But he is also a very tough, smart, hard-working guard that I think could become a very solid NBA point guard. He is one of the most efficient scorers in the country and he is lethal with pull-up jumpers inside 14 feet the same way someone like Tony Parker has been. Several mocks don't even have him getting drafted. I think that would be ridiculous.
Darius Johnson-Odom
If DJ-O was 6-5 instead of 6-3 then he would be a Top 20 pick. He is an absolute beast and, like Crowder, is all heart. Johnson-Odom is an excellent spot up shooter that can get into the lane and has the athleticism needed to produce on the next level. Johnson-Odom is an NBA-level defender but he does need to work on his passing and point guard skills.
J'Covan Brown
A lot of people are surprised that Brown is taking the next step. I suppose I was for about a minute as well. But he has a son and is trying to get paid. Brown will have a chance to finally run the point in the NBA and I think that his scoring and ball-handling ability translate well to the NBA. I'm not sure if he can defend consistently in The League. But I do know that this guy was a true one-man-gang in one of the best conferences in basketball the last two years. He's more than worth an early second-round flier.
Herb Pope
Pope actually tried to leave for the NBA two years ago. But a heart ailment led to him passing out at pre-draft workouts and it was unsure if he would ever play again. He rebounded with two excellent seasons in the Big East and now Pope could be a low-risk, high-reward second-round pick. He is an exceptional rebounder and has shown an ability to score a variety of ways. Pope has good size and decent athleticism. And a couple extra years in college may have help alleviate some of the concerns about his off-court issues.
Tyshawn Taylor
I know I had serious questions about Taylor coming into last season. But he was a stud in his senior year, nailing nearly 48 percent from the field and over 38 percent from three-point land over the last two years. Taylor has the size (6-3), the lateral quickness, and some nice explosiveness to play in the pros. But the big question is his decision-making. That's not a weakness that you want from a point guard. But Taylor is a guy that has shown growth in Lawrence and really has the potential equal to any of the point guards that are going to go in the Top 20.
Honorable Mention: Draymond Green, Darius Miller, and Drew Gordon