NBA Handicapping: Can Clippers Make Noise in Playoffs?
by Trevor Whenham - 4/12/2012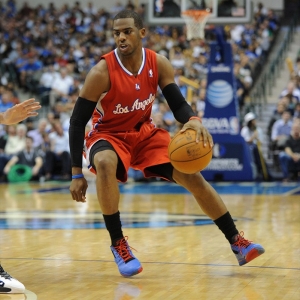 The Los Angeles Clippers were the most hyped team in the NBA heading into the season after winning the Chris Paul lottery. They have been a very tough team to figure out, though, because their season has been like a rollercoaster. For several games in a row they'll play like they are truly an elite team — a true title contender. But then they'll play several games as if they might only be the third best team in California.
The last six weeks are a perfect example of the highs and lows. From the 2nd to the 22nd of March the team went just 5-9, and were an absolutely brutal 4-10 ATS in that time, including an 0-6 ATS stretch at the end. Just when it seemed like it was time to give up on the team, though, they were reborn. Since then they have gone 9-2, and are a nicely profitable 8-3 ATS over that stretch. They capped that stretch off with a nice win on Wednesday night in Oklahoma City.
Put that all together, and from a betting perspective I have a headache. There is nothing more frustrating than a team that is inconsistent, and the Clippers are certainly inconsistent. They are heading to the playoffs for sure, so with the regular season winding down it's a good time to think about where this team is at, and how they might fare going forward:
Chris Paul
Paul came to the Clippers with impossibly high expectations. By most measures he has lived up to them. He is tops in the league in steals, and third in assists. Last year no team gave up more turnovers than the Clippers. This year they are third best in the league, and that impressive turnaround is largely due to Paul. You could make a pretty strong argument for Paul as MVP, though that's not going to happen unless they really impress down the stretch.
It's not all rosy, though. The biggest concern with Paul is the lack of chemistry he has with Blake Griffin. It was the dynamic duo of Paul and Griffin that had people so excited about this team. Paul has not been able to add a new dimension to Griffin's game, though, and since the offense is so dependent on Griffin that limits the impact Paul can have. If the team had a power forward that was a more effective shooter and a bit more versatile then Paul would be all but unstoppable.
Blake Griffin
I'll admit up front that I've never been really high on Griffin — at least compared to what most people seem to think of him. There is one issue that stands out above all as a problem for him: Griffin is 11th in the league in scoring. In terms of clutch-time scoring, though, he only sits in 85th.
He' on the court non-stop in clutch situations, so his productivity just isn't acceptable.
Toughness often develops with maturity, but Griffin just isn't there yet. That's a big issue for a team heading into the playoffs, and it could be the fatal issue for this team this year. Because Griffin isn't as dynamic or dominant late as he needs to be the Clippers become predictable in the closing minutes, and they are vulnerable to the teams and players that are better in tight spots.
Defense
I won't waste too much time here. The issues are simple. This team just isn't very good defensively. It is far worse than their biggest playoff rivals, and as it stands it's probably just not good enough to win a championship. More than other issues the team has there just isn't a quick fix for this one.
The foul line
The foul line performance of this team is just foul.
They sit second last in the league in free throw percentage, and they let opponents get to the line more than all but three teams in the league. That's an ugly combination, and there is no doubt that that alone has cost them games this year. Giving up the fouls is another symptom of their defensive woes — they can't defend well enough without fouling.
When they are at the line themselves the biggest issue is Griffin. Last year he shot an ugly 64 percent from the charity stripe, but that looks stellar compared to the 52 percent he is shooting this year. That would be a problem no matter what, but given that he goes to the line twice as much as anyone else it's a real issue. DeAndre Jordan also shoots at 52 percent. and he also goes to the line a lot.
Nick Young
Young was a very interesting acquisition at the trade deadline. He should be a very good fit for this team. He's a shooting assassin, and the offense with Paul and Griffin generates a lot of opportunities for outside shooters.
The problem so far, though, has been that Young has struggled mightily with his shooting since joining the team — so much so that Randy Foye has claimed the starting spot that Young seemed destined for.
The news here isn't all bad, though. Young is a talented guy. If he can get comfortable and start to thrive in his role on this team then he provides a whole lot of offensive upside for this team — and a defensive nightmare for opponents. If he can find his stride by the time the playoffs start things could get interesting.
Doc's Sports is offering $60 worth of member's picks absolutely free – no obligation, no sales people – you don't even have to enter credit card information. You can use this $60 credit any way you please on any of our top NBA handicappers. Click here for more details and take advantage of this free $60 picks credit today.