NBA Handicapping: Top Rookies Thus Far
by Trevor Whenham - 11/20/2012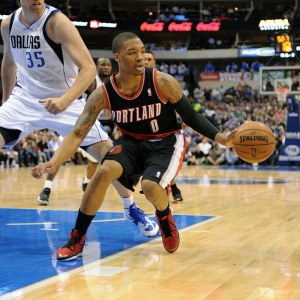 We're only about 10 games into the NBA season, so it is far too soon to judge rookies and the impact they have had on their teams — and the impact they should have on bettors as a result. Just because it's too early, though, doesn't mean we won't do it. Here's a look at the highlights (and one lowlight) of the current crop of NBA rookies so far:

Damian Lillard, PG, Portland
Point guards are supposed to take a while to adjust to the pace and challenges of the NBA. Guys from lesser conferences are supposed to need time to adjust the athleticism of the NBA. Neither seems to apply here. Lillard is scoring a lot of points, and he's running the offense in Portland like an established pro. His assist-to-turnover ratio isn't ideal, but there's time for that. What's most impressive is that Lillard is eating up more than 35 minutes per game — by far the most of any rookie. I'm not sure it will stay this way, but if the Rookie of the Year voting was today then Lillard would be your winner. That's strong value for a sixth overall pick. With a team this young, Lillard is just the type of guy you'd like to have handling the ball.
Anthony Davis, PF, New Orleans
Davis was the clear and obvious top pick in the draft, and there is no question that he is living up to it. The guy is special — a shot-blocking dynamo with some solid offensive spark. He fought a concussion that kept him out of the lineup for a spell, and that's perhaps the only thing keeping him from the top of the list. New Orleans has the core of their team in place for years to come. Eric Gordon is out of action now, but when he gets back this team could be fun to watch — not particularly good, but fun to watch. The Hornets are an underwhelming 3-5, but a nicely profitable 6-2 ATS — and Davis and his strong start is a big part of the reason for that.
Michael Kidd-Gilchrist, SF, Charlotte
Last year the Bobcats were historically bad, and it seemed like they would always be that way. There was no reason for hope. With the second pick in the draft they chose Kidd-Gilchrist, though, and he's a big part of the reason why they are 5-4 — the most shocking record in the NBA right now. He's the youngest player in the NBA, but he's not playing like it — and he'll obviously get much better as he matures and can handle more minutes. One of the good things is that there will be no shortage of opportunities for him to shine on this team.
Alexey Shved, G, Minnesota — Shved is a 23 year old Russia who has been playing pro in his homeland since 2006. He was signed as a free agent this summer and came over with little fanfare. He's shaping up as a major steal — averaging 10.4 points with a high of 22 points. THings could get a little crowded as the Timberwolves get healthy, but Shved has been playing better than a lot of high draft picks, and should be able to find plenty more playing time as the season progresses.
Andre Drummond, C, Detroit — Drummond has been a major surprise. He seemed like a massive project when he was picked — frankly one that I never really expected to pan out. Early returns are very strong, and he is far ahead of schedule. There are a couple of caveats, though. First, he plays on a truly terrible Detroit team, so his role is going to be different than if he was on a good team. More significantly, he is averaging only 15 minutes per game. He's making the most of that time, but could he maintain it while in a bigger role — and if he was matched up against opposing starters more often? Still, he has been very efficient on a team that really isn't, and that's impressive enough to get attention.
Bradley Beal, SG, Washington — Beal has struggled with consistency so far, but when he has been on his game he's been exceptional. You really can't blame him for his issues — he has no healthy talent around him, and coach Randy Wittman is doing the worst job I have ever seen of managing his rotation to allow guys to get comfortable and build chemistry. It will take a while for the team to be decent, but when they are Beal will be a big part of it.
Terrence Ross, SG, Toronto — Ross, the eighth pick in the draft, has been one of the biggest disappointments of the year so far. He's got mounds of talent and a sweet shot, but none of that has been evident so far. He looks like a guy who is trying way too hard, and is determined to be what he's not. He needs to relax and just let his game come to the surface. As it is he's just wasting time for the raptors.