NBA Playoffs Betting: Biggest Surprises
by Trevor Whenham - 5/9/2012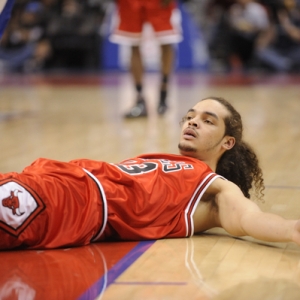 We are well into the first round of these NBA Playoffs. On paper they have gone about like you would expect — the Spurs and Thunder are in the clubhouse after easy series, and Orlando's troubles were fatal. When you look beyond that, though, there have been some real surprises on the court so far. Here are five of the biggest surprises to date in the NBA Playoffs:
The number of injuries
We know that guys are going to get hurt — basketball is a rough game and the playoffs come after a long season. It seems impossible, though, to believe how many key players have gone down so far in these playoffs.
Derrick Rose is the highest-profile name, but far from the only one. The backcourt of the Knicks has been totally decimated thanks to ACL injuries to both Iman Shumpert and Baron Davis. Al Harrington shattered his nose into a million pieces — or so it looked. Caron Butler broke his hand. Joakim Noah has all sorts of issues. Amare Stoudemire showed how stupid he is. The list goes on and on.
Inability of teams to close out series
It's no surprise that a lot of teams have gotten out to strong leads in their series. What is more surprising — and disappointing — is how poorly teams have played when given the chance to close out series.
On Tuesday night all four games could have seen the end of a series, but only one team — the Pacers — closed things out. Two nights earlier the Heat looked terrible against a weakened Knicks team with a sweep waiting for them to claim it.
Indiana, San Antonio and Oklahoma City have looked very good when the series was on the line, but Boston, the Lakers, Philadelphia, and Miami couldn't seal the deal when they had the chance. This is only the first round, so you really don't want to see teams taking missteps like that.
Lack of toughness on the Bulls
The loss of Rose was a massive blow — there is no question about that. While it was definitely a big hit to their playoff chances, though, I honestly expected the Bulls to handle it better. After all, they played so much of the season without their star point guard, and it didn't take someone very imaginative to come up with a scenario in which Rose wasn't available for the entire playoff run.
It's not over yet — Chicago is only down 3-2 as I write, and could easily come back to win the series. Given how much they outclass the Sixers, though, it has been very disappointing to see them struggle. It's not just that they have lost — they have lost three games quite badly, and they have looked confused and disinterested as they have done so.
Their offense has been weak, but that's not that surprising without Rose, and with a banged up Noah. What has been far more disappointing, though, is how the team has faltered defensively. Their intensity has been noticeably absent with the exception of the Game 5 Chicago win. Given that their defensive strength is a huge part of their success this has been a big concern — and calls into question their character even if they do come back to win this series.
Weakness of Dallas
It was clear that the Mavericks weren't the same team that they were last year at this time and that a repeat championship was unlikely. What was disappointing, though, was just how bad they were.
Drawing Oklahoma City was a bad break, but Dallas responded by scarcely putting up a fight. The games weren't as close as the scores would indicate, and Oklahoma City barely got warmed up for what should be a deep playoff run.
Most concerning, though, was how Dallas acted after each loss — they didn't really look like it bothered them. Mark Cuban knew he had changes to make after a bad offseason last year, and with an aging roster, but it became clear in these playoffs just how massive the task ahead of him is. They need to strip this thing down to the studs and rebuild that house.
The ex-Wizards
There have been some seriously impressive performances by good players taking steps forward in their career. James Harden really comes to mind so far. At the top of the list, though, have to be the two guys that Washington gave up on at the trade deadline — Nick Young and JaVale McGee. Both play for teams now that have really needed them to step up, and both guys have really done so.
Young has been battling a thumb injury, but has still shot well when called upon, and was a key offensive piece in the first two games for the Clippers. McGee has been absolutely massive in the two games Denver has won, averaging 18.5 points and 14.5 rebounds. Both guys came with a whole lot of baggage to go with their obvious talent, and the results were mixed in the tail end of the regular season, but both guys have shown glimpses of bright futures in these playoffs.