NBA Predictions Thursday TNT: Bulls at Knicks Betting Picks
by Alan Matthews - 2/1/2012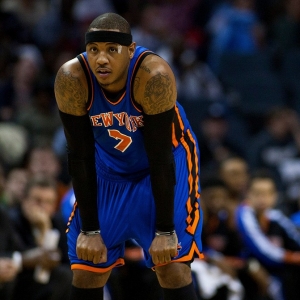 OK, I learned yet another lesson last week: Never bet on a team that has a disgruntled superstar looking for a new destination.
I previewed last Thursday's TNT opener between the Boston Celtics and the Orlando Magic, and I figured that Orlando would show up big-time at home against the C's after being thoroughly embarrassed in Boston a few nights before. I expected a double-digit Orlando victory.
And things looked great considering the Magic had a freaking 27-point lead at one point. Yet the team collapsed and not only didn't cover but lost, 91-83. And entering Wednesday's game against Washington, the Magic haven't won since. They are pretty clearly turning into what the Nuggets were last year before they traded Carmelo Anthony. Lesson learned.
Anyway, speaking of Carmelo, this week I will look at Anthony's Knicks, who also are struggling, hosting the Bulls in the TNT doubleheader opener. It's the first meeting between the two this season. Bovada offers live betting on the game.
Bulls at Knicks How the Teams Enter
Chicago could be a bit winded as the Bulls, who are in the middle of a season-high nine-game road trip, will be playing the second of a back-to-back (at a tough 76ers squad on Wednesday) and their fourth game in five days. Chicago put up a gallant effort on Sunday in Miami, falling in the final seconds despite not having its second-best player, Luol Deng, and key backup guard C.J. Watson. Derrick Rose took full blame for that Heat loss after missing two late free throws and another shot, and he took it out on Washington and John Wall on Monday night with 35 points.
The Knicks, meanwhile, have been one of the NBA's biggest disappointments. New York had lost three in a row and nine of 10 but was able to beat up on the terrible Detroit Pistons on Tuesday night, 113-86. Anthony returned from missing two games and had 25 points on 9-for-14 shooting. Melo also had said he would share the ball more, and he did vs. Detroit with six assists. It was his best game by far since injuring his wrist – he hadn't shot anywhere near 50 percent from the field since that injury (also had a sore ankle). In his previous six games, Anthony had made just 40 of 126 shots.
Bulls at Knicks Betting Story Lines
Clearly, Anthony will play now, but the Knicks might have another injury question: Amare Stoudemire. He turned his ankle before the second-half warm-up Tuesday when he tripped on a rope used during the halftime entertainment. He played through it, so he should be good to go. But this game starts a back-to-back-to-back for New York, so I wouldn't be shocked if he sat. Even Anthony wouldn't commit to playing all three games. But I find it hard to believe either would miss this national TV game against an Eastern superpower. Point guard Baron Davis still isn't ready to make his season debut for New York – maybe next week.
The Bulls, meanwhile, won't have big offseason acquisition Richard Hamilton for this game and probably for a few weeks. Hamilton, a shooting guard, played Sunday against the Heat but said he felt like he was on one leg due to a groin and thigh injury. He hasn't played since and the team says he won't until he's fully recovered. Hamilton has missed 12 games and played in 11. When he tried to play Jan. 4 in Detroit, he missed the next eight games.
Deng, the team's best perimeter defender and who would guard Anthony, missed his sixth straight game Wednesday night with a torn ligament in his left wrist. It's the same problem that Kobe Bryant has, although Deng's is in his non-shooting hand. Doctors have told Deng he won't make it worse by playing, and Coach Tom Thibodeau said it's possible Deng could play in this game.
The Knicks gave the Bulls some trouble last year, winning two of three. Oddly, the one loss came in the one game they played Chicago with Anthony: 103-90 at MSG in the penultimate game of last regular season. Stoudemire didn't play in that game, however.
Bulls at Knicks Betting Odds and Key Trends
The books will wait on this line with so many injury questions surrounding big names. Plus, you have the Bulls playing a tough one on Wednesday in Philly. Still, presuming no big-name Bull gets hurt against the Sixers, I project Chicago to be about a 2.5-point favorite with the total around 181.
The Knicks are 6-15 ATS overall this season and 2-8 ATS at home. The Bulls are (all Chicago trends entering Wednesday's game) 14-9 ATS overall and 9-4 ATS on road. 'Over/under' records: CHI 10-12-1, NY 6-15.
The Bulls are 9-1 ATS in past 10 Thursday games. The Knicks are 1-4 ATS in past five vs. teams with a winning record. They are 2-8 ATS in past 10 playing on one day of rest. The under is 3-1-1 in Chicago's past five in the second of a back-to-back. The under is 4-0 in the Knicks' past four vs. teams with a winning record. The favorite has covered in five of the past seven meetings.
NBA Predictions: Bulls at Knicks Betting Picks
Frankly, I don't care what the line is considering the Knicks have the fewest home ATS wins in the NBA and the Bulls (entering Wednesday) have the most road ATS wins. Plus, six of New York's eight wins overall are against bottom-feeders Detroit (two), Charlotte (two), Sacramento and Washington. The only team currently with a winning record that New York has beaten is the Sixers (the Knicks beat Boston as well, but C's are 10-10 entering Wednesday).
Definitely wait until all the injuries are sorted out, but barring anything crazy take Chicago and the 'under'.
Doc's Sports has shown profit for NBA handicapping in 22 of 34 nights to start the NBA season and we will have a 5-Unit NBA Game of the Week on Friday. We are on a 7-0-1 run for NBA picks rated 5-Units or higher. You can get this top play and our entire Friday card for just $29. Click Here to purchase,