NHL Handicapping: Any Value in Washington Capitals Moving Forward?
by Trevor Whenham - 2/10/2012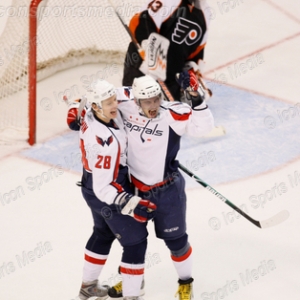 The Washington Capitals have been the biggest disappointment in the NHL this year. They were the favorites to win the Stanley Cup before the season and many people, including me, thought that this was finally their year.
A combination of factors, though — lackadaisical play, injuries, a coaching change, terrible road play, and so on — has conspired to turn a very promising season into an underwhelming one.
As of a couple of days ago they weren`t even in the playoffs. They would be in if the postseason started today, but only barely.
The Caps are a very public team, so their struggles have been very hard on the wallets of those who bet on them. The question going forward, then, is whether their struggles are something that could pass, or if this is really what we can expect from this team the rest of the way.
Getting that right could be profitable, but guessing wrong could be very costly.
Here`s a look at six factors that will determine what happens with this team going forward:

Alexander Ovechkin
You can't talk about this team without talking about the star attraction. With the exception of Sidney Crosby, Ovechkin is the most talented player on the planet.
There is no question, though, that something isn't right with him.
His offensive production has fallen in each of his last four years, and last year he had just 32 goals in 79 games — a ridiculous waste of his talent. He hasn't been the same player since the Vancouver Olympics, but it's hard to know how much his struggles there — he failed to lead his team into the medal round despite huge expectations — have led to his struggles beyond.
This year his attitude has been lousy, he is just coming off a silly suspension, he pulled himself out of the All-Star Game, and he's just a shell of himself.
Nicklas Backstrom has missed a month with a concussion, but Ovechkin still hasn't passed him to become scoring leader for the team. He has the game to be the best player on the planet, but he's not even the best player on his team right now.
If that changes then this team will be fine. As long as Ovechkin continues to drift along like he has been, though, the team is in real trouble. It's not just that he isn't adding to the team, but his struggles are a massive distraction for the team.
Tomas Vokoun
One of the reasons I was so optimistic about this team heading into the season was the acquisition of Vokoun. He's one of the best goalies in the league, and the nets was where this squad badly needed an upgrade.
Vokoun has not been awful, but he hasn't been nearly as consistent as he needs to be, and he hasn't stolen a lot of games — something top-level goalies need to be.
There are signs of strong progress — he has two shutouts in his last three starts. Even that has a flip side, though — in the game between the shutouts he allowed three goals to Boston and did not look sharp.
Vokoun isn't the biggest reason for the issues, but he certainly isn't helping things.
The division
This is the first bit of good news right now. The Capitals don`t have as many points as the eighth-place team in the Eastern Conference right now, but they would make the playoffs, albeit narrowly, because they are in first place by a single point in the incredibly lousy Southeast Division over the Panthers.
Florida is short on talent, and Winnipeg and Tampa Bay are struggling, so it is very likely that Washington will not only make the playoffs but will host at least one playoff round as a division winner.
Teams with far less talent have gotten hot at the right time after squeaking into the playoffs.
Alexander Semin
Semin isn`t the player that Ovechkin or Backstrom are, but he has the skills to come close. He has been absolutely terrible for much of this year, though — especially early on.
It`s a positive sign, though, that his productivity has increased significantly of late and he is playing closer to his potential. His emergence is crucial given the other challenges the team has faced.
Coaching
The Capitals made a bold move late in November when they fired former Coach of the Year Bruce Boudreau. Boudreau was only unemployed for two days before taking over in Anaheim. The transition there was rough, but he has them playing the best hockey they have played in a couple of years now.
To replace Boudreau they brought in former Capitals star Dale Hunter. He had been enjoying a lot of success as the coach and owner of the London Knights in the OHL, but it`s a big step from junior hockey to the NHL.
The transition hasn`t been a disaster, and there have been some bright spots — the team is playing better defensively, for example — but Hunter certainly hasn`t been able to grab this team and turn them around like he was expected to.
The rumors are that Boudreau was forced out in large part because Ovechkin wasn`t happy playing for him. Judging by performance, then, Hunter hasn`t been a dramatic improvement on that front. It goes beyond the star, too — the offensive production has been lousy under Hunter, and several players seem not to fit the mold that Hunter is looking for.
I believe Hunter can be a successful NHL coach, but he has a long way to go before he can be called even a moderate success in Washington. He is not a reason to be optimistic about this team going forward in the short-term.
Injuries
Injuries are a massive problem for this team. Backstrom and Mike Green are, at the very least, two of the five most important players on this team. Backstrom hasn`t played since Jan. 3, and with a concussion the future is uncertain for him as we have unfortunately learned recently. Green has only played 10 games this year, and the sports hernia he is struggling with is proving to be a serious issue.
Overcoming losses like these would be tough even if the team was in great shape. Given the struggles of the team elsewhere, though, this is too much for the team to overcome.