NHL Hockey Weekly Props Specials and Predictions
by Alan Matthews - 2/9/2012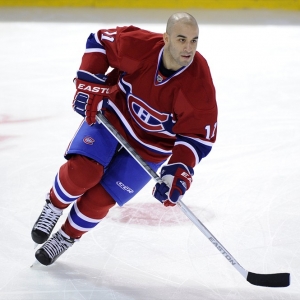 Remember when Scott Gomez was considered one of the best players in the NHL?
The Alaskan center was one of the best two-way players in the league and was a huge part of two Stanley Cup champion New Jersey Devils teams in the early 2000s. His career season was in 2005-06 with New Jersey when Gomez put up career-highs in points with 84, goals with 33 and power-play goals with nine. After a solid 13 goals and 47 assists the next season, he was lured to the rival and rebuilding New York Rangers for a seven-year deal worth $51.5 million.
After a decent first season with the Blueshirts, Gomez slipped to 58 points, then his lowest in six years, and New York was desperate to trade the underachiever with the cap-killing $8 million salary (that year). And the Rangers found a partner (sucker?) in the Montreal Canadiens on July 1, 2009.
I bring this up because Gomez had his worst season as a pro last year with the Habs, putting up just seven goals, 31 assists and a career-worst minus-15 rating in 80 games. But those are great numbers compared to what Gomez has this year: zero goals, seven assists in 24 games for Montreal (he's missed 30 games with torn lat and groin muscles). Gomez is making $7.5 million this season, $5.5 million in 2012-13 and $4.5 million in 2013-14.
Gomez has become a bit of a lightning rod in Montreal with the Canadiens near the bottom of the Eastern Conference. And Bovada has offered a prop on when Gomez will score his first goal of the year. Sunday marked the one-year anniversary of Gomez's most recent goal, beating Rangers goalie Martin Biron 59 games and 122 shots ago at the time (Gomez then played in Tuesday's win over Pittsburgh but didn't have a shot).
They love their hockey in Montreal. A few bars in town are offering a free round to customers when Gomez next scores. Some fans serenaded him Sunday with "Happy Birthday" during the Canadiens' 3-0 win over Winnipeg – Gomez nearly did score in that one.
So when will he light the lamp? The odds get longer in nearly each game going forward for the Habs. Gomez is at 10/1 to score Thursday night at the Islanders, 11/1 to score Saturday at Toronto or Monday at home vs. Carolina, 12/1 to score next Wednesday against Boston and so on. The one I like? The Habs host Gomez's former Devils next Sunday on national TV in the final game of the season between the two teams. That pays 13/1, and how fitting would it be for Gomez?
Here are a few other weekly NHL specials from Bovada and a comment/prediction on each:
--Will Sidney Crosby play an NHL game in February? 'No': -200, 'Yes': +150.
This feels like stealing – I will be stunned if the Penguins' superstar plays again this season – certainly he won't return this month. Crosby practiced Monday with the Penguins but said he is no closer to returning from a concussion and neck injury that have sidelined him for most of the season. All Crosby did was skate, as he is nowhere near ready for even minimal contact. By the way, if Crosby retires he is set to get a $20 million pay day, thanks to a permanent disability insurance contract he purchased several years ago. Huge no here!
--Will Ilya Kovalchuk get into another NHL fight during the 2011-12 regular season? No: -600. Yes: +400.
Kovalchuk, the Devils' leading goal-scorer and not exactly a physical player, stunned his teammates and the Philadelphia Flyers on Saturday when he dropped the gloves against Flyers young center Brayden Schenn and landed a haymaker. The fight started after Kovalchuk saw the Flyers' Zac Rinaldo land a cheap shot and bring down Devils linemate Zach Parise. Kovalchuk immediately went after Rinaldo and the pileup began, where Kovalchuk wound up paired with Schenn. Kovalchuk's punch ended the scrum and was the talk of the locker room.
"That's a 10, for sure," said teammate Eric Boulton, who knows a thing or two about fighting. "It can't get any better than that."
Kovalchuk had a goal and two assists against Philadelphia, meaning the fight gave him his first-ever Gordie Howe hat trick. It was only the inth fight of Kovalchuk's 10-year career. But I might take yes here. The video was a highlight staple and surely something the Flyers will remember. New Jersey and Philly play a home-and-home on March 11 and 13. Watch for something then.
--Will the Vancouver Canucks trade Cory Schneider during the 2011-12 regular season? No: -300, Yes: +200
The NHL's trade deadline is fast approaching: Feb. 27. And one of the most interesting players to watch is Schneider, who is technically the backup goalie to Roberto Luongo. Entering Thursday's game at Minnesota, however, Schneider is 11-5 in 20 games with a 2.28 goals-against average, .928 save percentage and two shutouts. Luongo, in 37 games, is 22-10-5/2.40/.920/2. Luongo was a Vezina finalist last year but memorably melted down a few times in the playoffs, especially in the Stanley Cup Finals loss to Boston.
Schneider is set to become a restricted free agent this offseason, but he has played his way into No. 1 goalie money, something the Canucks can't afford because Luongo has a $5.3 million cap hit for essentially the rest of eternity (OK, through 2021). Canucks GM Mike Gillis says he has no intention of trading Schneider before the deadline unless he's overwhelmed by an offer. And I tend to think he's right – the Canucks are in win-now mode after falling in Game 7 to the Bruins a season ago. It makes no sense to weaken your most important position by trading Schneider, especially with Luongo's playoff questions. Take no here.