NHL Playoff Handicapping: Los Angeles Kings Heading to Stanley Cup
by Trevor Whenham - 5/11/2012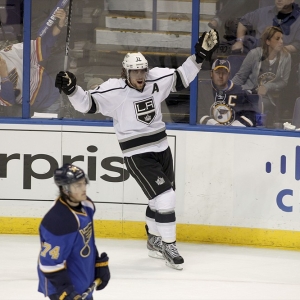 On paper we are witnessing an incredible underdog story in the NHL. The L.A. Kings have become the first team in the history of the league to beat both the No. 1 and No. 2 seeds in their conference in the same playoff run. Not only that, but they did it as the eighth seed after just squeaking into the playoffs. That sounds like something right out of a Disney script.
The truth, unfortunately, isn't nearly as dramatic. In reality, the Kings are a very good team that was widely expected to be very strong this year and contending for the top seed in the conference. They got off to a brutal start to the season, though, and injuries didn't help. They made a coaching change just before Christmas, and that required a big change in attitude and schemes.
Aggressive movement at the trade deadline required further adjustments. It almost took them too long to get back on track, but they did in time to make the playoffs, and they are now playing fully at their potential.
Here's the thing — if you watched any of the two series the Kings have played so far then you would realize that what happened was not a mistake. They matched up extremely well with both teams, they controlled the tempo of both series, they were deeper offensively, stronger defensively, and they were better in the nets. They were just the better team.
I'll go one step further — they are the best team left in the playoffs — by a whole lot — and there is absolutely no reason that they can't win the Stanley Cup. I'm far from the only one who thinks so, too — Bovada has them favored at 2/1 to win it all. So, why are they poised to win it all? Here are five good reasons:
The road ahead
Phoenix is a great story in the playoffs this year, and a team that is very easy to get behind.
They have been through a truly ridiculous situation with their ownership, but despite that they have done a very good job of building a young team, they have a coach who is ideally suited to the situation, and they have deserved everything that has happened to them so far.
Unlike the Kings, though, they are overachieving.
They don't have the offense or the goaltending to match up to the Kings, so L.A. can win this series relatively easily if they stick to what has got them this far.
In the Finals they'll face either New Jersey, Washington, or the Rangers. New York and Washington are beating each other up in their long current series, and that's after tough series in the first round. Both squads are going to be tired. New Jersey is fresh, but the Kings measure up well against them.
Simply put, at this time there is no potential opponent that is clearly better than the Kings.
Offense
Playoff success requires offensive depth. Goals are hard to score, so there needs to be a whole lot of people who can come through consistently.
The Kings are doing well on that front.
Dustin Brown and Anze Kopitar are on fire. Mike Richards is playing well. Dustin Penner has rediscovered what has been missing from his game for years. Justin Williams has been effective. Jeff Carter isn't playing as well as he can, but he has still been solid.
In short, they solidly have two lines that are offensively potent. That's way more than Phoenix can legitimately claim, and it's a big strength.
Goaltending
Jonathan Bernier is good enough to be starting for at least 20 teams in the league. All the 2006 first-round pick has done in these playoffs, though, is keep the bench warm. That's because Jonathan Quick is as good a goalie as there is in the league right now.
Quick has always been good, but in these playoffs he has been truly special. His goals against average is a microscopic 1.55, and his save percentage is a staggering .949. He has just one loss in nine games, and has made two very good teams look very average through two series.
Behind nearly every Stanley Cup success is a very good goaltending. I'd take Quick over any other guy in these playoffs at this point.
Coaching
I live in Calgary, so I am not a big Darryl Sutter fan. He was the general manager of the Flames until last year, and in his time he managed to drive the team so far into the ground that it will be years until they can climb out. He was a disaster in the front office.
Before he moved upstairs, though, he took a Calgary team that wasn't particularly talented and led them all the way to the Stanley Cup Finals in his first year with the team.
He's not a likeable guy at all, but he is very effective at getting a team on the same page quickly, and getting them to achieve playoff success early in his tenure. If I was a Kings fan I wouldn't be happy about the prospect that Sutter could be in charge in four or five years, but I'd be thrilled that he's the boss right now.
Commitment
A team that wins the Cup has to have absolute commitment from every player on the ice. That's why the Canucks stumbled last year and the Bruins excelled. You can best see commitment from watching the team play.
One shortcut indicator, though, is plus/minus. If a team is truly committed to winning then they are avoiding mistakes, working hard, and doing well in that statistical area. The Kings have just one regular player — LW Dwight King — who is a minus. Every other player is a zero or positive. That's very impressive.
By comparison, Phoenix has five minus players, Washington has 10, and the Rangers have six. New Jersey also has just one, and it's no coincidence that they have looked almost as good as the Kings in these playoffs.
Doc's Sports is offering $60 worth of member's NHL picks absolutely free – no obligation, no sales people – you don't even have to enter credit card information. You can use this $60 credit any way you please on any of our top hockey handicappers. Click here for more details and take advantage of this free $60 picks credit today.