NHL Predictions: Pittsburgh in Prime Form for Stanley Cup Trophy
by Trevor Whenham - 3/29/2012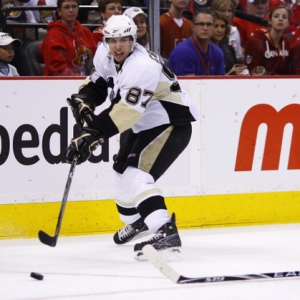 When you write an article you are supposed to build towards your big conclusion. You list arguments to build your case then unveil your big finale. I'm not going to do that in this case. Instead, I'm just going to come out with it — the Pittsburgh Penguins are going to win the Stanley Cup.
It's not that I don't respect other teams — St. Louis is wildly impressive, Vancouver will be out to erase the memory of last year, and the Rangers seem to be for real for once. They just can't measure up to the Penguins, though. Why? Here are six good reasons
Crosby is back
"Sid the Kid" is the best hockey player on the planet. It's hard to argue with that.
He has missed far too much time with concussion issues. He's been back for eight games now, though, and the results have been impressive. He has 13 points in eight games. Only two of those are goals, but considering he has moved around on different lines and he is inevitably rusty and unsure of how his body will respond this is very impressive.
He looks like he never left, and he has been physically tested enough that it's clear he's not tentative. His return — with fresh legs for the playoffs — is a huge boost for this team.
They don't need Crosby
If the season finishes like I think it will then you could argue that missing Crosby for as long as they did — he'll only wind up playing 20 games or so — was actually a good thing.
When a team has a player as good as Crosby they can come to depend on him entirely for their success. The Flames only perform well when Jarome Iginla plays well, and they aren't alone. Pittsburgh has had to learn the hard way that they can not only survive without Crosby, but they can thrive if they have to.
Guys like Pascal Dupuis, Chris Kunitz, and Jordan Staal have needed to be a much bigger part of the offense than they would have to be with a healthy Crosby, and all have stepped up admirably. That has led to depth and confidence far beyond what other teams will have. In the playoffs that is priceless.
Malkin is finally what he can be
Evgeni Malkin has a ridiculous amount of talent. This year he is showing it.
In just 69 games this year he has 99 points, and he will likely be the only guy to surpass the 100-point milestone this year. He has had two 100-point seasons in the past, so it's not like this in unprecedented.
It's different this year, though. He's playing with a maturity and consistency that has always been lacking from his game. He has always been happy to rely on his immense talent. This year he has become a leader, and he's taking the team's results personally.
He has benefitted more than anyone else from being healthy while Crosby was out because he has realized what role he is capable of playing on this team. That should set a guy who is already a solid playoff performer up for his best postseason yet.
Fleury is a playoff goalie
Marc-Andre Fleury is a good goalie in the regular season. His numbers aren't among the elite in the league — except for his league-leading 41 wins — but they are respectable.
There are some goalies, though, who are just hard-wired for the playoffs. They thrive on the pressure and the intensity, and their game is elevated. Boston's Tim Thomas certainly fits that category as he proved last year, but even he can't measure up to Fleury. Fleury is a massive playoff asset — especially on a team that can score like this one.
They can score like no one else
Speaking of scoring — this team is the top offensive club in the league, and it's not really close. They lead the league in goals scored — with at least 17 more goals than every team in the Western Conference — and they are second behind only Boston in goal differential at +56.
They have three guys — Crosby, Malkin, and James Neal — that would be the best offensive player on most other teams, they have serious balance and depth, and they can go three lines deep without missing a beat offensively.
The old saying is that defense wins championships. I think that's only partly true. I think the teams that win championships are the ones that do something extremely well, and can perform at that high level even when the pressure and intensity is at playoff heights. By that measure Pittsburgh is poised for big things, because this offense is absolutely ready for battle.
Doc's Sports is offering $60 worth of member's NHL picks absolutely free – no obligation, no sales people – you don't even have to enter credit card information. You can use this $60 credit any way you please on any of our top hockey handicappers. Click here for more details and take advantage of this free $60 picks credit today.