NHL Stanley Cup Playoffs Betting Trends and Analysis
by Dave Schwab - 5/21/2012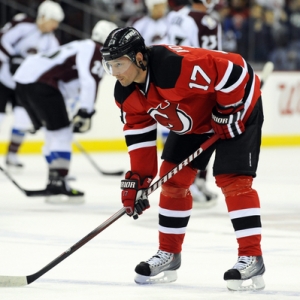 The NHL Stanley Cup NHL Conference Finals enter their second week of action with Monday night's New York vs. New Jersey's Game 4. The following is a look at a few key facts and figures for each series along with some current NHL betting trends to help handicap the upcoming games.
Series Update
Fueled by 3-0 shutouts in both Game 1 as a -129 home favorite and as a +102 road underdog in Saturday's Game 3, New York has been able to carve out a 2-1 edge in this best-of-seven series. Chris Kreider and Dan Girardi have provided the offensive fire power, while Henrik Lundqvist remains spectacular in goal. Girardi has been responsible for both game-winners with goals early in the third period to break a scoreless tie. Lundqvist helped secure the victories by pitching two shutouts.
In New Jersey's 3-2 victory in Game 2 as a +122 road underdog, Ilya Kovalchuk drew first blood with a goal midway through the first period. New Jersey has outshot the Rangers 84-75 through the first three games but has been outscored 8-3. For the most part, Martin Brodeur remains solid in goal for the Devils, but he has also given-up a few soft goals along the way.
The Los Angeles Kings played flawless hockey on their way to a three games to none edge in the Western Conference Finals, but they could not seal the deal in Sunday's Game 4 with a 2-0 loss to the Phoenix Coyotes as -187 home favorites. This ended a streak of eight consecutive playoff wins.
The Coyotes live to play another day behind the efforts of Shane Doan, who scored a little over 14 minutes into the first period in Game 4 and added an insurance goal just past the midway point in the second. Also credit Mike Smith, who came up huge in goal by stopping all 36 of Los Angeles' shots.
Goaltending
Of the four goalies that remain in the playoffs and have started every game for their team, the Kings' Jonathan Quick would have to be the front-runner to win this season's Conn Smythe Trophy as MVP of the Stanley Cup Playoffs behind a goals-against-average of 1.46 and a .948 save percentage in 13 games. The Rangers' Lundqvist is starting to make up some serious ground with a 1.01 GAA and .964 save percentage in the series against the Devils.
Smith returned to form for Phoenix in Game 4, but overall he has a GAA of 2.26 against Los Angeles verse a postseason GAA of 1.90. To his credit, he has also faced a ton of shots in four games against the Kings and has been able to maintain a healthy .946 save percentage. New Jersey's veteran goalie Martin Brodeur has looked brilliant at times, but overall, he has the lowest save percentage of the group at .920.
Top Scorers
While Phoenix's Dustin Brown is the leading goal scorer in these playoffs with seven and New Jersey's Ilya Kovalchuk is second with six, there have been a few unheralded players grabbing the spotlight in the conference finals.
Dwight King has led Los Angeles with four goals and Chris Kreider is second with three goals for New York. The real hero so far has been Rangers' defenseman Dan Girardi. His two game-winners have his team just two more wins from its first return trip to the Stanley Cup Finals since 1994.
Betting Trends
New York vs. New Jersey Game 4
The Rangers are 3-8 in their last 11 playoff games as underdogs, but are 18-8 in their last 26 games overall as underdogs. The total has stayed 'under' in 17 of their last 26 playoff games as underdogs.
The Devils are 8-2 in their last 10 home games and 43-19 in their last 62 games as favorites. The total is 3-1-2 in their last six playoff games as favorites.
New York has now won four of the last six meetings and the total has only gone 'over' in one of those games.
Los Angeles vs. Phoenix Game 5
The Kings are 7-0 in their last seven playoff games on the road and 20-7 in their last 27 games overall. The total has stayed under in four of their last five games.
The Coyotes are 9-4 in their last 13 games following a win and 14-6 in their last 20 games overall. The total has stayed under in six of their last seven games playing on one day's rest.
Los Angeles is 9-4 in the last 13 meetings overall but 11-24-2 in its last 37 games in Phoenix. The total has gone 'over' in five of the last eight games played there.