2012 Oklahoma State Cowboys Football Predictions and Big 12 Odds
by Trevor Whenham - 8/1/2012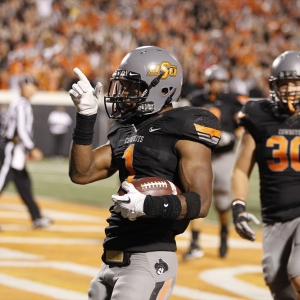 Last year Oklahoma State lifted their program to a new level. The Cowboys won the Big 12 for the first time, they won the Fiesta Bowl, and they wound up ranked third in the country in the final polls. The trick now, though, is to prove that they can sustain their position as an elite program — and demonstrate that it wasn't just a product of the talent they had at the time.
There has been a big shift in that talent. Quarterback Brandon Weeden is now a Cleveland Brown. All-world receiver Justin Blackmon is in Jacksonville — when he's not spending time in jail for DUI. Those two were two-thirds of a potent offensive force along with returning running back Joseph Randle. It was that offense that definitely drove this team forward, so the ability to replace that offense relatively seamlessly will largely dictate what is in store for this team.
Good teams are able to perform to a high level when they are extremely talented — as Oklahoma's State did with 23 wins in the last two seasons. Great teams compete at a high level every year. For the Cowboys it's time to prove what they are made of.
Offense
No matter what, this offense is going to get a lot younger this year. Weeden was 28 — ancient for college football. This year the reins are likely to be handed to an 18-year-old true freshman. The guy with the big shoes to fill is Wes Lunt. He enrolled in January after winning two State Championships in Illinois, and won the job in spring ball. He beat out junior Clint Chelf, who threw 30 passes last year, and redshirt freshman J.W. Walsh.
Lunt is unquestionably talented — you don't win a job like that by accident. There are going to be some real growing pains, though, because the game is going to be moving so much faster than he is used to. His ability to handle the transition will determine the fate of the season for the Cowboys — and how long he stays penciled in as the starter.
It would be easier to have faith in Lunt if he still had Blackmon to pass to. He's gone, though, and so is No. 2 receiver Josh Cooper. There is a big drop in depth and top-end skill at the receiver position, but seniors Tracy Moore and Isaiah Anderson should be able to step up given extra opportunities. They also have depth at tight end that they are likely to exploit.
Randle not only ran for 1,216 yards last year, but he caught 43 passes as well. He's a very versatile, dangerous player — he scored 26 times last year — and is likely to be the centerpiece of this offense, especially early on. He has a big, deep and experienced line to run behind, so he should thrive under the extra workload as long as Lunt is capable of establishing something resembling a passing game that can at least scare opposing defenses a little bit.
Defense
The line has gone through a lot of changes. DE Jamie Blatnick was a key piece of this team last year with eight sacks and consistent leadership. Starting DE Richetti Jones is gone as well. There is still depth and talent on the line, but it is less proven, so it remains to be seen if they can pressure the quarterbacks effectively in the explosive Big 12. Three starters at linebacker and three more in the secondary mean that those units will be easier to trust, and that this defense should be expected to be reasonably competent.
They will need to be better than they were last year, though — 107th in total defense — because the offense won't be as good and won't hide as many issues.
2012 Oklahoma State Cowboys Schedule Analysis
Despite their transition this team should start out at 3-0. Savannah State and Louisiana-Lafayette will be little match for them, and a trip to Arizona won't be that scary since Rich Rodriguez is in his first year with that program and has little to work with.
Their first home conference game, which comes after a week off, should be a good indicator of where this team is at. Texas struggled last year, but the Horns are refocused and hungry this season. OSU absolutely cannot afford to lose this one. After that a trip to Kansas should be easy. Iowa State doesn't have a quarterback they can trust, but that didn't stop them from stunning the Cowboys last year. The first half of the season could be impressive in the standings, but it could also be deceptive.
In the second half they have brutal road trips to Kansas State, Oklahoma and Baylor, and have to host new conference rivals, TCU and West Virginia, as well as Texas Tech. The team could easily start 6-0, though 5-1 seems more likely. The problem is that three wins in that second half are hard to find unless Lunt is surprisingly strong.
2012 Oklahoma State Cowboys College Football Futures Odds
Bovada has installed Oklahoma State at 18/1 to win the Big 12 — sixth in the 10-team league. BetOnline has them at 70/1 to win the National Championship, so neither book seems particularly optimistic about the season.
At Bovada, Joseph Randle is a marginal Heisman candidate. At 65/1 to take home the hardware he is behind 18 other players. Given the weight he is likely to carry he could be attractive at that price, though it could be tough for him to shine on a team that loses three or four games.
2012 Oklahoma State Cowboys Football Predictions
The defense should be improved from last year overall, though they were masterful at producing takeaways last year and it seems unlikely that they can match that production this year. Their improvement will be overshadowed by the offensive decline, though.
Starting Lunt is the right choice, but this season needs to be viewed as much as an investment in his future as anything else.
I think that eight wins is the magic line for this team. If they exceed that level then they are a better team than I think they will be. If they fall below that line then the last two years were more of a matter of circumstance than I believe.
This is a team moving in the right direction, but this season will be a step back on the road forward.
Want more Oklahoma State football predictions? Check out BetFirms for their 2012-13 preview. And to get $60 worth of free Doc's Sports member's picks (any sport, no salesperson ever!) Click Here.