2013 Orange Bowl Picks: Florida State vs. Northern Illinois Betting Odds
by Trevor Whenham - 12/4/2012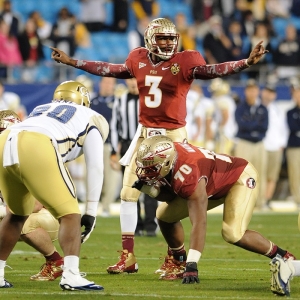 2013 Orange Bowl
Florida State (-14) vs. Northern Illinois (5Dimes)
Jan. 1, 2013, 8:30 p.m. ET
Miami, Florida
It didn't seem likely for much of the season, but we have a BCS buster. Even more surprising, it isn't an unbeaten mid-major squad, and it comes from the MAC — hardly the sexiest league in the country. Thanks to a big win over Kent State (another team that would have busted the BCS with a win) in the MAC Championship Game, and losses by UCLA and Nebraska in their championship contests, Northern Illinois was able to climb far enough in the BCS standings to make their selection mandatory. And that's how we end up with an Orange Bowl pairing that precious few people will care about.
So, for casual fans this will be by far the least compelling of the BCS matchups — or any of the bowl matchups, for that matter. Are they right, or are there reasons for people to care about this one?
The Basics
Florida State - The Seminoles won the ACC easily, yet the season ends as yet another disappointment for the team. They had tremendous talent, a favorable schedule, and massive expectations, their National Championship hopes were over after a Week 6 loss to N.C. State, and they wound up 11-2. As a sign of just how frustrating and disappointing they were for bettors, the Seminoles wound up just 3-9 ATS. While the loss to the Wolfpack was ugly, the loss to Florida was disappointing since they were at home. Yet losing to the Gators was far more acceptable. The problem with the schedule is that there just isn't a great win on it — a home win over Clemson or a win at Miami are probably closest, but they didn't cover either spread. Coach Jimbo Fisher is in his third year with the team. Despite three disappointing regular seasons, he has yet to lose a bowl game. The team succeeds on their defense, but offensively the key is QB E.J. Manuel. The senior passed for 3,101 yards, 22 touchdowns and just 10 interceptions.
Northern Illinois - The Huskies finished at 12-1 and an impressive 9-2-2 ATS. They got the loss out of the way early — they allowed a late touchdown to lose their opener 18-17 to an Iowa squad that proved to be pretty lousy. They rebounded to win 12 straight, but it was against a very weak schedule — 120th in the country — and Kent State was their only really notable win. The unquestioned star of the team is quarterback Jordan Lynch. The junior, a first-year starter, would unquestionably be a Heisman finalist if he was at a higher-profile school. He passed for nearly 3,000 yards with 24 TDs and five interceptions, and rushed for 1,771 more yards and 19 touchdowns. He has had a very special year.
Key Factors
Dave Doeren done - The biggest storyline in this game is that NIU head coach Dave Doeren won't be there. After going 24-3 in two years with the program after previously serving as defensive coordinator at Wisconsin, Doeren has been lured by the brighter lights of N.C. State — ironically the program that was good enough to beat Florida State with a doomed coach. Doeren will not be coaching the team in the bowl game, so the Huskies will go into the BCS with a new coach at the helm. The team reportedly acted quickly and elevated offensive line coach Rod Carey to the head job. This is a strange situation, and the fingerprints of Doeren are all over this team, so it remains to be seen how his departure affects the effort of the team in the game and how confused the transition is. As awkward as this is, it's not an entirely unprecedented situation. Heading into the 2010 Sugar Bowl, Cincinnati head coach Brian Kelly took the job at Notre Dame and didn't coach his former team. They lost badly, 51-24, to Florida in that game. Of course, even with Kelly in charge they would have been killed in that game, so it's hard to know what can be taken from that game. The other difference is that the interim coach, Jeff Quinn, left after the bowl game to become head coach at Buffalo.
Is Jordan Lynch ready for the big time? - Lynch has had an unquestionably special year. With all due respect to him, some of that is certainly due to Doeren. Last year, NIU QB Chandler Harnish passed for almost 2,700 yards and ran for 1,351 more during the regular season. We know, then, that the offense works. What we don't really know is how it can work against a major level opponent. Last year Harnish faced only two BCS conference opponents. The tougher one was Doeren's former team, Wisconsin, and he was underwhelming in the 49-7 blowout loss. The other is Kansas, and the Jayhawks hardly count as a BCS team right now. Harnish accounted for more than 400 yards of total offense. Both those games came in the first three weeks of the season, so Harnish was arguably still adjusting to the new system. This year the only BCS opponent was Iowa. Lynch had by far his weakest game of the year, but it was also his first career start so there is an asterisk. To handicap this game you have to extrapolate on how a confidently and potently the offense can perform against the first major opponent it has ever faced at full strength. And you have to consider that the Seminoles sit second in the country in total yards allowed at just 253.4 per game.
Florida State focus - I'm not a big fan of Fisher, and the biggest reason is because he doesn't have his team ready mentally in their biggest games. In this one the Seminoles will have a massive advantage in talent. The Huskies have nothing to lose, though, so they will be fearless and daring. The biggest concern for Florida State is whether they will have their heads in the game and will do the work required to let their advantage shine through. If they play down to their opponent then we know they can get into trouble.
2013 Orange Bowl Picks and Betting Predictions
It's time to gamble. The Seminoles are clearly far more talented and have the potential to win this one going away. The Huskies have nothing to lose, though, and will give it everything. Florida State, meanwhile, has focus issues that are a serious problem in a game like this. I expect the favorites to win, but at this price — and especially if the spread goes higher — I'll gamble that they won't win by enough to cover. Northern Illinois is my pick.
Doc's Sports wants to give you a great offer to try out our expert college football handicappers for free with no obligation, no credit card required and no salesman ever! These are the same college football picks that our clients receive from any of our Advisory Board handicappers and you can get $60 in picks credit in minutes. Click here for more details and to take advantage of this free $60 picks credit today.