2012 Pac-12 Football Predictions and Futures Odds
by Robert Ferringo - 8/1/2012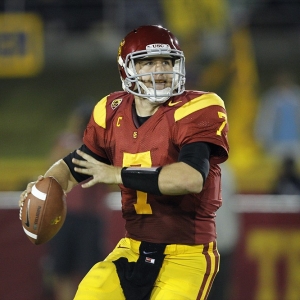 There is plenty of buzz on the Left Coast heading into this year's Pac-12 season. Three talented, volatile coaches – Rich Rodriguez, Todd Graham and Mike Leach – have entered the fray and are looking to make their mark on the conference.
But while that trio is trying to rebuild their stature and careers – along with the programs at their respective new schools – the top-tier of the Pac-12 heading into the season looks the same. USC is coming out of a two-year hibernation and is a dark horse national title contender. Oregon has dominated the league for the last three years and has an unquestioned system. And upstart Stanford still has a relatively full cupboard and is eager to prove that they can endure in the post-Luke era.
Here is a look at my 2012 Pac-12 football predictions and futures odds, with the college football odds courtesy of 5Dimes:
The Favorite: USC (-155)
The Trojans are National Championship contenders this year and are one of the few teams with the talent to wrestle the college football crown away from the SEC.
The Trojans have 16 starters back from a team that went 10-2 last year and, as always, they added some key pieces in the offseason. With Heisman hopeful Matt Barkley under center and a roster loaded with high-end athletes the Trojans will be the most talented team on the field just about every time they suit up.
USC only has to leave California four times, and that includes if they play in the Pac-12 Championship Game, which is on their home turf.
I don't know that I trust Lane Kiffin to get the job done – he has pretty much been a mess as a coach – and I question whether he can keep this team focused and humble. I also only have so much faith in a group that only beat Minnesota 19-17 last year. But we will see.
The talent is there. We'll see if the execution follows. But I am not projecting another championship in Los Angeles.
The Challenger: Oregon (+215)
The three-time defending Pac-12 Champions are being somewhat overlooked heading into the season.
They have just 11 returning starters and need to replace their starting quarterback and stud running back. Obviously all of that would seem to be setting them up to take a step back. And the fact that they have to play USC on the road and then would have to face the Trojans again in their backyard in a potential Pac-12 Championship rematch makes for a tall order.
But the Ducks still have an absurd amount of speed and they should still be able to score at will.
The Oregon Ducks football schedule is ridiculously easy for the first two months and they should be 7-0 while barely breaking a sweat. But they close at USC, at Cal, against Stanford and at Oregon State. November is going to define this team's season.
The Dark Horse: California (+2400)
The Golden Bears have been a non-factor in the Pac-12 over the last three years but could be primed for a bounce-back season. How they fare will almost completely be determined on what quarterback specialist Jeff Tedford can get out of senior Zach Maynard.
Cal had a brutal schedule last year and was better than its record indicated. They should get a bounce from playing at home this season, as they were forced elsewhere in 2011 while Memorial Stadium got a facelift.
The Bears get five home games and if they survive September games at Ohio State and at USC the schedule sets up well for an extended run. But the play of Maynard and how quickly a young defense grows up will determine how good this team can be.
The X-Factor: Utah (+3700)
I think that this is the only team with a real shot to knock USC off the top spot in the South. And at the very least I think that how the Trojans, Ducks, Bears and Cardinal play against Utah will determine the final hierarchy in the league.
The Utes have 16 returning starters from a team that finished on a 5-1 run and with a bowl win last year. The Utes have 12 senior starters and, as you know, their seniors can be older (and thus bigger, stronger and more mature) than normal fourth-year players because of the LDS missions.
These wacky Mormons are strong and experienced. And if Jordan Wynn is 100 percent recovered from last year's injury – and can finally stay healthy – then this team could be a sleeper.
The Disappointment: Stanford (+1700)
Hey, Stanford has had a nice run. But it wasn't that long ago that this team was struggling just to win four or five gams per year. They have had a nice three-year push, but the main components of those teams – Jim Harbaugh and Andrew Luck – have moved on, along with several other top NFL Draft picks.
The roster isn't devoid of talent. But they only project to have five senior starters and they have to finish with five of their last seven games on the road.
David Shaw did a great job with this group last year. But he's going to find out quickly (they face USC on Sept. 15) just how much this bunch relied on Luck last year.
The Rest:
Washington (+2400)
Steve Sarkisian has brought this program back to respectability. But they still have a long way to go before they are competing at the high end of the conference.
Keith Price is an active, athletic quarterback and the offensive triggerman. But with 10 projected sophomore starters the Huskies could definitely take a step back this year before making a move next.
They also have five road games in league play, and because of renovations to Husky Stadium they are going to have to play their "home" games in the Seattle Seahawks stadium.
Oh, and let's not forget that ridiculous stretch where they play at LSU, Stanford, Oregon and USC as part of a five-game string early in the year. Ouch.
Oregon State (+6500)
The Beavers have really fallen off the map over the past two seasons, bottoming out with a 3-9 mark in 2011. But Oregon State was just pummeled by the injury bug last year so they are actually a lot deeper than they seem going into the season.
Quarterback Sean Mannion was a first-team Freshman All-American and has a pair of three-year starters to work with at receiver.
Mike Riley is a good coach but can feel his seat starting to get warm. He has 15 starters to work with and they should have much better injury luck this season. Can this team find some swagger?
UCLA (+4500)
Jim Mora Jr. will try his hand at college after flaming out in the NFL. He has some good recruiting classes to work with and 16 starters that are even more experienced than they seem. The Bruins boast 11 senior starters, including six three-year starters on the defensive side of the ball.
The Bruins do have a couple tough early-season games with Nebraska and Houston. But they get five Pac-12 home games and the road slate (at Colorado, at Cal, at Arizona State, at Washington State) is more than manageable. UCLA finishes the season with home games against USC and Stanford and I won't be surprised if they are in the Pac-12 South mix late into November – if they figure out the quarterback position.
Arizona (+4500)
After an embarrassing tenure at Michigan, Rich Rodriguez will give it another shot, this time in the desert. It will take a while to implement his unique style but I think the Wildcats will be receptive to the change.
This program hasn't been relevant in over a decade and their roster still has plenty of leaks. But the offensive line could finally be a strength and if this team can run the ball they could really support a young and hungry defense that can't play worse than they it last year.
But make no mistake: I think some garbage Hanukkah bowl is this group's ceiling.
Washington State (+6500)
Buckle up. It is the start of the Mike Leach era and the Cougars could actually be a live underdog in the Pac-12 this year.
Leach has several acceptable quarterback options to work with and a future pro at receiver in Marquess Wilson. The Cougars have 14 starters back and a roster full of upperclassmen that have logged a lot of snaps over the past few years while building from one to two to four wins.
This is a team that could be capable of jumping up and biting someone, and if Leach's system takes hold quickly they could even threaten a bowl bid.
Arizona State (+5500)
I don't expect things to go very well in Year 1 of the Todd Graham era. The Sun Devils have just eight starters back and will have a totally rebuilt rack of skill players.
ASU went in the tank last year after a 6-2 start and a cup of coffee in the Top 20. They lost their last five games (and six of their last seven), and that could have a negative carry over to this year. Especially with a brutal schedule that includes nonconference games against Illinois and Missouri before a league slate that has five road games and three of their last four away from home.
Colorado (+14000)
The Buffaloes are still pathetic. They have just nine starters back for second-year man Jon Embree and they have a brutal schedule.
The Buffs drew both Oregon and Stanford out of the North and have to play at USC. They will absorb some serious beatings this season.
2012 Pac-12 Conference Predictions: Predicted Order of Finish
North Division
1. Oregon
2. California
3. Stanford
4. Oregon State
5. Washington
6. Washington State
South Division
1. USC
2. Utah
3. UCLA
4. Arizona
5. Arizona State
6. Colorado
Robert Ferringo is a professional college football handicapper and has posted back-to-back profitable seasons (college and pro). Robert has turned a profit in three of four football seasons and over the last nine months his clients have earned nearly $10,000 in profit with his football selections. He is looking forward to building on his stellar football handicapping resume again this fall and you can check him out here. Also, you can also get $60 worth of free Robert Ferringo member picks (no salesman, no credit card, no obligation!) by clicking here for more info.