This Week in College Football Betting by the Numbers
by Aaron Smith - 12/27/2012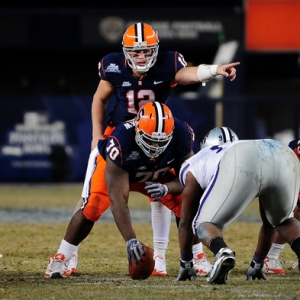 With Christmas in the rearview mirror and New Year's coming in less than a week, bowl season is now hitting full stride. We're now hitting the time of the year where multiple bowl games will be scheduled each day. The biggest day of games still comes on New Year's, but the BCS Championship Game will wait until Jan. 7.
The first week of this bowl season has been action packed. Boise State won the Las Vegas Bowl for the third straight season in a well-played game against Washington. Arizona's last-minute comeback win over Nevada is at the top of the list so far as being the most exciting game of the first week. None of the games thus far have been marquee matchups, but that is all about to change. Later this week and early next week, we will get a heavy dose of hotly-contested games between top teams.
The holiday season can be extremely hectic, but you'll still want to take some time to look over each matchup closely before placing your bet. Here's a look at some important numbers to keep an eye on when betting on college football this weekend.
1- The Oklahoma Sooners could be playing without their best defensive lineman in the Cotton Bowl on Jan. 4. Stacy McGee was arrested Monday morning for driving under the influence and driving with a suspended license. McGee is an extremely talented player, but he has been in a lot of trouble this season. McGee was suspended for the team's first six games this year. McGee is actually the third Sooners player to be arrested since the regular season completed.
3- Looking for a game where there has been a lot of line movement in the past few days? The Holiday Bowl between UCLA and Baylor was set at "pick'em" up until Dec. 24 at many books, but the Bruins are now three-point favorites, according to the latest odds from Bovada. Clearly, there has been some significant money come in on the Bruins in the last couple of days. A three-point swing in a bowl game like this one doesn't occur that often.
4- The Syracuse Orange will be playing with a bit of a depleted roster when they take on the West Virginia Mountaineers at Yankee Stadium for the New Era Pinstripe Bowl. Doug Marrone has announced that four players are facing discipline for breaking team rules. Adonis Ameen-Moore had been carrying the ball more often in the backfield of late, but he will miss this game. Syracuse isn't a particularly deep team to start with, so this is definitely something to take into consideration.
6- The number of bowl games that the Big Ten will be part of this year. Six is also the number of games in which the Big Ten representative is the underdog. Northwestern is the smallest underdog at just two points, but Purdue is listed as a huge 17-point underdog in their matchup with Oklahoma State. This speaks volumes to the fact that the Big Ten Conference was as weak this year as it has ever been. It also doesn't help that Ohio State and Penn State, arguably the two best teams in the league, weren't eligible to play in a postseason game.
13.5- The pointspread is set at 13.5 points in both the Orange Bowl and Sugar Bowl, according to some books. Other books have the number at 13 or 14 in the two games. The bigger point is that it is crazy to think that two of the biggest BCS games have a pointspread of nearly two touchdowns. No wonder the BCS isn't popular with college football fans!
27- The number of bowl games that will be played between Dec. 27 and Jan. 7. New Year's still has the most games with six, but the games are a bit more spread out than they used to be. Still, between Dec. 27 and New Year's Day will be the true "bowl week," as 21 games will be played during that time. Get your snacks and drinks ready and be prepared to take in a whole lot of college football!
40.5- The posted total in the Buffalo Wild Wings Bowl. It is the lowest posted total of any bowl game this year. TCU and Michigan State have both been shutting down a lot of people this year. There have been a lot of high-scoring bowl games so far in this bowl season. If you like defense, you'll probably want to watch this one.