2013 AL East Picks and MLB Betting Predictions
by Robert Ferringo - 3/8/2013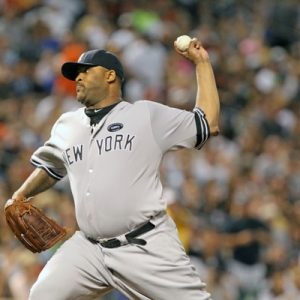 For the first time in what feels like forever, neither the Boston Red Sox nor the New York Yankees enter the season expected to win the division.
The Red Sox are in the beginning stages of a massive franchise overhaul after last summer's housecleaning. The Yankees are stubbornly holding onto their aging core of veterans and hoping that they have just one last run in them.
That has opened the door to the other upstart teams in the division. Last year's surprise, Baltimore, still has an outstanding young core of players entering or enjoying their prime. Tampa Bay has developed one of the best systems in baseball and has won 90 or more games in four of five years. And Toronto is the surprise favorite heading into the season after a flurry of offseason activity completely restocked their roster.
Here is Doc's Sports 2013 AL East picks and MLB betting predictions (all MLB futures odds from Bovada):
New York Yankees
2012 Record: 95-67 (+370)
2013 Wins Over/Under: 87.5
Odds To Win 2013 AL East: +225
Odds To Win 2013 AL Pennant: +700
2013 New York Yankees Odds To Win World Series: +1500
Outlook: The Yankees stubbornly refuse to do anything that will result in a younger roster. Their average position player's age was 33 last season – and now this season everyone is another year older. But, then again, the Yankees won 95 or more games for the fourth straight year. So maybe they shouldn't be in such a rush to hit a youth movement.
New York's biggest problem the past several years is that their pitching is good enough for the marathon of a 162-game regular season. But, outside of aging C.C. Sabathia, there is no one on this starting staff that you can trust for a shutdown performance in October. There is no one in that rotation that it will scare me to wager against. And if Phil Hughes gets lit up or Andy Pettitte gets hurt again, their lack of young arms will be exposed yet again.
The lineup will once again have little trouble generating runs, even without Mark Teixeira for the first two months and Alex Rodriguez for at least the first half of the season. New York will get a full season of Ichiro Suzuki, and they added Kevin Youkilis in the offseason. Those two past-their-prime former all stars will fit right in with a group still anchored by Derek Jeter and Robinson Cano.
New York went 51-30 at home last year, the best mark in baseball. And, as I mentioned, they still nearly won 100 games despite all manner of injury and distraction. The Yankees aren't good enough to win a World Series this year. But you can never discount their reliability when it comes to cashing tickets in the regular season. I know I won't shy away from betting on – or against – this team throughout the year.
Boston Red Sox
2012 Record: 69-93 (-3690)
2013 Wins Over/Under: 83.5
Odds To Win 2013 AL East: +550
Odds To Win 2013 AL Pennant: +1200
2013 Boston Red Sox Odds To Win World Series: +2800
Outlook: "Implode" doesn't even begin to describe what happened to the Red Sox last year. How bad did it get? Boston was actually a +330 underdog in its final game of the year at New York against the Yankees. Naturally, they lost 14-2.
Boston's problems in 2012 are too long to list. But beyond awful chemistry, the single-most tangible issue for the Red Sox was horrendous pitching. Their starters ERA was a pathetic 5.19. Jon Lester desperately needs a strong year to stop his career slide. The same could be said for washed-up Ryan Dempster and John Lackey, who is coming back from Tommy John Surgery. The bullpen actually has some promise but needs some lefty options.
The Red Sox lineup will mimic the pitching staff; if players can stay healthy and rekindle some former magic then they might be onto something. Stephen Drew and Shane Victorino need to adjust to the American League. Will Middlebrooks and Jacoby Ellsbury need to stay healthy in order to prove they are worthy of their hype. And veterans like Jonny Gomes, Mike Napoli and David Ortiz need to provide consistent veteran cover for everyone else.
The Red Sox are such a public betting team that it is always tough to find value with them. And since August of 2011 the Red Sox are just 77-114 while losing the most money for $100 backers of any team in baseball (-5760). I think the attitude on this team will be better. And if the lineup stays healthy and finds some consistency, this team can manufacture enough runs. But Boston's season will be determined by its starting pitching and whether or not guys can hold it together mentally in the Beantown pressure cooker.
Toronto Blue Jays
2012 Record: 73-89 (-1200)
2013 Wins Over/Under: 89.5
Odds To Win 2013 AL East: +160
Odds To Win 2013 AL Pennant: +375
2013 Toronto Blue Jays Odds To Win World Series: +750
Outlook: I say it every preseason in every sport: beware the Trendy Team. And right now few teams are as trendy and sexy as the Blue Jays thanks to their whirlwind offseason.
Toronto defiled a willing Miami organization this offseason, poaching Jose Reyes, Mark Buehrle and Josh Johnson for peanuts. They also signed reigning N.L. Cy Young R.A. Dickey from the Mets. Those pitchers will bulk up a rotation that already featured Ricky Romero and Brandon Morrow. And if the N.L. guys can make the transition to facing rugged A.L. East lineups (and I'm not sure that any of them can) then the Blue Jays might be onto something.
Then again, none of their starters' success will matter if the Jays can't clean up the worst bullpen ERA in the A.L.
Reyes is an X-factor for Toronto's offense. And his history of leg issues mixed with playing on artificial turf could be a recipe for disaster. But Toronto has some big boppers, hitting nearly 200 home runs as a team last year. Jose Bautista is one of the best hitters in baseball. Another newcomer, Melky Cabrera, is back in the A.L. after a steroid-riddled 2012. And there is depth all over the infield with proven veterans – Encarnacion, Lind, DeRosa, Bonifacio, etc. – looking to fill in the gaps.
A new manager, retooled pitching staff and tantalizing lineup have people predicting big things for the Blue Jays. But we've been down this road before. Every year there is one team that goes buck wild in free agency or in making offseason trades. But either due to excessive hype, injury, or other outside factors, those teams always seem to disappoint and leave bettors holding the bag. I am not going to be in a rush to back the Jays until I actually see some chemistry and some performance out of this group. I suggest you do the same.
Tampa Bay Rays
2012 Record: 90-72 (+600)
2013 Wins Over/Under: 86.5
Odds To Win 2013 AL East: +350
Odds To Win 2013 AL Pennant: +1000
2013 Tampa Bay Rays Odds To Win World Series: +2200
Outlook: I've said it before and I'll say it again: I refuse to consistently bet against or in any way count out this Tampa Bay team as long as Joe Maddon is the manager. The Rays have perfected his defense-pitching-clutch hitting system, and they are simply a machine year-in and year-out.
The Rays success is predicated on pitching. And they have plenty, even after losing James Shields and Wade Davis. David Price is a horse. But Tampa is banking on continued development from young guns Jeremy Hellickson, Alex Cobb and Matt Moore. As long as they perform, this team will be as good as gold. And even if the starters suffer a bit, Tampa Bay has had one of the best bullpens in baseball consistently over the past half-decade.
As always, Tampa's lineup will be a hodgepodge of players all waiting patiently for their turn to come through in the clutch. Evan Longoria remains the fulcrum of the offense. And while none of the other names surrounding him will be fought over in fantasy baseball drafts, guys like Luke Scott, Ryan Roberts, Yunel Escobar and Ben Zobrist are proven commodities that fit right in with what the Rays are trying to accomplish.
If the starting pitching holds up, I think that this could be one of the best Rays teams of the past five years. I like their lineup more than I did last year, and I think that this team is going to be motivated by barely missing out on the postseason despite winning 90 last year. Tampa Bay can struggle to perform for bettors as a favorite. But there is no better underdog wager in the A.L. than the Rays.
Baltimore Orioles
2012 Record: 93-69 (+3680)
2013 Wins Over/Under: 78.5
Odds To Win 2013 AL East: +850
Odds To Win 2013 AL Pennant: +1800
2013 Baltimore Orioles Odds To Win World Series: +4000
Outlook: I hope Baltimore had its fun last season. Because after flipping its record from 93 losses in 2011 to 93 wins in 2012, it is time for the Orioles to come back down to earth.
The Orioles have one of the best young crops in baseball. Adam Jones, Nick Markakis, Matt Wieters, Chris Davis and Nolan Reimold are all entering their primes and have yet to hit 30. Baltimore did lose Mark Reynolds. But they have plenty of power remaining in the lineup, and they will be an even more patient team this season. That said, they will be hard pressed to match the number of clutch hits that they received last year.
Baltimore's pitching staff was good enough last year. But I still have a hard time getting excited about a staff anchored by Jason Hammel (who, admittedly, was really good last year), Wei Chen, and Chris Tillman. Baltimore has a lot of mediocre starting arms. We'll have to see if they regress or if they continue to improve.
The Orioles surpassed their Pythagorean Wins total by a stunning 10 games. They only scored seven more total runs than they allowed and were an astounding 16-2 in extra inning games and 29-9 in one-run games. That type of good fortune does not translate from year to year, and I expect a regression. I don't think Baltimore will slide back to a 70-win flop. But I think expecting them to hit .500 again is overly optimistic.
2013 American League East Picks and Predictions: Predicted Order of Finish
1. Tampa Bay
2. New York Yankees
3. Toronto Blue Jays
4. Boston Red Sox
5. Baltimore Orioles
Doc's Sports is offering $60 worth of member's baseball picks absolutely free – no obligation, no sales people – you don't even have to enter credit card information. You can use this $60 credit any way you please on any of our top MLB handicappers. Click here for more details and take advantage of this free $60 picks credit today.
Robert Ferringo is a professional sports handicapper for Doc's Sports. He is considered one of the top MLB cappers in the country and has turned a profit in four of the last six years on the diamond with his baseball picks. He closed 2012 with an amazing $11,700 in earnings over the last four months and is looking forward to a great upcoming season against the MLB odds. Click here for more information on his MLB picks.
Read more articles by Robert Ferringo