BCS Championship Game Scenarios
by Trevor Whenham - 12/3/2013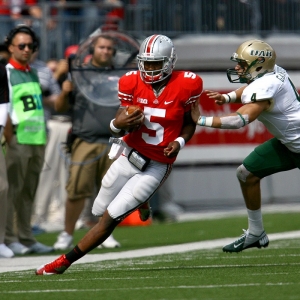 Thanks to quite possibly the all-time craziest end to a game in The Iron Bowl, we now have a fair bit of clarity in the hunt for a berth in the BCS Championship Game — just not what we expected a few weeks back. There are realistically five teams that still have a shot of playing for the big prize, with three in much better position than the other two. Here's how the hopes for the teams break down:
Florida State: As the No. 1 team in the country, things are very straightforward for the Seminoles right now. All they need to do is beat Duke this weekend in the ACC Championship Game and they will be playing for all the marbles — very likely as favorites. Florida State is favored by 29 points in that one, so while anything is possible in college football, it would qualify as a major shock if Florida State doesn't appear in the BCS Championship Game. The intrigue then would be whether Jameis Winston would be available. A decision regarding charges in his pending sexual assault case could come in the next week or two. Florida State policy is that a player who is charged with a felony can't play until the case is resolved. Handicapping a team without its best player — there's a fun potential wrinkle for handicappers.
Ohio State: This is where things get interesting. The Buckeyes have a slight edge in the BCS standings over Auburn. While it's controversial, I am among those who definitely believe that Ohio State controls their own destiny. They play a very good Michigan State team in the Big Ten Championship. The Spartans are a Top-10 squad, so an Ohio State win should be enough to move them on. In the BCS era, an unbeaten major-conference team has never been passed by a one-loss team for a shot at a national title, and there is no real reason to imagine it happening now. Ohio State hasn't played a great schedule, but Auburn has an ugly loss at LSU, wins against Texas A&M and Ole Miss aren't nearly as impressive as they seemed at the time, and they needed two almost impossible circumstances to win their last two games. So, in my view, if the Buckeyes win they are in. If they lose to Michigan State, though, then the hopes of the Big Ten are dashed. A one-loss Ohio State team would have virtually no chance at a title shot.
Auburn: The Tigers are suddenly the biggest Michigan State fans in the world — just one week after the Buckeyes were huge Auburn fans when they played Alabama. If Michigan State and Auburn (or Duke and Auburn, though that's not likely) both win their conference championships then Auburn will certainly play for the national title. Outside of that, it's hard to imagine what they could do to pass the Buckeyes. They would need to improve in the polls and the computers. It's hard to imagine that even a combination of a massive win by the Tigers and a narrow, ugly win by the Buckeyes would be enough. So unless there is an upset in the ACC or Big Ten, brace yourself for some serious whining from SEC country — something that they are very good at.
Missouri: If the Missouri brand of Tigers beat the Auburn one then they would likely sit third in the BCS standings. They sit fifth behind Alabama right now, but a win against the third-ranked team in the country would be a big boost. There is absolutely no way that Missouri could get past the top two teams if they remain undefeated, though, so the only scenario for the Tigers is an SEC Championship plus a loss for Florida State and/or Ohio State.
Alabama: From a lock last week to a real longshot this week. The only way that the Tide are getting into the BCS Championship Game is if the game is an all-SEC affair. Florida State and Ohio State would both have to lose, and lose sufficiently poorly that they dropped below one-loss Alabama despite being only a one-loss team themselves. The most likely scenario would be an Iron Bowl rematch, though that is certainly a longshot given what would need to happen. Depending on your perspective, that would either be must-see TV or a nightmare of epic proportions. For me it is definitely the latter.
Odds for potential matchups
Sportsbook.ag has posted a very early line that has Florida State favored by 11 points against the Buckeyes. Though it isn't posted, indications have been that the Buckeyes would be favored by about 2.5 against Auburn. You can deduce from that that Florida State would be quite solidly favored against Auburn — as long as Winston can play, that is.
Read more articles by Trevor Whenham