Can Orb win the Triple Crown?
by Trevor Whenham - 5/6/2013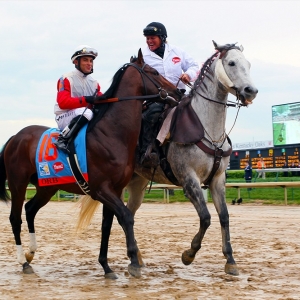 Every year as soon as the Kentucky Derby ends there is only one question that I ask myself — can the winner win the Triple Crown? There is nothing I want to see more in sports than a Triple Crown. I automatically become the biggest fan of the Derby winner, but some years that is easier to get behind than others. So, can Orb end the long drought and become the first Triple Crown winner since Affirmed in 1978? Yes. Will he? That's a more complicated question. Let's look at the arguments on both sides:
He can because...
Was the class of the Derby coming in
Orb was the deserving post time favorite. His win in the Florida Derby was the most impressive of the final prep race wins, and the horses he had beaten to get there were solid. He had come out of his last race well and had trained absolutely brilliantly at Churchill Downs. He was the horse to beat in the Derby, and he did all he was asked to do — and more. The Preakness field is looking to be quite solid, but it won't be nearly as deep as the Derby was. If Orb was the clear class of the Derby field then he is unquestionably going to be the class of the Preakness field barring a setback.
The Preakness field isn't terrifying
As it sits now, we could see somewhere between five and seven Derby also-rans joined by three of four other runners in the Preakness. It is going to be a good race, with horses like Normandy Invasion and Oxbow looking to repeat solid Derby performances and improve slightly and runners like Itsmyluckyday and Goldencents trying to erase the disastrous Derby from the collective memories of fans and show what they are capable of. While it will be a good test, there isn't a horse running that is, in my eyes, as good as Orb on his best day.
The Shug Factor
Trainer Shug McGaughey is a Hall of Famer. This is his first Derby win, but he had only tried to win it six previous times. He is as good as any trainer on the planet at getting a horse ready for a big test, and he is absolutely oozing confidence about this horse. That confidence was the biggest reason I bet on Orb in the Derby, and it certainly hasn't faded since the win.
The Rosario Factor
Jockey Joel Rosario is the hottest jockey on the planet. Five weeks before the Derby he won the Dubai World Cup, the richest race in the world. Then he set a meet record at Keeneland with 38 victories. The second-place finisher had 17 wins. Then he won five races on opening day at Churchill Downs. He's wildly-talented and currently at his best. There is no jockey you would rather see on a horse right now if a Triple Crown is what you want.
He won't because....
Since I have been so determined to see a Triple Crown for so long, I have become very used to having my heart broken again and again. Sometimes I don't truly expect the Derby and Preakness winner to complete the task for one reason for another. With horses like Silver Charm, Real Quiet, Big Brown, and Smarty Jones, though, I was certain that the time had come. As I get older, I have started to temper my enthusiasm to make the seemingly inevitable heartbreak easier to take. Some of the reasons to be negative this year are:
The Derby pace was insane
Palace Malice set an absolutely suicidal pace early in the Derby. Some of that was likely Pletcher looking to keep things honest, and some of it was just a young horse getting too worked up and running away. His early speed totally killed the quality close stalkers like Goldencents and Verrazano. It also set things up perfectly for the closers, and Orb was the best of that group. In short, the race set up almost perfectly for Orb. It's just not accurate to say that Orb only won because of that pace, but it certainly didn't hurt him. With a more honest early pace in the final two races, Orb will have to work harder to win and will have to beat the best of the front runners.
The sloppy track makes things tough to judge
It is very hard to extrapolate anything from a sloppy track, and the Derby track was extremely sloppy. Orb had never run on slop before, but he had the breeding that suggested he would be fine, and he certainly turned out to thrive on it. Some of the other runners in the field obviously didn't like it as much — including some of the Derby horses that will be heading to the Preakness. If the track is fast on Preakness day, Orb might not prove to be as dominant as he looked.
Great horses have failed before
I was absolutely certain that Big Brown was going to win the Triple Crown. He looked absolutely unbeatable. He's still trying to make it to the finish line in the Belmont. Smarty Jones looked unbeatable. But he lost. Real Quiet was beaten by the narrowest of margins. Great, great horses have fallen short. Is Orb great? Maybe, but the jury is still very much out on that front. He still has to win a fairly tough Preakness, and do it convincingly, before we can even start to mention him in the same sentence as some of those who tried — and failed — before him.
Want free Preakness picks? Doc's sports expert handicappers are offering $60 worth of Preakness Stakes picks absolutely free – no credit card needed and no salesman ever. Doc's Sports and Robert Ferringo both scored big at the Kentucky Derby, and they are looking for more of the same for the Preakness. Click here to take advantage of this offer.
Read more articles by Trevor Whenham