College Bowl Picks: Teams that could Disappoint
by Trevor Whenham - 12/10/2013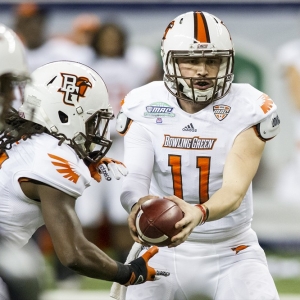 According to the blueprint, college football teams are supposed to improve as the season builds, and the combination of their experience and an extra few weeks of practice time leads them to their best performance of the year in their bowl game. Of course, it doesn't always work out that way. For every team that comes out and does what they are supposed to, there is one that just plain embarrasses themselves. Here are my college bowl picks for eight teams in real danger of putting forth an underwhelming performance in their matchup:
Notre Dame: The season following their shellacking in the National Championship Game has been a bit of a nightmare. They just haven't been very good, and their 8-4 record and loss at Pitt are proof of that. For a team that has to be disappointed and frustrated, it will be very tough to get excited about playing a terrible Rutgers team in the Pinstripe Bowl. This is one of the worst bowl games on the schedule, and the Irish will know it. Motivation could be in short supply — especially because the team knows that they don't likely need to be near their best to win this dog of a game.
Rutgers: The Scarlet Knights are in far worse shape than Notre Dame heading into this one. They only qualified for the postseason in their final game of the year, and their head coach celebrated the accomplishment by firing three of his assistants. This is a team that is going nowhere and is facing a move to the Big Ten, where they will only look worse. They can't score, they can't play defense, and they just need their season to end.
Boise State: This team has had a tremendous amount of success under Chris Petersen. This year was the most frustrating year of his tenure, though, and now the coach who looked like he would never leave is the highest-paid coach in the Pac-12. A departing head coach doesn't always derail a team, but it often does. When a team has struggled compared to expectations anyway, the change and uncertainty can be the final straw. Hawaii is not the best place to get distracted teams to focus — and on Christmas Eve, no less. Oregon State has had a horrible second half to their season, and that won't motivate the Broncos, either.
Northern Illinois: The script was clear — they just had to beat a Bowling Green team they were simply better than to reach their second straight BCS bowl. Easy. Or so it seemed. They got beaten soundly by Bowling Green, and they fell all the way to the Dec. 26 Poinsettia Bowl as a result. Ouch. Utah State is a decent team but far from a great one. For a team that was dreaming of the big stage, this will feel like a massive letdown — one they caused themselves. It would be easy for them to feel sorry for themselves.
Ohio State: Two games back they seemed to be cruising to the Championship Game. Then they got exposed defensively by a pretty bad Michigan team and then got soundly trounced by Michigan State. That's a massive blow to the egos of a team that has never been short of ego up to this point. The Orange Bowl is still a big game, but it falls short of the two games Ohio State really wants to play in as the natural power in the Big Ten. They could fall a touch short of fully focused — and Tajh Boyd could rip them apart if their defense isn't fully in the game.
Nebraska: Bo Pelini is the ringmaster of a crazy, sad circus. The players can't be having any fun. Now they face another bowl game against a Georgia team that they aren't going to be excited about — and are quite likely to lose. Pelini got an endorsement from his AD, but it was odd. The players know they could be rid of him with a lousy performance, and that might be too much to resist.
Oregon: A month ago this team was on the fast track to a national title and a Heisman. Two humiliating losses later they are forced to travel to Texas to play the Longhorns in a game few will really care about. Ouch. In his first year at the helm, Mark Helfrich faces a massive task in getting his players to commit and focus in the face of immense frustration.
Bowling Green: The MAC Champions got rewarded with the same prize that last year's conference champs from Northern Illinois got — they are heading into their bowl game without a head coach. Dave Clawson got the job at Wake Forest — arguably not that much of an upgrade for him. That setback plus a Dec. 26 meeting with Pitt in Detroit for the Little Caesars Bowl — hardly a sexy assignment — could kill the momentum of a surprising and impressive end to the season.
Wow! Doc's Sports college football picks are free! New clients can get $60 in expert bowl game football picks from any handicapper on Doc's Sports Advisory Board. There is no obligation for this offer, and no salesman, ever! Click here to get your free bowl picks – it takes less than 2 minutes to sign up!
Read more articles by Trevor Whenham