College Football Handicapping: Coaches on the Hot Seat
by Trevor Whenham - 11/20/2013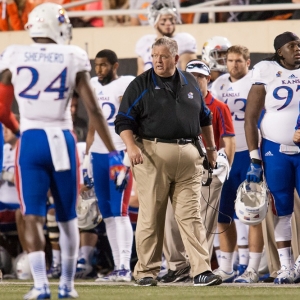 In the dying weeks of the college football regular season there are coaches who know that they don't have much time left in their current job — when they season ends they will be fired. The fate of other coaches may not be as certain, but they are on unsteady ground and perhaps fighting a losing battle. Whether he is certain to be gone or just on shaky ground, the uncertainty can make things much tougher for the coach to command the attention of his team. The players likely haven't enjoyed a lot of success, they know what is going on, and they aren't likely to give their all for the coach. In short, teams with coaches on the hot seat can be useful for bettors down the stretch because they can be very attractive to bet against.
Here are five seats that are too hot to sit down on at this point. One guy you will notice isn't on this list is Mack Brown. While his job is obviously in peril, the team has a real shot at first place in their division still, so that situation is just too bizarre to consider right now::
Bo Pelini, Nebraska: This year hasn't been a complete disaster for the Huskers — they are 4-2 in the conference. Fans at Nebraska hate two things, though — drama and bad defense — and Pelini has provided too much of both. This is a proud program that likes success, and under Pelini they have just been mediocre — with no real progress evident. Pelini isn't a great fit with the culture of the program, and sooner or later the administration is going to cut its losses. It's no certainty that it will happen this offseason, but the writing seems to be on the wall at some point, and the players know this well. Remaining games at Penn State and against Iowa are both challenging, and it would be easy for the team to fall short in their effort. They were humiliated by the Spartans last time out, and that could be a final straw.
Kyle Flood, Rutgers: It's only the second year of the Flood regime, so typically he wouldn't be in trouble yet. This team is in crisis, though. Claims of bullying were levied against his defensive coordinator by a former player, and six recruits from what was once a strong recruiting class for next year have decommitted. Following a bye, the team had a chance to move forward last week, but they were absolutely crushed by Cincinnati. They didn't look remotely prepared for the game, and the defense has been incomprehensibly bad all year. The team faces a move to the Big Ten, and that only means tougher games and, at this rate, even more issues. It's not hard to imagine that Rutgers would want to hit the reset button on the eve of their move.
Norm Chow, Hawaii: Remember when Chow was the offensive coordinator at USC, and he was a genius? Those days seem far away now. Since then — with the Titans, UCLA, Utah and now as head coach at Hawaii — he has been varying degrees of underwhelming. This year things are just plain ugly. His squad is 0-10 and near the bottom of the country both in points for and against. They are just plain lousy. This comes on the heels of a 3-9 year last year in his first year with the program. He is only in his second year, and there are obvious limitations with a program like Hawaii, but June Jones and others have shown you can be a whole lot better than this. Chow is 67, so he isn't the guy to adapt, adjust and build for the long run. The pressure will be intense for the program to make a change.
Will Muschamp, Florida: In his third year with the program, Muschamp, who was seen as a major prize when he was stolen from Texas where he was the head coach in waiting, has dropped five in a row and needs to beat the very impressive Florida State Seminoles just to become bowl eligible. It's an absolute disaster of a season for a program that got greedy for wins under Urban Meyer, and it comes when a coach is supposed to be putting his stamp on the program and taking big steps forward. Injuries have obviously been a major factor, but his competence is a major question as well. The pressure is obviously getting to Muschamp — he injured his hand punching a chalkboard after the last loss. My guess is that Muschamp will get another year — his president and AD have given him a vote of confidence, for what that's worth — but if the Florida State game is as embarrassing as it certainly could be then he could be in real trouble.
Charlie Weis, Kansas: Despite the win against West Virginia last week, if Charlie Weis was the coach of my program, I would fire him without question this year. Of course, I never would have hired him in the first place because he is, well, a total moron. Kansas has major hurdles standing in the way of their success as a program, and ditching Weis will be expensive, but he's leading this program nowhere in a hurry, he's not recruiting like he should be able to, and he's never going to build a winner — or even a respectable team. They are going to fire him eventually, so they should do it now — and I think there is a good chance they will.
Read more articles by Trevor Whenham