College Football Handicapping: Conference Races
by Trevor Whenham - 11/19/2013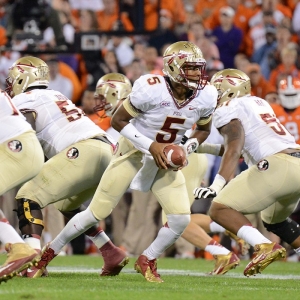 We are getting down to the nitty-gritty in college football. None of the six conferences have decided their champions -- or which teams will be in the conference championship games -- just yet. The pictures are getting clear in most cases, though. By understanding the scenarios and what is on the line, bettors can have an edge. Playing for a division or conference title can make tough teams sharpen up their game and elevate their efforts, while it can cause mentally-weak teams to falter. Here's how each of the six major conferences shake out down the stretch:
AAC
In their last year of AQ status, and therefore their last year of moderate relevance, we have a bit of a race here. Central Florida is in command with their perfect conference record, and they control their own destiny — win and they are in. Louisville and Cincinnati both have one conference loss. Louisville needs UCF to lose twice, while they win out, since their loss is to the Knights. With a relatively weak remaining slate of Rutgers, South Florida and SMU, those two losses aren't likely to happen for Central Florida. Cincinnati would need to win out against Houston and Louisville — their two toughest opponents of the year — and then they would need to finish higher than UCF in the BCS rankings to win the tiebreaker. In short, then, based on what we have seen so far, UCF can be treated as all but a lock to win the conference.
ACC
Atlantic: Florida State has finished their conference slate with an unbeaten record and has clinched the division.
Coastal: Can Duke win this thing after years of futility? They are in the driver's seat. They have two losses, while the rest of the teams have at least three in the conference, so if they beat UNC and Wake Forest they will clinch. They cannot afford to lose, though — Georgia Tech has finished the season at 5-3 in conference, and they beat Duke, so the Blue Devils would lose the tiebreak. Georgia Tech has the tiebreaker over UNC as well, but not Miami or Virginia Tech, so if Duke loses things could get messy. It doesn't really matter, though — the winner will be crushed lifeless by the Seminoles in the championship game, so it's only pride on the line here.
Big 12
Baylor controls their destiny — beat Oklahoma State and Texas and they are the unbeaten Big 12 Champions. A loss though, makes things complicated. If they lose to Oklahoma State and beat Texas then the Cowboys would win the conference. If they beat Oklahoma State but lose to Texas then, improbably, Texas would be champs. If Baylor loses both games then Texas and Oklahoma State would be tied in the standings, but the Cowboys crushed the Longhorns, so they would have the tiebreaker.
Big Ten
Legends: Michigan State only needs a win against Northwestern or Minnesota to clinch their spot in the Big Ten Championship Game. The Gophers are the only possible spoiler. If they can beat Wisconsin and Michigan State — just the second- and third-best teams in the conference — to finish out their season, they would win. And pigs would fly.
Leaders: Ohio State doesn't have this clinched yet, but they may as well. They only need a win against Indiana or Michigan to wrap it up. Wisconsin needs to win out against Minnesota and Penn State and then hope that the Buckeyes somehow drop two in a row.
Pac-12
North: This one is very simple. Oregon has Arizona and Oregon State remaining. Win two and they are in. If they lose one and Stanford beats Cal then Stanford wins. If Cal pulls an upset for the ages then Oregon only needs one win.
South: Arizona State plays for the division on Saturday at UCLA. Win that game and they clinch. A UCLA win makes things much more interesting — as long as USC beats Colorado on Saturday. If UCLA then beats USC in the final game of the season then they would win the division. If USC won then they would win the division if Arizona beat Arizona State, but they would finish behind Arizona State if the Sun Devils win the fight for Arizona.
SEC
East: Missouri is in command, but they didn't make it easy for themselves after losing to South Carolina. They are 5-1 in the conference, and South Carolina is finished with conference play at 6-2. If the Tigers beat Ole Miss and Texas A&M then they win the division. If they lose either game, though, then the Gamecocks earn the berth in the conference championship game.
West: This is how it should play out. Alabama plays at Auburn to finish out the season for both teams on Nov. 30. The winner wins the division. One game for all the marbles. Perfect.
Read more articles by Trevor Whenham