College Football Handicapping: Good Teams with Tough Schedules
by Trevor Whenham - 10/9/2013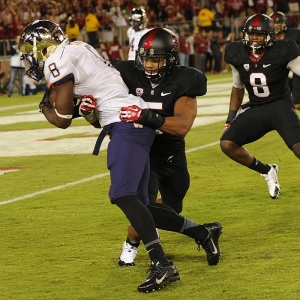 The Washington Huskies must have really done something to piss off Pac-12 schedulemakers. Last weekend they had a very tough, impressive outing in losing at Stanford by just a field goal as nine-point underdogs. Their reward for the effort? A home game against the Oregon this week then a trip to play a very good Arizona State team to cap off three weeks of hell.
While I am interested to see how Washington can do in those three brutal games, what I am much more interested in — at least in the long term — is how to handicap teams when they are facing really tough stretches of the season like this. Washington's three-game run is very tough, but they are far from unique in that. Tennessee, for example, is in the midst of a run against Georgia last week, followed by South Carolina and a trip to Alabama, though they do have a bye week this week. So, how do you handicap teams in these cases?
Here are six factors to consider:
Location: The more of these brutal games a team can play at home, the better off they are obviously going to be. When a top-level opponent comes to town, the crowd will be as big and as loud as it can ever be, and that will give the team a big boost. On the road, meanwhile, games can seem to be particularly challenging. What should be a particular concern for bettors is when a team has to play consecutive road games against tough opponents or when they start a brutal stretch of games on the road after previously playing an easier opponent on the road.
Style of play: There is no such thing as an easy football game these days — especially against tough opponents. Some games are going to be easier than others, though. A relentless, grinding ground-based offense could wear down your defense and keep them in action more than they are used to. A fast, spread-type offense could be a physical challenge to face but could be even tougher from a mental perspective. Teams that have a more extreme style of play are going to be more physically and mentally taxing to play against than a more conventional team. That will have an impact both on the effort of preparing for the game and the recovery after the game.
Consistency in style of opponents: The hardest challenge in tough stretches of games isn't necessarily playing the games. It's getting ready for each of the games so that you are prepared to give your full effort each week. It can be easier for teams to prepare effectively if the opponents play relatively similar styles of play. Every team is different, but if the base philosophies are the same then players only have to learn the subtle differences that the teams use instead of an entirely different style. For example, it would be much easier to prepare for a couple of spread offenses in a row than for a spread team followed by a smash-mouth, methodical team. Similarly, an offense would have an easier time preparing for two similar 4-3 defenses — no matter how good they are — than they would having to prepare for different styles of formations, blitzing philosophies, or coverage patterns.
Experience: Playing a stretch of brutal games will never be easier. It can be much easier, though, if the core of the team — and the coaching staff — has been through it before. A second-tier team in the SEC or, in the last couple of years, the Pac-12 or the Big 12, could face a stretch of games like this every year — or perhaps even more than once during the year if they schedule nonconference games that challenge them. If the team has gone through this before, it is going to be much easier to trust them to go through it again. The public can often not give enough credit to a team in a situation like this if they start a young quarterback who is being tested for the first time at this level, but who has a solid support structure around him — an experienced offensive line, skill-position depth, and coaching that has been there before.
How team is the team really doing?: When a team faces a challenging schedule, bettors can often make assumptions about how they will fare without actually looking at how they have been performing and how that means they might be expected to play. Those bettors pay more attention to the hype or to how strong the reputation of the opponent is. Ignoring the hype and focusing just on what can be reasonably expected on the field seems impossibly simple, but it is a powerfully-effective approach to handicapping in these cases.
Quality of coaching: A team probably has not yet faced adversity during the season like they will face during this tough stretch of games. A coach who is experienced in dealing with these situations, and effective in keeping his team focused and on task, will be easier to trust than one who lacks that. Because of the number of challenges that could arise week after week against top-level opponents, it is also crucial that a coach be effective at managing a game and making good decisions when a game is on the line. Notre Dame under Brian Kelly would be a lot easier to trust, for example, than Notre Dame under Charlie Weis. Factors that are always important when looking at coaches — job stability and the impact that has on how he relates to his team, quality of assistants, familiarity with opponents, comfort with opposing style, and so on — will be more important than ever in situations like this.
Read more articles by Trevor Whenham