College Football Handicapping: Johnny Manziel and the Aggies
by Trevor Whenham - 6/20/2013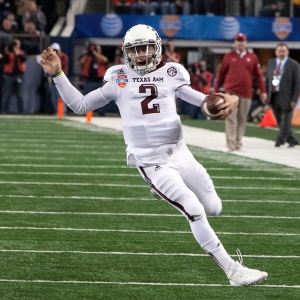 Over the last week we have had a good indication of just how crazy things could be with sophomore and defending Heisman winner Johnny Manziel and his Texas A&M Aggies this year. There isn't a college athlete under any more scrutiny right now — and it's not even close. In fact, there hasn't been anyone even in the same stratosphere since Tim Tebow left Gainesville.
On Sunday night Manziel tweeted to his followers that "(expletive) like tonight is a reason why I can't wait to leave college station... whenever it may be". The sports media world erupted like only it can. There was rampant speculation about exactly what he meant, what had happened to cause his angst, what implications it could have for him and the team, and so on. Some of the theories were downright preposterous, and many commentators questioned his maturity, focus, or readiness to handle his new levels of fame.
In the end, the explanation seems to be more innocent than anyone could have guessed. It turns out, according to reports, that Manziel was frustrated because he had received tickets from the police for parking and for having windows that were tinted too dark. You'd be frustrated, too.
While this incident ultimately doesn't mean that much in the grand scheme of things, it is a good reminder that we are going to have to be very conscious of the scrutiny around the Aggies and the impact it will have on how lines are set and how they move for the team. Here are five factors to consider when looking at how to handicap the Aggies:
Scrutiny
This incident shows that the player and team are going to be under ridiculous amounts of scrutiny. If they find a way to beat Alabama again in Week 3, that scrutiny will reach impossible levels. The media will react strongly and with firm opinions to anything that happens — no matter how significant it may or may not be. The betting public will be affected by this scrutiny, so bettors need to be very aware of what is being said and what it means. Bettors will have to filter out the important information from the distractions and find any edge they can find while not allowing themselves to be distracted by the hype and noise.
Familiarity
Last year no one knew what to expect from Coach Kevin Sumlin in his first year at A&M or from former OC Kliff Kingsbury in his first year solely in charge of a major program's offense. Manziel was a raw redshirt freshman who only won the starting job in the summer, and he had reportedly almost transferred because he was suspended for off-field issues. The team was a wild card, and some of their success was owed to catching opponents off guard with their creativity and efficiency. This year, seven of their eight SEC opponents and two of their nonconference opponents are facing Sumlin and Manziel for the second time. They have had the whole offseason to study tape and to prepare, and they are going to be more ready for the challenge. That doesn't mean that Manziel and company won't have any tricks left up their sleeves or that they won't be dangerous. It just means that the playing field is a bit fairer, and the challenge for handicappers is more significant than ever before.
Public love
Manziel is a total rock star. He is everywhere, and he loves the spotlight. He plays a very exciting style, and he and Sumlin have very quickly turned A&M from a forgotten squad to a very popular one. They aren't going to be the most public team in the SEC — Alabama is still on another plain — but the public will still give this team all sorts of credit. It will be very tough to find value in this team — especially early on — so bettors will have to be very aware of that when handicapping them and be sure that the bet makes sense if they do choose to wager on them.
Schedule
The SEC is always going to be tough, and the Aggies start their conference schedule with perhaps the most highly-anticipated game of the season when they host Alabama on Sept. 14. They close out with consecutive trips to LSU and Missouri, too, and that could be a rough patch. The nonconference schedule, though, is so bad it's almost a joke. Before they play Alabama they play two games that are essentially exhibitions — Rice and Sam Houston State. After the Tide they host SMU. That will be their biggest nonconference test, but is far from a challenge. They break up their SEC schedule with a home game against UTEP. The first two games are of the most interest. Barring a shock, the Aggies will win them in dominating fashion, and expectations and excitement surrounding this team will climb to even higher levels.
Kingsbury
Kingsbury, the former Texas Tech QB and budding offensive genius, was Manziel's mentor and offensive coordinator last year. Now he is back at his alma mater as head coach, and he has been welcomed as a hero. Kingsbury has a great football mind and obviously connected very well with Manziel. Co-offensive coordinators Jake Spavital and Clarence McKinney are well-regarded, but you can never be sure what will happen whenever a change happens like this — especially for a player so young. It will be tough to get a really good sense of where the Aggies are at against their two opening weak opponents, but watching very closely for any clues of chemistry, level of execution, confidence and so on will be very valuable heading into the Alabama game and beyond.
Read more articles by Trevor Whenham