College Football Handicapping: 2013 Rule Changes
by Trevor Whenham - 8/13/2013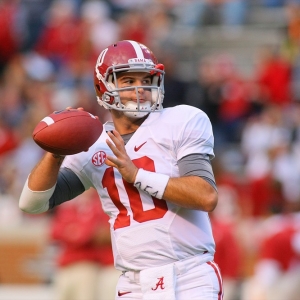 Every year in college football we see some rules tweaked and changed. It's not often that we see a monumental change, but even a seemingly innocent change can have a big impact for bettors and can create an opportunity for value for those who understand what has changed and what it means.
Here's a look at four of the more interesting rule changes in college football this year and what they mean for bettors:
Illegal hits
The definition of an illegal hit hasn't changed, but the way it is dealt with certainly has. Now a player can and will be thrown out of the game if he performs an illegal hit. The booth will review it, so mistakes should be minimized, but this is bad news for particularly aggressive defensive players. The biggest impact of this rule is likely to be felt early in the season. Coaches will not want to get hit with a penalty like this — both for the loss of the player in the game at hand and the tone it sets going forward — so defenses could be more tentative around the big hits than they would normally or ideally be. This will especially be the case if a key player in a high-profile game is booted early in the season. Once the teams get comfortable with the rule change, though, the impact should be minimal, so bettors should likely err on the side of caution when it comes to deciding how much to compensate for this change.
Late spikes to stop the clock
If there is one problem that is pervasive in college football — and drives bettors absolutely insane — it is the lousy clock management skills of far too many coaches in key situations. This change certainly won't help. In order for a quarterback to stop the clock by spiking the ball there now needs to be at least three seconds left on the clock at the end of a quarter. If there is less time than that then the team has no choice but to run a play and hope for the best. The theory of the change it that it will provide more consistency from game to game, but that remains to be seen. What it will do — especially early on — is cause confusion or stress for coaches already struggling to deal with late-game pressure. All year, then — and particularly in September — it will be particularly important to look at the coaches playing in the game and to be even more skeptical than normal of a guy who gets into more than his share of trouble in normal situations when the clock is winding down.
Lost helmets
The rule used to be simple and made sense — if a player lost his helmet he had to leave the field for a down before returning to play. It wasn't perfect, but it was the best you could do in the circumstance. The replacement rule — really just a tweak — doesn't improve things in my eyes. Now a player still has to leave the field for a play, but the team can overcome that and keep him in by using a timeout. It will be very interesting to see how this plays out, because I can think of very few situations in which keeping a player in the game would be worth a timeout — especially in all but the last couple of minutes of a half. Maybe if a guy is crucially important and the dropoff to the backup — due to an injury or just a general lack of depth — is significant then it could be warranted, but in most cases it wouldn't be. The one obvious situation would be if a running back or key blocker lost his helmet on third down and the team was facing fourth-and-short in a crucial situation. At this point my hunch is that the change won't be significant. However, if we see a coach making bold decisions regarding the rule — and it is something that comes up far more often than it should — then it could get interesting, and bettors might want to adjust for the approach of the coach slightly. At this point, though, it's a wait-and-see situation. Where this could really be interesting from the start, though, is for in-game betting. If a coach uses up a timeout early in a half to keep a star in the game then he is a timeout short for later on. In a tight game that could be a deciding factor, so this rule change could create opportunities for in-game bettors.
Fake injuries
The desire to eliminate the use of fake injuries to extend games has led to another potential misuse of timeouts for teams. We've seen this many times a week for years — a guy goes down on the field like he has been shot just when his team needs time to get ready for the closing seconds of the game. It takes a heroic effort from the training staff to revive him and get him off the field, but when the camera catches him a minute later he looks as fit as an ox. Now, if the clock is stopped in the last minute of a game because of an injury, the opposing team has the option to run 10 seconds off the clock. The team dealing with the injury can save those 10 seconds, but only by using a timeout. It's hard to see a clear betting impact of this rule change, but it sure has the chance to create some great chess matches late in games, and some coaches will likely make the wrong move before the correct strategy is determined.
Read more articles by Trevor Whenham