College Football Handicapping: Teams Poised for Breakout
by Trevor Whenham - 8/15/2013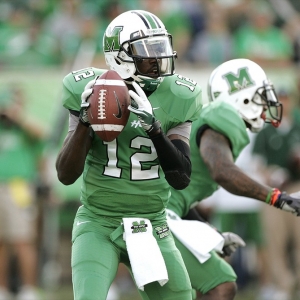 There are teams in college football that are just plain bad. They have been that way for a long time, and public bettors just expect them to lose against good teams without even considering what they have to offer. If those perennial losers can start to show notable and lasting improvement, though, then they can provide some solid value for astute bettors before the public is willing or able to adjust their expectations for the team.
Here are three underwhelming programs that are showing signs of climbing into respectability — at least compared to what we have come to expect from them:
Indiana
It is safe to say that the Hoosiers have never really been relevant on the football field. Given the depth of the conference they play in, they may never be, but at least they are finally showing some signs of life.
Kevin Wilson is now in his third year as coach, and he is proving to be perhaps the best coach the team has had. He returns 19 starters from last year and has added a surprisingly-solid group of recruits — at least in terms of what we have come to expect from Indiana.
What stands out most about the team is that they have three quarterbacks who are all more than capable and one of the best groups of receivers in the league. They will be able to run the ball, too, with good backs and a strong line. Their defensive should be decent as well.
They play only four road games all year, but since those are against the two Michigan teams in their conference, Wisconsin and Ohio State they are all but certain to lose all four. The home schedule is much easier, though.
They have only had one winning season in their last 18 seasons, but there is at least a solid chance that they will become bowl eligible this year. More significantly, a team that has been the definition of anonymously lousy for far too long is poised to take a step into the middle tier of the Big Ten. While they may never move beyond the scope of a team that will win 6-8 games in a good year, that would still be a great improvement.
Marshall
Back when the team was an NFL quarterback factory — Pennington in 2000 and Leftwich in 2003 were both first-round picks — Marshall was a solid, often-dangerous team. They have really struggled to find their way in the last decade, though, and now expectations are quite low for the squad.
They have another really impressive QB on their hands in Rakeem Cato, though, and he could be the building block for this team to return to some level of prominence. Last year they had the top passing offense in the country, but they lacked balance or defensive skill, and limped to a 5-7 record. They are much more experienced this year, though, and the offense should be all-round better than it was before.
Beyond their internal improvement, though, they are in a very good position in their conference. Conference USA has become significantly weaker thanks to the poaching of the new American Athletic Conference, and outside of consecutive trips to Ohio and Virginia Tech it is a very manageable schedule.
They are positioned to be much better than last year — in fact, they could conceivably double their win total from last year. More significantly, this is the third year of the Doc Holliday regime, and with a good year this year he has the potential to show that he has taken a step forward and is really building something.
If things turn out as I expect, the biggest challenge for the team will be keeping Holliday around, because bigger programs will come calling.
Kentucky
Kentucky is obviously severely handicapped by playing in the SEC — it is as much of a disadvantage for them in football as it is an advantage in basketball. Despite that, though, there is no reason that the program needs to be as consistently lousy as they have been. They have all of the ingredients to be a consistent second-tier contender like Arkansas, but haven't put it together for more than a short period now and then.
They have taken a fairly bold step now, though, in bringing in Mark Stoops to helm the program. The team won just two games last year and has been seen as a sure win for the top teams in the conference for far too long. Stoops is a very good defensive coach, most impressively turning Florida State from a farce to a beast in two years. The Wildcats have solid defensive depth on this squad. That should help them stay in more games than they did last year with his guidance. More significantly, a noteworthy defensive improvement this year will be a huge tool in recruiting in the next couple of years.
The offense isn't as deep, but the system they will employ should allow them to get the most out of what they have. Offensive coordinator Neal Brown most recently ran the offense at Texas Tech, and his version of the air raid put up consistently solid numbers there.
The schedule is predictably brutal, and this team is likely a year or two away from returning to bowl action. What we should see, though, is a good deal more competence than we have seen recently under Joker Phillips and his predecessors. Stoops has the chance to produce a solid second-tier SEC squad.
Read more articles by Trevor Whenham