College Football Handicapping: the Success at Texas Tech
by Trevor Whenham - 9/17/2013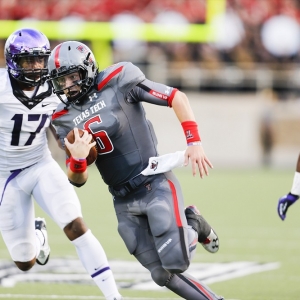 One of the most impressive stories of the college football season so far has been the Red Raiders of Texas Tech. After an ugly end to the Mike Leach era and the predictably-underwhelming Tommy Tuberville tenure, the team needed to hit a home run with their next head coaching hire. By bringing in Kliff Kingsbury, perhaps the biggest star in the history of the program and the offensive coordinator who guided Johnny Manziel to his Heisman trophy last year, they may have done just that.
It's too early to know what the future of the program holds. Based on the enthusiasm surrounding the program and the early results, though, it's hard not to be positive. They opened with a convincing win at SMU and then predictably humiliated Stephen F. Austin at home. It was the third game, though, that was the most compelling. TCU was ranked, and Texas Tech couldn't find their offensive stride, but they still came out on top 20-10 in a game that showed off their newly rediscovered mental toughness.
Now Texas Tech is ranked, and the hype is building around the team. As the attention intensifies, value could be harder to find. That means that handicappers need to pay closer attention to certain things that affect how this team could perform and how to bet on them.
Here are four factors to consider when looking at this team going forward:
Kingsbury
Kingsbury is the closest thing to a rock star there is in coaching right now. His story couldn't be more compelling. The 34 year old put up huge numbers in college. After bouncing around the pro ranks for a while without gaining any real traction, he hitched onto Kevin Sumlin's rising star. He climbed the offensive coaching ladder at Houston then moved with Sumlin to Texas A&M last year. All he did in that one year was beat Alabama and lead his QB to the Heisman. It was perhaps too early for him to take over a head coaching job, but the Texas Tech gig opened up, and everything was too perfect not to happen. There is little doubt that Kingsbury is gifted or that he is comfortable and well suited to life in Lubbock. There are issues, though. First, the reputation he has already garnered makes it very difficult for casual bettors to be objective about him. Second, the more popular he becomes, the more in demand he is going to be from the media — E! News interviewed him this week. That could be a distraction. And for a coach looking to overhaul a program in serious need of it, that could be a problem.
Schedule
There is good and bad news here. The good news is that they are going to have plenty of time to find their stride and get comfortable before things really matter. Their next four games are against Texas State, Kansas, Iowa State, and West Virginia. That is more than manageable. Now the bad parts. First, there is a good chance that the team will rise to 7-0 and will be well-ranked as a result. That will only amplify the attention and potential for distraction. Second, the back end of the schedule is absolutely brutal. Their last five games — at Oklahoma, hosting Oklahoma State and Kansas State, a neutral-site game against Baylor, and a trip to Texas — are all very tough (except perhaps for Texas if they stay on their current path). For a young, fragile team that could lead to losses and a subsequent hit to their confidence. If things start to go poorly, then, they could really go badly.
Quarterbacking
Baker Mayfield has been one of the more interesting stories of the year — a true freshman walk-on quarterback who is playing like a star. He's not quite as obscure as the story might seem, but it is still remarkable — and a sign of how effective Kingsbury's system can be with a reasonably-talented quarterback. Further proof came against TCU when Mayfield was injured and Davis Webb, also a freshman, stepped in and was competent. While trusting a freshman pivot is concerning, this situation means that the team is easier to trust than most would be — Kingsbury protects his QBs and allows them to shine.
Fan support
The Red Raiders have announced that the home game against Texas State has sold out. Why is that relevant? Well, Texas State is terrible and obscure, so no one is going to see them. It's also the first sellout of the year, and the sales that pushed it over the top happened Monday morning — after the TCU victory. In other words, the faithful are in a frenzy, and they believe — even more than usual. That's a big factor in the four remaining home games.
Read more articles by Trevor Whenham