College Football Handicapping: Unbeaten Non-AQ Teams
by Trevor Whenham - 9/24/2013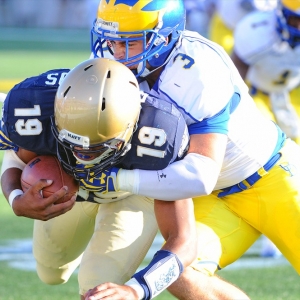 With the end of the BCS era, we are likely about to see the end of one of the great sub-plots in sports — the BCS buster. We have often seen teams from outside of the six power conferences not only force their way into a BCS bowl game but shine once they get there. Boise State is the poster child for all BCS busters, but Utah, TCU and Northern Illinois have done their part as well. As the BCS nears death, it seems only fitting that we would get one last buster to remind us of what we are losing. The problem is, though, that the non-AQ teams just aren't doing their part. Through the first four weeks of the season, there are only three teams from outside the big six conferences that have yet to lose, and one — Navy — hardly counts. So, is the dream dead? Or do we still have a shot at one last hurrah for the underdog?
Navy Midshipmen (2-0)
Let's make this simple — Navy is not going undefeated. Sure, they have a nice win at an Indiana squad that is slowly improving, and they lead the nation in rushing yards per game. They just aren't deep enough to be a serious factor against this schedule, though. They play five more road games - including a trip to Notre Dame. At home they face a Pitt team that will be tough. They will wind up with a good record, no doubt, but they just don't have the depth to be a major factor over the long haul and would likely struggle to get ranked high enough to be a buster even if they did run the table.
Fresno State Bulldogs (3-0)
It's sad that Pat Hill and the Bulldogs really started to make us believe that a BCS buster could happen back in the day, but they never quite got it done and soon gave way to Boise State. Well, Hill is gone, but the team is back. David Carr's little brother Derek is at the helm, and with a thrilling win over Boise State in a crazy one last time out, the Bulldogs have served notice that they are for real. They have had an unexpected bye week already this year because their game at Colorado was postponed due to flooding and may or may not be rescheduled. It's a winnable game either way, but it could be valuable so that the Bulldogs have a second BCS conference win to their credit to go with their OT win against Rutgers in their opener. The biggest challenge to the team right now is that even if the Colorado game is scrapped, they have five more road games left. They are the better team in each game, but they have been just 5-8 in the last two seasons away from home. They face tough trips to Wyoming, San Jose State and San Diego State, and their next game is in Hawaii where they were absolutely awful in their bowl game last year. There seems to be a good chance that they will stumble at some point along the way, but coach Tim DeRuyter is running a tight ship, and in his second year with the program he is beginning to make it his own. They are only the second most likely team to go undefeated on this list, but the good news is that they have already won their two toughest games of the season. Now they just have to keep doing what they have done — and hopefully start making wins look a little easier than the two combined points they beat Rutgers and Boise State by.
Northern Illinois Huskies (3-0)
We know that the Huskies are capable of being BCS Busters because they just did it last year. They lost a lot of talent from that team, including seven starters on defense. They also are now coached by Rod Carey. Former head man Dave Doeren left the team before the Orange Bowl last year to take over at N.C. State. Despite the changes, though, this is a legitimate potential BCS Buster, and they are helped dramatically by facing just the 116th toughest schedule in the country. Purdue is their only major-conference foe left, and they are lousy. Trips to Kent State, Central Michigan, Toledo and UMass are all more than manageable. Akron, Eastern Michigan and Western Michigan are all lousy teams, and the Huskies get them at home. The biggest looming threat is Ball State at home, but that team has already lost a North Texas, so they are far from formidable. The not-so-secret weapon for Northern Illinois is senior QB Jordan Lynch. He broke the single-season rushing record for QBs last year that Denard Robinson had set the year before, and in the process he finished seventh in Heisman voting. He's off to another strong start this year despite working with new offensive starters in key positions, and he is a massive nightmare for the remaining opposing defenses. If the Huskies are still standing after their trip to Purdue this coming weekend then they are in the driver's seat for an unbeaten season. Given the weak schedule, though, their biggest challenge could be what it was last year — ranking high enough to get an invitation to the ball. They really need to hope for Fresno State to falter, because I find it hard to believe that the Huskies could surpass the Bulldogs in the rankings if both hadn't lost.
Read more articles by Trevor Whenham