College Football Handicapping: Another Week for Underdogs?
by Trevor Whenham - 10/15/2013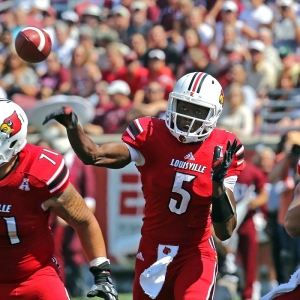 After a straightforward start to the college football season, things went a little crazy last weekend, and the big upsets rained down on adoring college football fans. Most shocking, perhaps, was Utah shutting down Stanford. Missouri's convincing win over Georgia — even after QB James Franklin was injured — was also impressive. Very few guessed that the implosion would be halted in Texas and they would beat up on their rivals from Oklahoma. Northwestern was the ranked team, but they were humiliated by Wisconsin.
Upsets are one of the things that make college football so great. They are obviously unpredictable — if you saw them coming then they would hardly qualify as upsets. That being said, some games seem to have more potential for a shock than others. Here are three games in the coming week of action that stand out as potential upsets (all odds are from 5Dimes, and ranking is from the AP Poll):
UCF (+12.5) at No. 8 Louisville
The Cardinals had the chance to make a major statement and earn some real national respect on Thursday night. They were playing Rutgers in a nationally-televised game, and the stands were packed with NFL scouts watching the team and their QB. They won, and ultimately did it by two touchdowns, but they were far from impressive en route to the 24-10 score. Teddy Bridgewater was lousy, and only the defense saved the day. The lack of strong effort from Louisville in that game is a clear sign of the concern surrounding the team — they are too good for their competition. They have 12-0 in their sights, and they know it. To make matters even worse, they now know that they have virtually no chance of making the National Championship Game even if they do run the table, so the motivation could be lacking somewhat. If the Cardinals aren't sharp then this game shapes up as perhaps their most threatening of the year. Central Florida got a win at Penn State this year, and they only lost to South Carolina by three points, so they can play. They had a bye week to get ready for this one, just like they did before playing South Carolina so tough. The defense is solid, and they will learn from how Rutgers was able to frustrate the Cardinals offense. Louisville is a 12.5-point favorite in this one, but the Knights are not your typical big underdog, and they cannot be taken lightly.
Ole Miss (+7.5) vs. No. 6 LSU
The Rebels have had an absolutely brutal stretch of games, and they have lost three in a row. There is really no shame in losing at Alabama and Auburn then at home to Texas A&M, though. More significantly, they lost by only a field goal to the Aggies, and they could have very easily won it. This is a very young team, but they are wildly-talented and are only going to get better as they play top teams and learn what they need to do. It's a trial by fire, but as long as the team is well coached — and they are — they can build on that. LSU is the better team, and the gap isn't narrow, but the Rebels are at home, they are hungry, and sitting at 3-3 they have absolutely nothing to lose and giants to kill. LSU lost at Georgia, so they are vulnerable on the road and are far from perfect. LSU needs to keep their collective minds on the task, or they could find themselves in trouble. The thing to remember here is that Texas A&M needed a touchdown with just over three minutes left to tie the game and a field goal as time expired to win. The Aggies are a very good team, and I'd take them to beat LSU on a neutral field, so Ole Miss is certainly capable of pulling off the win here.
West Virginia (+7) vs. No.16 Texas Tech
The hiring of Kliff Kingsbury in Lubbock was an inspired one, and it has paid immediate dividends just as it will provide benefits for the team for years to come. This team is not as good as their 6-0 record indicates, though. TCU is their best win, so they have really benefited from their schedule. West Virginia has alternated wins and losses to drop to 3-3, but the Mountaineers have won all three at home, and they had that spectacular and shocking upset of Oklahoma State the last time they played at home. Kingsbury worked under West Virginia head coach Dana Holgorsen at Houston, and he played under him at Texas Tech, so Holgorsen will have a good sense of how Kingsbury thinks and what to expect. That should provide an edge here. Texas Tech is the better team, but the gap is narrow, and the margin for error is very small.
Read more articles by Trevor Whenham