NBA Betting and Handicapping: Scouting the Week Ahead
by Alan Matthews - 4/1/2013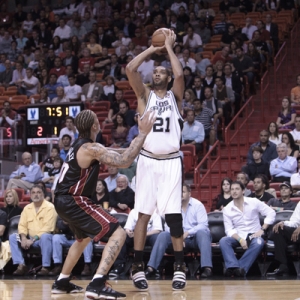 I don't care what Miami Heat coach Erik Spoelstra says publicly, but he most definitely benched LeBron James, Dwyane Wade and Mario Chalmers on purpose for Sunday's game in San Antonio, and it had nothing to do with injuries to any of the trio. They would have played if the game meant something.
You probably remember the Spurs' early-season visit to Miami. It was a national TV TNT game and certainly one of the most anticipated regular-season games as it was San Antonio's only trip to south Florida. However, Spurs coach Gregg Popovich didn't bring Tim Duncan, Tony Parker or Manu Ginobili on the trip after his team played the night before in Orlando. Commissioner David Stern was furious -- as I'm sure TNT executives and advertisers were -- and fined the team $250,000.
Thus it was pretty ironic that Spoelstra benched his threesome in the Heat's lone visit to San Antonio, even though Wade and James played "injured" on Friday night in New Orleans (Chalmers didn't). Spoelstra claimed there was no gamesmanship involved, but that's hogwash. The Miami fans were denied an opportunity to see San Antonio's future Hall of Famers, so the Heat decided to stick it to the Spurs fans in the same fashion. By the way, the Heat are now 6-1 all-time when any two of the Big Three sits out a game.
I bring this up because more and more teams locked into playoff seeds are going to start resting their players. The Heat already have the top seed in the Eastern Conference and now have essentially a four-game lead over San Antonio for potential home-court advantage in an NBA Finals matchup (Miami up three games but won the season series). Thus, I have little doubt that James, Wade and Bosh will get nights off down the stretch. Spoelstra said he would evaluate that on a day-to-day basis.
You know the Spurs are going to be resting their guys, as Coach Gregg Popovich has done many times in the past. Don't expect to see Manu Ginobili the rest of the regular season. He also sat out Sunday, but that was legitimate as he has a strained hamstring. The team says he's out 3-4 weeks, but I'm pretty confident the Argentine will be back for the first round of the playoffs. That injury could be a boon for Oklahoma City, however, as it is 1.5 games behind the Spurs for the West's best record.
My advice would be to keep an eye on back-to-backs for teams like Miami and San Antonio the rest of the way. You can expect at least one star on each team to get one of those nights off, and it usually won't happen at home because teams don't want to anger their fan base. The Spurs play at home against Orlando on Wednesday and then visit the Thunder on Thursday. Would Popovich dare rest Duncan and/or Parker in what should be a sure win Wednesday so they are rested on Thursday in a game that could all but wrap up the West's top seed? I don't think he would, and it wouldn't surprise me at all if Parker and/or Duncan don't make the trip since the team is then back home again Saturday.
The Heat have a back-to-back this weekend, playing at Charlotte on Friday and home to the 76ers on Saturday. I fully expect at least one of James, Wade or Bosh to not play at Charlotte.
Could Jazz Steal West's Final Spot?
On the updated Sportsbook.ag prop on whether the Lakers make the playoffs, "no" has become the favorite again at -150 with "yes" at +120. L.A. is in a bit of a funk, having lost three of five. It is tied with Utah for the No. 8 spot in the West, although the Jazz hold the tiebreaker thanks to winning two of the three season matchups.
All teams are beaten up this time of year, but especially the Lakers. Kobe Bryant has a bone spur in his left foot, Steve Nash has hip and back troubles and played just two minutes Saturday, and Metta World Peace is out for about six weeks after undergoing knee surgery. He probably has played his last game as a Laker.
Still, I would jump on the yes on that playoff prop. Los Angeles leaves Staples Center just once the rest of the regular season (one road game vs. Clippers). If the Lakers can beat surging Dallas on Tuesday night, that would be a major dagger to the Mavs' playoff chances and essentially make it a Lakers or Jazz fight for that final spot.
The Jazz have won four straight (and covered seven in a row) but against pretty lousy competition as only Brooklyn in that group will make the playoffs. Also, three of the Jazz's final five games are on the road, where they are wretched (11-27). They also have to play Denver and Oklahoma City in Salt Lake City. Utah isn't likely to have big man Enes Kanter the rest of the regular season due to a separated shoulder. It was gruesome if you saw when it happened, although nothing like what befell Louisville's Kevin Ware on Sunday.
Read more articles by Alan Matthews