NBA Betting and Handicapping: Scouting the Week Ahead
by Alan Matthews - 1/14/2013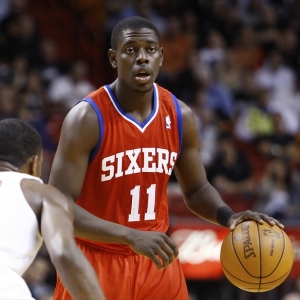 Many people expected the Philadelphia 76ers to be a contender in the Eastern Conference this season. After all, the Sixers pushed the Boston Celtics to the limit in last year's conference semifinals. And Philly was involved in the offseason's biggest trade, essentially giving up Andre Iguodala and picks for Lakers center Andrew Bynum. With Dwight Howard going West to L.A. in that deal, Bynum was expected to be the East's best center.
Now that trade looks horrible for the Sixers, with Bynum yet to play this season because of knee trouble. Whether he does suit up at all still remains a huge question. The Sixers want to see him on the court, especially because they have to decide whether to offer the maximum extension this offseason when Bynum becomes a free agent.
But even if Bynum does play within, say, the next few weeks, it might be too late to save Philly's season if the team doesn't take care of a very friendly upcoming schedule. The 76ers enter the week 16-22 and four games out of the East's final playoff spot. Philadelphia had lost five straight and 13 of 16 before beating Houston 107-100 at home on Sunday. That started a rather amazing 13-game stretch with 12 at Wells Fargo Center.
And the Sixers should be a healthy, rested bunch, because they play just two games this week and should win both: vs. New Orleans on Tuesday and vs. Toronto on Friday. Half of the teams to visit Philadelphia have winning records (Houston, San Antonio, New York, Memphis, Indiana and the Los Angeles Clippers) and half worse marks than the Sixers (New Orleans, Toronto, Washington, Sacramento, Orlando and Charlotte). The one road game in there is at Milwaukee.
The Sixers have been just so-so at home, going 10-8 overall (8-10 ATS). But obviously the team is going to have a road-heavy schedule the rest of the way after this run is over. And Philly is just 6-14 on the road this season (8-12 ATS). Look for coach Doug Collins to preach a sense of urgency right now.
Last week, one of my main items was when I projected that Wizards point guard John Wall would make his season debut on Saturday at home against Atlanta. And indeed the former No. 1 overall pick did play that night after dealing with knee problems all season. I wondered if he might make the Wizards somewhat respectable this season. So far so good. Wall played just 21 minutes, and will be brought along slowly, but had 14 points, four assists and two steals as Washington beat the Hawks, 93-83. Atlanta had won 18 of its previous 19 against Washington, including six in a row.
Perhaps most important, Wall didn't feel any discomfort in his knee afterward. Still, don't go betting on the Wizards quite yet. After hosting the Magic on Monday night, Washington starts a five-game West Coast trip, and it has just one road win all season (at New Orleans). But, clearly, with a healthy Wall, the Wizards aren't the worst team in the NBA, and they should leapfrog Cleveland and Charlotte at a minimum soon in the East. Oddly, four of the Wizards' six wins have come against teams at .500 or better: Heat, Thunder, Trail Blazers and Hawks.
Meanwhile, I should have known better than to recommend the Hawks in a game last week. The most schizo team in the NBA enters this week having lost five of six (1-5 ATS). Three of those losses Atlanta had no right dropping: at Detroit, at Cleveland (without Anderson Varejao), at Minnesota (no Kevin Love) and that Wizards game on Saturday. It's why I probably will never recommend the Hawks again. You just never know what you will get with that team. This week looks ugly, too. The Hawks visit Chicago on Monday, and then they play back-to-back games against red-hot Brooklyn before hosting the Spurs. A 0-4 week wouldn't surprise me. Which means of course the Hawks will go 4-0.
Last week, I missed on Atlanta at minus-1.5 covering at Minnesota in a 108-103 loss but hit on Portland at +4 beating the visiting Miami Heat 92-90 (was 1-1 on the totals in the two games as well). This week, I will preview Portland at Denver on Tuesday night (NBA TV national game) and the much-anticipated first meeting of the season between the Heat and Lakers (TNT nightcap) on Thursday night. That could be the game in which LeBron James becomes the youngest player ever with 20,000 career points. The 26-year-old is 50 short. The Heat visit the Jazz on Monday and Warriors on Wednesday, so James could reach it against Golden State.