NBA Handicapping: Studs and Duds Against the Betting Line
by Trevor Whenham - 11/21/2013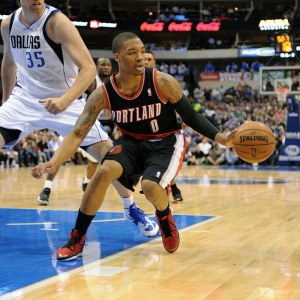 We are very early in the NBA season, but we have seen enough games by now to have a sense of which teams are the emerging betting stars and which ones are determined to burn your money. Here's a look at the ATS studs and duds of this young NBA season:
Studs
Phoenix Suns (8-2-1 ATS): A lot of casual fans probably couldn't name a Suns player right now, and most people couldn't name more than two. That anonymity plus a surprisingly solid start have combined to make them betting heroes so far. They have cooled off lately, dropping four in a row and going 2-2 ATS over that stretch. That means, though, that they didn't cost bettors money in their first eight outings. This team will almost certainly come back to earth soon from a betting perspective, but what a trip it has been so far.
Portland Trail Blazers (9-3 ATS): The Trail Blazers are on fire. They have won eight straight games and have gone 7-1 ATS over that stretch. This is a talented young team that is really growing into themselves. While they will obviously lose some games along the way, they are a playoff squad that will cover a fair number of spreads. It wouldn't be a surprise at all to see them near the top of this list throughout the season.
Indiana Pacers (8-3 ATS): When you start the season 9-0, you are going to cover a lot of spreads. This team has a lot of what it takes to consistently cover spreads, too — they aren't a raging public team, they pay defense extremely well, they are disciplined and even-keeled, and they are coached well.
Dallas Mavericks (8-4 ATS): I still am not at all sold that Monta Ellis is a great player or a good long-term fit here. He's leading the team in scoring and assists right now, though, and that has helped the squad go 5-1 straight up and ATS over their last six games. I suspect that they are playing slightly over their heads — especially from a betting perspective, but it's a wave to ride for now.
Atlanta Hawks (8-4 ATS): This team isn't that fun to watch, and they certainly aren't inspiring or destined for great things. They have been just good enough, and just anonymous enough, recently to deliver some nice value, though. Could they keep it up? Sure. They are good enough to win a few more than they lose, and the public is barely going to remember they exist.
Duds
Cleveland Cavaliers (2-10 ATS): Anthony Bennett is a perfect metaphor for this team. The first overall pick couldn't find the basket if he was sitting on it, and he looks like he trained for the NBA by eating Big Macs in bulk. He has been a waste of oxygen while rookies picked below him have excelled. Despite heroic efforts form Kyrie Irving, this team is just plain lousy, and it will be a while before that changes.
Sacramento Kings (2-8-1 ATS): The downside of winning the battle for this franchise is that now fans in Sacramento are stuck watching this band of underachievers. They don't have the roster to be great, but they have been mismanaged and should be better than they are. A clear sign of their issues — they have been favored six times this year, and they are 0-6 ATS, which includes two games that they won.
New York Knicks (3-8 ATS): Stoudemire is a write-off, World Peace is ancient, and Bargnani is unfortunately still Bargnani. Off the heels of a surprising season last year, it's no surprise at all that this struggling squad has drawn in the public too often and lost them money. They have gone 0-4 ATS and straight up recently, and they failed to cover as 6.5-point underdogs at home to the Pacers last time out despite taking them to overtime, so it's hard to be too optimistic about the future this year.
Memphis Grizzlies (4-7-1 ATS): Things have been pretty bleak form a betting perspective for this team despite a 7-5 start. Lately, though, there have been signs of betting optimism. Over a four-game West Coast road trip that ended Wednesday night, the Grizzlies went 4-0 — including a win at the Clippers — and were 3-0-1 ATS. That's not easy to do, and it could be a sign of brighter things to come.
New Orleans Pelicans (4-7 ATS): You look at this roster, and you know that this is a work in progress — a young team building toward a brighter future. They are moving in the right direction, but you probably don't want to bet on them on the road there just yet.
Brooklyn Nets (4-7 ATS): Who would have guessed that Jason Kidd wouldn't immediately lead this team to the promised land? The hiring of Kidd as head coach was a total head-scratcher when it was announced, and he has looked hopeless so far. They have the talent to be better, but can Kidd lead them there? Color me skeptical.
Read more articles by Trevor Whenham