NBA Handicapping: Betting On or Against Eliminated Teams
by Trevor Whenham - 4/10/2013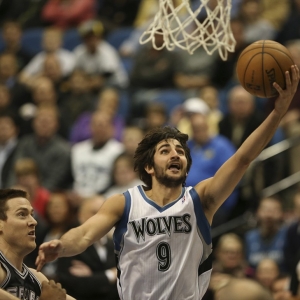 The Lakers and Jazz are fighting for the last playoff spot in the Western Conference. Outside of that, though, we know which teams are heading for the postseason and which ones are just playing out the string. When a team is eliminated from postseason contention, you can never really be sure what is going to happen. Sometimes the team will just quit. They'll think more about their offseason vacation plans than the remaining games. Other teams will be able to stay motivated despite their lack of a future.
Here's a look at two eliminated teams that can be expected to perform well down the stretch and deliver some value for bettors as a result:
Minnesota Timberwolves
It has been a lost season for the Timberwolves, but they certainly aren't playing like your typical 29-47 team. They are 6-4 in their last 10 games and a very solid 5-2-1 ATS in their last eight contests, and they are doing this with superstar Kevin Love out with a knee injury.
There are two players that have really stepped up to make things work for this team. Ricky Rubio was almost entirely out of action until the middle of January, but in his return he's generally played well. Recently, though, he has really found his game. He has averaged more than 14 points per game over his last 11 and has fallen just short of nine assists per game over that stretch. In other words, he is playing like he was expected to when he came to Minnesota.
Another major factor is center Nikola Pekovic. He has been more than solid the last two years but has really stepped up his game lately. He's averaging more than 22 points a game over his last seven games, and he has had a double-double in four of those seven games. He's been a major force, and he's just not intimidated by opponents — he had 22 points and 15 rebounds in a surprising win over Oklahoma City.
The strong play of those two isn't all the team has going for it. Rick Adelman is a well-above-average coach, and he's in sync with this team right now. He is especially good at getting this team back on track after a loss — they are 5-0-1 ATS in their last six games following a loss. You don't win more than 1,000 games by accident, and he's not going to let this team quit.

This is a team that, when healthy, is dramatically better than when the injury report is long, and they are proving it now. They should finish this season strong.
Washington Wizards
There are two Washington Wizards teams — the lousy one without John Wall and the promising one with him. They are 22-18 since he belatedly started his season on Jan. 12. Before then they were a pitiful 7-30, including 3-22 before Christmas.
Wall has been just fantastic this year. With 18 points and 7.6 assists per game, he is putting up serious numbers. He's consistent, too — he has scored at least 13 points in every game since the beginning of March. He's a special player, and he's showing it.
Where this team has really been impressive under Wall is playing at home They have won their last nine home games and are 18-4 at the Verizon Center since he returned. It's not like they are benefiting from soft scheduling, either — they have wins over Chicago, Indiana and Memphis in their last four home games.
You can tell that a team is worth paying attention to when their ATS record is significantly better than their straight up record. That is certainly true with this squad. They are just 29-48 overall, but at 44-31-2 ATS they are the third most profitable team in the whole league, and at 25-13-1 ATS they have been an ATM for bettors at home. Wall has this team all but unbeatable at home, but the bettors just aren't catching on — they are 17-5 ATS there since he has been playing. They have two more home games left to deliver further profits, including one against a Miami team that will still draw public money despite playing with the urgency of a sleeping sloth since their winning streak ended.
This is a young team, and guys like Jordan Crawford and Bradley Beal are really growing into themselves. They are focused on getting better and have bought into the system. They also know that coach Randy Wittman is all but certain to be back next year after the second half he has put together, so the players are playing to secure their roles next year. This is a team that should finish well.
Read more articles by Trevor Whenham