NBA Handicapping Impact of Rondo's Season-Ending Injury
by Trevor Whenham - 1/28/2013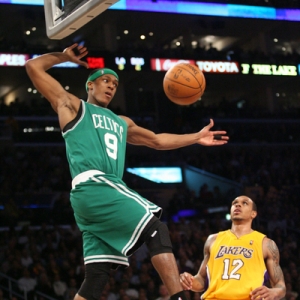 Sunday was not a good day to be a Boston Celtics fan. In fact, it likely sucked. Sure, they got a surprising, thrilling win over the Heat, and they got to pretend for one night that Ray Allen made the wrong decision. That didn't matter, though, as soon as they learned that Rajon Rondo's hamstring injury he thought he suffered Friday night was actually a torn ACL that will keep him out for the season. With one innocent injury — Rondo doesn't even know for sure when he hurt it, and he certainly played for several minutes after the injury — the team lost the league leader in assists, and their third-leading scorer and rebounder. He has five triple-doubles, while no one else in the NBA has more than two.
So, what impact is the loss of Rondo going to have on this team going forward? Here are six factors to consider when trying to answer that question:
The team is 3-3 without him
The Celtics have played six games without Rondo this year. They are 3-3 without him, and they have beaten both Miami and the Knicks. Now, .500 isn't going to win you a championship, but it is a better winning percentage than they have been at with him in, and it would likely be enough to get them into the playoffs. Now, I'm not suggesting that they will continue to win at this rate because they already have — it's a very small sample size. It's just that there is no need to panic completely — at least not yet.
They haven't played this year knowing he was gone
I've already heard a few people suggest that the team could be okay because they showed so much heart on Sunday night against Miami after Rondo had been hurt. That's just not the case here, though. Rondo didn't get the diagnosis until after the game had started on Sunday. Up until that point he thought it was just a tweaked hamstring. Doc Rivers had been tipped off that it was likely an ACL by the team doctor, but he had kept it to himself. As far as the team knew, then, he was just out for a game or two. Now that they know the truth, they have to face a much different, and likely much more bleak, future, it's going to be a very different mindset for the team going forward.
No obvious replacement
The team doesn't have a sound replacement for Rondo's role because they didn't need one when Rondo was healthy since he almost never sat down. Avery Bradley and Courtney Lee will fill the spot in the lineup, but neither has shown much ability to run the offense or do more than turn the ball over with consistency. More likely, the responsibility for commanding the offense will fall to Paul Pierce. While Pierce is capable — he looked very good on Sunday night — he's also 35 and having a rough year compared to what is normal for him. It's hard to have a lot of faith in him holding up at a high level in that new role.
Chance to bring others forward
There are a few guys on this team who have really struggled to find their role in the Rondo-dominated system — Jason Terry, Courtney Lee, and Jeff Green are the most obvious. Without Rondo, the system is going to change significantly. Given that, it's possible that these guys could step up and play at a level far removed from what we have seen so far. That could help ease the pain of Rondo's absence if it happened.
Danny Ainge has freedom to make big moves now
There was pressure for Ainge to make some moves — including looking at dealing Rondo or anyone else other than Garnett — to overhaul this team and build for the future. He had largely ignored that pressure because he felt that the team could make the playoffs as they are — and he was likely right. With Rondo gone, though, the outlook is less sunny, and Ainge could use the setback as a license to deal. The potential for change could be a big distraction hanging over this team from now to the deadline. They don't seem like the kind of team that is tough enough right now to handle that kind of distraction with grace.
Team wasn't very good anyway
Ultimately, it's hard to get too concerned about the loss of Rondo because the team was pretty lousy even with him. At 15-26-3 ATS they are the worst betting team in the league as it is. If anything, this could make them a better team to bet on in the short term. The public is going to react very negatively to a high-profile situation like this. If the team can settle in with some competence then the public adjustment could be more than necessary and there could be value in betting on them.
Read more articles by Trevor Whenham