NBA Handicapping: Philadelphia 76ers Surprising Start
by Trevor Whenham - 11/4/2013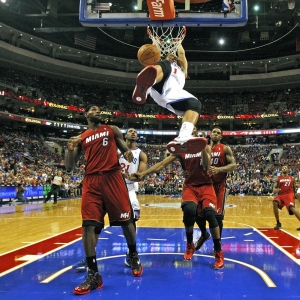 Break up the 76ers! Philadelphia was widely expected to be a serious contender for the most balls in next year's draft lottery. Through three games, though, they are one of just a handful of unbeaten teams in the NBA. More significantly, both the Heat and the Bulls — the best team in the league and a major East contender, respectively — have fallen victim to the Sixers' buzzsaw. So, is this a better Philadelphia team than people expected? Or are they just getting a quick head start on their eventual 16-win total (that is the NBA season win total the oddsmakers tagged this team with before the season started)? And what does it all mean for bettors? Let's take a look:
Michael Carter-Williams is good
It took very little time for Michael Carter-Williams to prove that he was ready to be a contributor at the NBA — at a high level. All you need to do is look at his astounding NBA debut against the Heat — 22 points, 12 assists, seven rebounds, nine steals, and just one turnover. That's a world-class game for any point guard. Of course, he's not going to have a game like that every day, and there are going to be plenty of rough spots along the way as the season wears on and the grind of the NBA becomes real to him. The guard is a budding star, though, and he is going to make this team better overall than an average young point guard would.
Hawes, Young and Turner have all progressed
At the core of this team beyond Carter-Williams is Spencer Hawes, Evan Turner and Thaddeus Young. Each player has shown real progress early in this season. Hawes is playing defense as tight as he is able to, and he has added effectiveness to his three-point range. Thaddeus Young was the most efficient scorer on the team last year, and he has already shown progress — again through commitment to improving his three-point effectiveness. Evan Turner has struggled through three seasons to perform like the No. 2 overall pick that he was, but he is playing his best basketball right now. He's scoring, his shooting has obviously improved, and he is effectively swallowing minutes. This isn't a playoff-caliber core by any means, but when you add them to Carter-Williams, you don't have the worst team in the league.
GM Sam Hinkie is an analytics guy
The new general manager of the team is one of the bigger advocates of the use of advanced statistics in team building in the league. The strong belief in analytics means that he is going to have a plan that he is working towards, and he is going to pursue that plan without emotion. Early success could shake more traditional personnel managers from their gameplan, but Hinkie will rely on the numbers to tell him how close he is to where he needs to be, and what he needs to do to get there. Over the longer term that is good news for handicappers because it makes the team easier to understand and to trust. It also means that in the short term Hinkie could do things that seem contrary to popular logic — and that could create value as a result.
Changes are likely
No matter how good this start is, Hinkie knows that this is not a team that is going to be a serious contender this year. He is paid to build towards the day they can contend, and that almost certainly means major changes are on the horizon. Hinkie showed he is absolutely fearless when he traded away Jrue Holliday just months after taking the job. He scored Nerlens Noel in that deal, but the rookie is not likely to play this year due to injury. He also got a first round pick. Now he faces more tough decisions. Evan Turner is in the last year of his entry-level contract and was not offered an extension in the offseason. He's not a Hinkie guy, and he is more likely to be traded now that his value is high than kept around. Hawes is in the last year of his deal as well, and he plays the same position as Noel. Young is going to be very attractive to other teams given his efficiency. Hinkie could extract both prospects and picks in a very good draft for those players this year. He's looking to build around Noel, Carter-Williams and the fruits of next year's draft — not Young, Turner and Hawes. That could lead to some rough patches this year if the deals are done early, but that is far from a bad thing, either — with such a strong draft class, the more balls you have in the lottery the better. Given the youth of this team even the looming threat of major changes could start to affect the quality of their play soon.
Depth is an issue
This team has a solid core right now, but there just isn't any depth. With Darius Morris and Tony Wroten the only other options at the point, Carter-Williams is going to play a lot. Behind the three starters in the front court there is little that is attractive, and the shooting guard position is a real concern. Jason Richardson is the only really sound option to back up both the shooting guard and small forward spot. That means that the starters are going to play a whole lot of minutes and that any injury would be near-fatal. Bench depth is absolutely crucial in this league, and this team just doesn't have it. There is only so long you can fake it with issues like that.
The bottom line
The start is remarkable and is a product of young players working hard to develop themselves, good coaching, and the powerful effect of swagger and self-belief in the short term. This is a team with serious limitations over the course of a whole season, though, and almost inevitable changes on the horizon. Trust them in the very short term and extract whatever value you can. Don't get fooled into believing, though, that this team has been grossly underestimated. They may not be the worst team in the league, but they are certainly in the discussion — no matter what the scoreboard says over the first week of the season.
Read more articles by Trevor Whenham