NBA Handicapping: the Return of Wall to Washington Wizards
by Trevor Whenham - 1/11/2013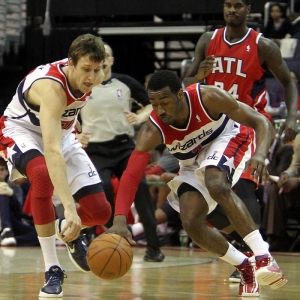 The long, dark days of misery are about to be over for the Washington Wizards. Well, that's a lie of course — things are going to be miserable for quite a while yet because this team just isn't very good. They should be quite a bit better starting Saturday, though. That's when point guard John Wall, the first pick in the 2010 draft, is expected to play his first game of the season as long as he remains pain free until then. Whenever a player of the caliber of Wall — and the public appeal — returns to action, handicappers are in for a headache when it comes to figuring out what to expect and how those expectations compare to the expectations of the public.
Here are five factors to consider as he comes back to action:
Coming back from injury - Wall is a mobile point guard who isn't easy on his body. He likes to cut hard and drive with abandon, so the stress injury to his left patella that he suffered before the season is a real concern. I'm a little concerned about the durability of the knee going forward. It's Friday as I write this, but the status of Wall is still uncertain because it still seems unclear that he can actually be pain free until Saturday. It feels like he is rushing back a little bit, and it's hard to figure out why given that it's not like there is a season to salvage for the team. They were essentially eliminated from the playoffs in the first month of the season. Before I get too excited about the return of Wall, then, I want to see if he really can perform at full speed for a couple of games first. The team didn't show much patience in his return, but that doesn't mean that I can't.
Team chemistry - This team is all about Wall, so there are concerns about chemistry when he returns to the fold. The team has a brutal 5-28 record, so it's not like they have perfect chemistry that they can't afford to mess with. There are two areas that are a concern, though. First is finding a role for Jordan Crawford. In Wall's absence Crawford has stepped in, played for him, and led the team in points and assists. He has missed the last two games with an ankle injury, but when he returns he'll have to get used to contributing while not being the primary ball handler. The team is dead last in the league in scoring, so they can't afford to lose Crawford's production. Wall needs to be an addition, not just a replacement of the productivity. Second is rookie Bradley Beal. He and Wall have never played together. Beal really struggled with his shooting early, but he has found his stride recently and has been playing well — including the winning shot in a shocking upset of Oklahoma City. Beal and Crawford have gelled, but now they need to find a way to co-exist with the star of the team.
Disappointing 2011 draft class - It rests on the shoulders of Wall to try to find a way to salvage what has been a horrifying draft class from 2011. It was the year after they picked up Wall, and they had two first-rounders, so this was when they were supposed to add the pieces to lead to the dynasty. It's too early to call it a bust yet, but it has the looks. Jan Vesely is huge, but he is completely inept at creating offense himself. He had 10 points and seven boards against Oklahoma City last time out. The problem is that only with that production did he, for the first time, have more points (68) and rebounds (63) on the season than fouls (60). He has been a total mess, and the hope is that Wall can find a way to make him productive. He was better last year than this year, so there is at least some hope on that front. Chris Singleton was the 18th pick in the draft, and he has been just as bad. He's seriously in the doghouse right now, and he has played just 23 minutes over the last nine games while being a healthy scratch five times. The team has already picked up the option for both players next year, so Wall needs to give them a boost because he is stuck with them.
Betting performance - The most interesting thing about this team is that though they are almost incapable of winning, they are one of just eight teams in the league that have returned more than a unit of profit to bettors over the season. That's right, at 17-14-2 ATS they are a profitable team to bet on. They have the biggest negative point differential in the league, yet they are covering spreads. That means that while they are bad, they aren't as bad as the public thinks they are. If Wall is able to mesh with the backcourt they should score more, and the margin should tighten. That has the potential to make the team better against the spread. The problem is that Wall will bring some attention to a team that has only had negative attention all year. In other words, the impact of Wall might not be as much as the public perceives, and despite their likely improvement there is a good chance that they will struggle against the spread compared to where they are at now. The other concern is that they are 5-2 ATS in their last seven games — at a time when Beal has really become comfortable, Crawford has been strong before his injury, and Vesely has played the best games of his career. Before that stretch they weren't a profitable team. If Wall's return does shake up the chemistry enough that this stretch of relative success is just a memory and this team returns to their earlier form then they won't be an attractive team to be on — again.