NBA Handicapping: Top 5 "Over" Teams for Totals Betting
by George Monroy - 2/14/2013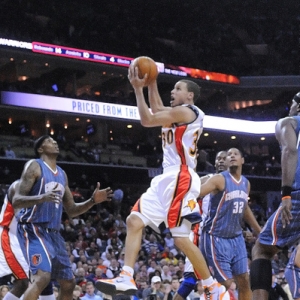 Following against the spread trends may be one of the most important things a sports bettor can do in order to be a successful gambler. Normal stats and gambling stats, often times, can be two very different things. Teams with the best straight up records do not necessarily have the best ATS records, and vice-versa. Teams with the highest scoring averages do not necessarily go "over" more often than teams with the lowest scoring averages.
Gamblers need to be keenly aware of the stats that matter to them. In the sports betting world there is a big difference between high-scoring teams and teams that go over. So let's zero -in on the Top 5 over teams in the NBA and take a look at a few key stats in order to try and get the best of the sportsbooks.
Top 5 over teams
The Golden State Warriors, Dallas Mavericks, Denver Nuggets, Houston Rockets, and Sacramento Kings have been the top over teams in the league this season — and they all have gone over more than 55 percent of the time, when the rest of the NBA has struggled to go over for 50 percent of their totals. Here is a closer look at a few stats for the Top 5 over teams.
Golden State Warriors: Over record: 33-19; Percent: 63; Average points per game: 101.0
Denver Nuggets: Over record: 32-21; Percent: 61; Average points per game: 105.0
Dallas Mavericks: Over record: 31-19-1; Percent: 60; Average points per game: 100.9
Houston Rockets: Over record 31-23; Percent: 57; Average points per game: 106.3
Sacramento Kings: Over record: 30-22-1; Percent: 56; Average points per game: 96.8
At first glance we notice that the Kings, Mavericks and Warriors are not necessarily high-scoring teams, but they are going over the posted total quite a bit. Most teams in the NBA are going to be near 50 percent on their over and "under" stats, so, while being six or seven percentage points over .500 might not seem like a lot, it is still enough to bring in a decent sized profit for gamblers.
Betting the over on Golden State games has been brining in a profit of $24.15 for every $100 dollars bet this season, as opposed to betting the over on Washington Wizard games — the worst over team in the league — which has been losing $21.36 for every $100 bet. Here is a quick look at the amount of profit the top over teams have been bringing in this season.
(Note: the profit is calculated using a -105 vig, which you can get at 5Dimes online sportsbook)
Golden State: +$24.15
Denver: +$20.05
Dallas: +$18.00
Houston: +$11.85
Sacramento: +$9.80
The Golden State Warriors average over total has been 199 points per game, but the team is averaging 202.2 points per game (including their opponents score). The Warriors have also only seen over totals higher than two-hundred points 25 times in 52 games so far this season. Those stats have also held true for the other top over teams in the league. It seems that oddsmakers have been reluctant to make lines higher than 200 points this season and have kept their totals on the lower end of the spectrum.
The Top 5 over teams have seen lines that average from 196 to 199 points but have been scoring well above that number. In general, if you are looking to take an over this season the Warriors, Nuggets, Mavericks, Rockets and Kings are the teams most likely to come through. Remember to bet wisely, and may the spread be with you.
Read more articles by George Monroy