2013 NBA MVP Odds and Updated Betting Predictions
by George Monroy - 1/24/2013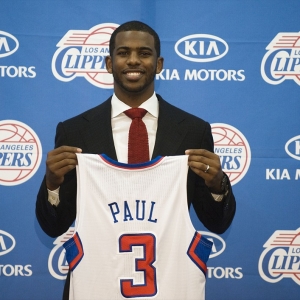 The race for the NBA MVP award has been heating up over the last few weeks. What started as a one-man race at the beginning of the season has turned into a closer competition than most experts would have predicted. LeBron James was supposed to run away with the award, but at this point in the season there are no less than three legitimate MVP contenders and a few others that are showing excellent value. Here is quick look at a few of the top candidates in the NBA MVP race along with some odds and updated predictions.
(All odds come from Sportsbook.ag)
James +114
James has been the leading candidate in the MVP race since the opening tip off of the season, and, to be quite honest, will continue to receive the majority of the awards hype because, well, the media loves him. James is having another great season, and he is putting up season averages of 26.3 points, 7.0 rebounds, and 8.1 assists per game. But, despite those outstanding numbers, James' strong hold on the MVP race has slipped quite a bit because of a few other players who are having just as great of a season.
Worth a bet? Maybe. The biggest issue with James' MVP candidacy is the Miami Heat's record. Yes, they still have the best record in the east, but they are only on pace to win 56 games this season. They will probably end up with the fifth-best record in the league. Over the last 10 seasons, no player has won the award on a team that did not have one of the best four records in the entire NBA.
Kevin Durant +130
Durant is having just as spectacular of a season as James, if not better. Durant is averaging 29.5 points, 7.5 rebounds, and 4.3 assists per game with a 29.15 player efficiency rating, and he is doing it in a ridiculously competitive Western Conference. If you were to add up both players' total points, rounds and assists, LeBron would narrowly beat out Durant by 0.1 of a point. Lebron's total would be 41.4 while Durant's would be 41.3. But the major difference between the two — and probably the deciding factor in who gets the award — is their teams' records. The Thunder are on pace to win 64 games — an eight-game difference between Miami's projected 56 wins — and would be doing so with only two stars as compared to Miami's three (and yes, Chris Bosh still counts as a star).
Worth a bet? Yes. You are not getting a great price at only +130, but if the Thunder win 64 games while the Heat are stuck at 50-something wins, and in a tight race with the New York Knicks, it would be a travesty for Durant not to win this award.
Chris Paul +650
Chris Paul is as much of a threat to win this award as both James and Durant, but no one has noticed it yet. The Los Angeles Clippers are currently tied for the second-best record in the NBA and are on pace to win 61 games this season. Let me repeat that again: The Los Angeles Clippers are on pace to win 61 games this season. Wagering on Chris Paul probably has the best value of all the players on the board. The Clippers could easily end up with 63 wins and the best record in the league.
Worth a bet? Yes. This bet has such great value its hard to pass up. The only issue with Paul's candidacy is that his numbers are not as great as you would think. He is currently averaging 16.6 points, 9.7 assists, and 3.5 rebounds per game with a 26.11 PER. Paul's stats will never be as spectacular as James' or Durant's, but he should be averaging closer to 20 points and double-digit assists for his MVP run to really take on some steam.
Carmelo Anthony +700
Carmelo Anthony is definitely having one of the best seasons of his career, but he is still an MVP long shot. The Knicks are in a position to make a deep playoff run and could challenge the Heat for supremacy in the east, but New York's record will probably not be gaudy enough to earn Anthony any meaningful MVP votes. The Knicks are currently on pace to win 52 games, and, the unfortunate truth for Anthony is that a 52-30 record will not be enough to win the award when there could be three 60-win teams in the west.
Worth a bet? No. There just isn't enough value here. Carmelo has very little shot of winning the award, and this wager feels like too much of a long shot.
Kobe Bryant +1,400
Kobe Bryant currently has the fifth-best MVP odds in the entire NBA, but he is playing on the 20th-ranked team (record wise) in the league. There is something wrong with this picture. Maybe the oddsmakers know people just love to bet on Bryant no matter the situation. But, the truth is, Bryant winning this award is almost impossible. There has only been one MVP winner from a team that won less than 50 games in NBA history. The Lakers would have to go 33-8 just to reach the 50-win mark and would realistically have to finish the season with an absurd 37-3 record and finish with 55 wins in order for Bryant to even have a chance.
Worth a bet? No. If you need an explanation, just watch a Lakers game.
Tim Duncan or Tony Parker +10,000
The San Antonio Spurs currently have the second-best record in the NBA, and they are on pace to win 61 games this season. The Spurs have been one of the best regular-season teams in the last decade and are well coached, and rarely lose games that they are not supposed to lose. It's almost unbelievable that Duncan and Parker are not getting any MVP love.
Worth a bet? Yes — especially if you are a Spurs fan. But even if you are not, is it really that far fetched to believe that the Spurs could go on a run during the second half of the season, win 65 games and look like the best team in the league?
Read more articles by George Monroy