NCAA Football Betting and Handicapping: Scouting the Week Ahead
by Alan Matthews - 9/16/2013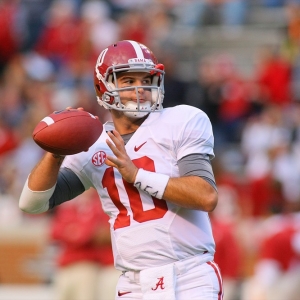 Look at some of the lopsided games on this week's college football schedule: Florida A&M at No. 4 Ohio State, Florida International at No. 7 Louisville, North Texas at No. 9 Georgia, Idaho State at No. 17 Washington, Maine at No. 18 Northwestern, Bethune-Cookman at No. 8 Florida State, Savannah State at No. 16 Miami, Texas State at No. 25 Texas Tech, New Mexico State at No. 13 UCLA.
Yuck.
The good news is that this will be the final week of all those mismatches for the most part as full conference play will begin all around the country in Week 5. The Big Ten, for example, hasn't played a conference game yet, while there have been just a few games in the Big 12 and Pac-12.
Speaking of the Big Ten, it was the big loser of Week 3. Michigan nearly suffered the worst loss in school history, escaping against an Akron team that now has dropped 28 straight road games, the longest in the FBS since Kansas State lost 30 straight from 1985-1991. Frankly, Michigan should have lost, and it would have been a bigger upset than when Appalachian State won in the Big House in 2007 because Appalachian State was an FCS powerhouse. Akron is terrible. I wouldn't read too much into it if you are a Michigan backer as it was due for a big letdown following a win over Notre Dame. I expect that near-miss will be the best thing to happen for the UM coaching staff as it will get the players' attention. Expect a much different Michigan team this week as an opening 17.5-point BookMaker favorite at Connecticut.
Meanwhile, Nebraska was steamrolled at home by UCLA on Saturday, 41-21, to fall out of both polls. Last week I mentioned how Texas' Mack Brown and USC's Lane Kiffin were very much on the hot season. Add the Huskers' Bo Pelini to that list. His defense allowed 504 total yards and 38 straight points after the Huskers took a 21-3 lead.
To add more salt in the Big Ten's wounds, Illinois was outclassed at Soldier Field by Washington, Penn State was dominated at home by Central Florida and Wisconsin was the victim of some terrible officiating at the end of the Badgers' 32-30 loss at Arizona State. A rare bright spot was Ohio State beating Cal 52-34 without Braxton Miller. Coach Urban Meyer said backup QB Kenny Guiton played so well that he deserves regular snaps. Guiton threw for 276 yards and four touchdowns and ran for 92 yards in the win. Meyer has won with a quarterback rotation before: Chris Leak and Tim Tebow for his first title at Florida.
Heisman Update
We have a new favorite at Sportsbook.ag, and it was the guy I liked back before the season: Oregon's Marcus Mariota (now +450). The Ducks have looked like the best team in the country, and Mariota has thrown for 889 yards with no interceptions and rushed for 262 and four scores at a whopping 17.5 yards per carry. He hasn't played anywhere close to a full game because the Ducks have been so far ahead. All told, he's been on the bench for about 4.5 quarters out of a possible 12 played in 2013. The Ducks are off this week before opening Pac-12 play against California, which can't stop anyone.
Louisville's Teddy Bridgewater is at +500. The future Jacksonville Jaguar -- that loss to Oakland likely all but clinched the Jags getting the top pick in next year's draft, plus Bridgewater is a Florida native -- was just OK on Saturday against Kentucky, throwing for 250 yards and a TD. U of L's ridiculously easy schedule continues this week with the Cards as 42-point favorites against FIU. Florida State's Jameis Winston (+600) and Alabama's A.J. McCarron (also +600) round out the favorites.
Week 3 Trap Games
I was 1-2 in trap games last week, correctly picking Purdue to cover against Notre Dame and missing on Texas at -4.5 against Ole Miss (reverse trap) and Michigan State -23 against Youngstown State. Sparty might have solved its QB problems as Connor Cook threw four first-half touchdown passes. Former starter Andrew Maxwell didn't play at all against YSU.
Alabama (-38.5) versus Colorado State: I have a feeling the Tide will be physically and emotionally spent after that 49-42 win over Johnny Football and Texas A&M on Saturday. The team had been pointing to that game for a year, with the 2012 matchup being shown on a constant loop in the team's training facility. It's just human nature to not be all that fired up to face a bad Colorado State team after that hyped A&M rematch. Plus Bama has another big challenge in Week 4 against Ole Miss.
Georgia (-33) versus North Texas. The Dawgs got a much-needed week off Saturday after opening against Clemson and South Carolina. Georgia already is hinting that it would like to have reserves see some action after they weren't really able to play in the first two games against Top-10 opponents. The Mean Green (2-1) aren't all that bad and just beat a decent Ball State team. Did I also mention Georgia hosts LSU next week?
UCLA (-42) versus New Mexico State: The Bruins also are likely to be emotionally spent after rolling the Huskers in honor of redshirt freshman receiver Nick Pasquale, who was killed the previous weekend after getting hit by a car. In one of the great quotes you will ever hear, Jim Mora said this to the TV cameras after the Nebraska win: "Our goal today was to honor Nick. Our goal today was to come out here and have our players reflect on everything he meant to us and everything that was great about him so that his family sitting at home... We did it for your son. We did it for your son." That's just tremendously cool to say to Pasquale's parents. The Bruins are likely to be at half speed for awhile against the Aggies, even as bad as they are.
Read more articles by Alan Matthews