NCAA Football Betting Line Movers: Miami-FSU Tilt Stable
by CarbonSports - 10/31/2013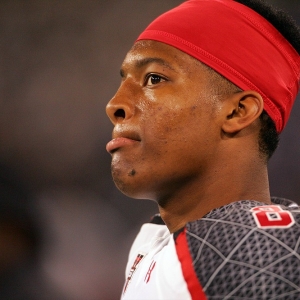 If the No.7 Miami Hurricanes really want to shock the NCAA football betting world, they'll outright defeat the No.3 FSU Seminoles on Sunday when they pay their in-state rivals a visit on Saturday as massive underdogs. Don't underestimate how heated this game is for everyone involved. Jameis Winston's Heisman hopes hang in the balance as well as Miami's hopes of crashing the BCS party. While the upstart Canes may not have a chance of playing for the National Championship, they could absolutely spoil FSU's title hopes by making this game a challenge.
And the Hurricanes absolutely despise the Seminoles. This goes back to the days where Deion Sanders was still at the school, and Miami carved a name for themselves as "The U" (for better or worse). But the venom is here, and it might just be poisonous enough to make Miami a daring underdog bet.
One look at that mammoth spread and you can tell where the oddsmakers are leaning. FSU will enter this game as -22.0 point home favorites, and action is split right down the middle for this one. People absolutely love these Hurricanes, and it's impossible not to. They're 5-2 ATS on the season and also boast a 3-1 ATS record in their last four games against FSU. That includes a +21.0 cover last season during a 33-20 loss.
Suffice to say, however, neither school is the same this year. Both teams are undefeated, but the line on this game, coupled with FSU obliterating teams left and right, indicates just how far apart the two schools actually are. For those willing to hang with Miami, they can find solace in the fact that these guys seem to rise up to difficult challenges. They upset Florida at home 21-16 against a +3.0 NCAA football betting line and have averaged a modest 39.6 points per game. As you'd expect, their defense is ferocious and has only given up 17.8 points against. Miami is a balanced program.
No. 7 Miami Hurricanes (7-0) vs. No. 3 Florida State Seminoles (7-0)
Saturday, November 2 --- Doak Campbell Stadium --- 8 p.m. EST
NCAAF Betting Line: FSU -22
However, there are plenty that see FSU as perhaps the most complete team in the country. Their defense silenced Clemson in a 51-14 drubbing, and they've allowed just one school to break the 20.0 point barrier this season (on the road against Boston College). On top of, Winston and this offense have managed to score at least 40.0 points in each contest this season while averaging a blistering 52.8 points per game. That's why the line is what it is – FSU is as championship worthy as schools get.
The head-to-head details also reveal some points that would make Miami an even more enticing play than they already are. The Canes are 4-0 ATS when playing in November, 5-1 ATS when playing a team with a winning record and a red-hot 9-2 ATS in their last 11 contests when facing an ACC opponent. The underdog is also 11-0 ATS in the last 11 games between these two schools while the road team has gone 6-1 ATS over the seven most recent meetings.
How this game plays out doesn't seem to affect this particular NCAA football betting line at all. We'll know by the end of the first quarter if this is going to be a real game or not, and if FSU blows by Miami on the scoreboard, a lot of handicappers I've talked to think that any and all wind will dissipate from the dog's sails. Translation: don't expect a backdoor cover in this one.
Instead I expect a fist fight. Miami's defense is brazen and willing to take chances. Frankly, to have any hope in this barn burner, they'll have to take risks. The smart money is easily on FSU's side of the fence, but there are plenty in the betting public sphere that seem optimistic about Miami's chances against a monumental NCAA football betting line.
This game presents two opportunities here: either you take FSU and anticipate a blowout, or you hop on the NCAAF betting line underdogs and pray that their defense can stymie the FSU Seminoles. Don't expect this line to change at all. It's perfect the way it is. All that means is that it's better to get locked and loaded early, so you don't overthink this one too much. Do you believe that FSU is a true championship contender, or do you think Miami has the muscle to prove that they belong in the BCS conversation? Answering that question will reveal who you play this weekend.
If that doesn't work for you, follow the sharps who are already herding behind the lead set by the oddsmakers.
CarbonSports Market Manager Michael Stewart's perspective:
"We opened this game Florida St -22, expecting to see money come in on the favorite and just hasn't been the case. Early money showed on the dog and we dropped the line down to FSU -21.5 and dealt that line all week up until Thursday morning when we booked sharp action on the favorite. Respecting the sharp bet, we went back to 22 and that's our current number. So far we've booked this game dead even."
Miss. State Bulldogs (4-3) @ No. 14 SC Gamecocks (6-2)
NCAAF Betting Line: SC Gamecocks -12.5
The Gamecocks won a stunner by coming back and defeating fifth-ranked Missouri last weekend, and now they return to the comforts of home where they're usually a spread-busting dynamo. Though they're 1-2 ATS this season when playing on their home field, more than two-thirds of the action is coming in behind them. The Gamecocks stand as a strong play here against what seems like a shallow line, but at just 2-5 ATS on the season, there are enough people out there that don't trust them. That's why there are some stragglers who feel like the undersold Bulldogs have a fighting chance here.
CarbonSports Market Manager Michael Stewart's perspective:
"We opened South Carolina -13 but took sharp action on the dog Wednesday evening, we immediately went to 12.5 on the game and we're currently dealing that number. So far 80% of the early money is on the favorite and I wouldn't be surprised if we go back to -13, but at this point we really like our position and we're looking for more -12.5 money on South Carolina."
Navy Shipmen (4-3) @ No. 25 Notre Dame Fighting Irish (6-2)
NCAAF Betting Line: Fighting Irish -16.5
What was once an entertaining tradition has become a lopsided affair. Notre Dame has outscored Navy 106-24 in the past two years and have easily covered the NCAAF betting line in those matchups. The fair majority of the action sits in Notre Dame's corner, but there are plenty who like the uppity Shipmen, who are a nice 5-2 ATS on the season. This line seems locked in, but it's still early. With the action split as it is, I don't foresee the oddsmakers moving it at all. If anything, they're simply looking for reasons to push Notre Dame's number even higher. As the action starts to come in, they might do just that. If you like Notre Dame, take this line as soon as possible. Likewise, if Navy floats your boat (couldn't help myself), then you can afford to wait until the weekend to see if the oddsmakers have had their hands forced.
CarbonSports Market Manager Michael Stewart's perspective:
"We opened Notre Dame a big 17 point favorite over Navy and were dealing that line all week, until we saw sharp money take the points. We sent to -16.5 based off that sharp action and I suspect we'll be dropping this line a bit more as we get closer to game time. While the public is betting the favorite, we respect the sharp action on Navy and wouldn't mind booking more action on the favorite. So far only 60 percent of the action is on Notre Dame, but this is an NBC National TV game, money will come in on the favorite as we get closer to game time so we might not even have to move our line to attract more favorite action."
No. 8 Clemson Tigers (5-1) @ Virginia Cavaliers (2-6)
NCAAF Betting Line: Tigers -17.5
If you like Clemson as much as everyone else in the world seems to, now is the time to grab this juicy line. Clemson has a wobbly reputation against the NCAAF betting line this season, going just 3-5 ATS, but there are some reasonable explanations in there. That hasn't stopped nearly three-quarters of the betting community from blindly taking their side.
However, Virginia is a scrappy team. They're a sloppy 2-6 SU and 3-4-1 ATS on the season, but they love to keep teams in close games. Their strength of schedule hasn't really been anything worth bragging about, but if we know anything about Clemson it's that they love leaving that backdoor wide open. On the road, with little to play for, Clemson's defense will fall asleep at the wheel in the fourth quarter giving the hosting Cavaliers a chance to put some points on the board. Clemson has a great quarterback, but they're not a very accomplished squad overall. That's why the sharp money is sitting on the point cushion side of this NCAAF betting line.
CarbonSports Market Manager Michael Stewart's perspective:
"After watching Clemson play a very lackluster game vs. Maryland in what was a very difficult spot for Clemson off their embarrassing loss to FSU, we figured our bettors wouldn't be as enthusiastic to back Clemson like they were last week when the did support them vs Maryland. It was one of our bigger decisions and it's a bet that the bettors should have won, only to get backdoored in the end w/ a late, meaningless TD by Maryland. Keeping that in mind, we opened Clemson -17 vs Maryland and to our surprise, our bettors once again are back the road favorite. It isn't that big of a decision, but it's big enough to where we had to move the line from 17 to -17.5. So far 75 percent of the action is on the favorite and I wouldn't be surprised if we closed this game -18. Virginia isn't a very good team and they have little to no home field advantage."
Join CarbonSports now and use promo code CARBON300 to get up to
$300 in free bets over 50% in deposit value with no rollover.