NCAA Football Betting Lines To Watch In Week 9
by CarbonSports - 10/24/2013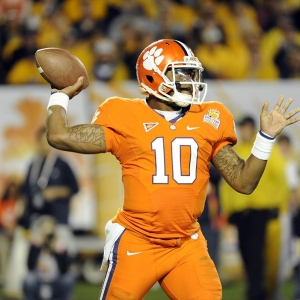 What causes any of the NCAA football betting lines in our sportsbook to move? It's simple – money. If the gambling community starts leaning hard in one direction, the line moves away from them. For underdogs, action generated drags them closer to the middle, while for favorites it inflates their handicap. Below I discuss five NCAA football betting matchups in Week 9 that have notable line movement. In one of the matchups, it's the lack of movement that's caught my attention.
Connecticut Huskies at No. 23 UCF Knights -23.5 (noon EST)
The Knights storm the BCS castle as the 23rd-ranked team in the nation after toppling the Louisville Cardinals last weekend in a 38-35 triumph. They're now 5-1 ATS on the season, with their only loss being a three-point heartbreaker at home against South Carolina. This line is dancing around the mark by one or two points and, if you can, you should try and grab it as soon as possible. The Huskies are an abysmal 1-5 ATS club with zero wins. Even still, nearly one-third of the action seems to lean towards UConn because nobody wants to give Central Florida the credit they might deserve. Even if you don't believe in the Knights that much, placing your money in the hands of the hapless Huskies seems like suicide.
CarbonSports Lines Manager Michael Stewart:
"We opened UCF -22.5, and most of the early money came in on the favorite. We quickly went to 23 and 23.5 before going to 24, and at 24 we booked sharp action on U Conn. We went back down to 23.5, and that's the current line we're dealing."
NC State Wolfpack at No. 2 FSU Seminoles -32.5 (3:30 p.m. EST)
This line has danced around the -30.0 mark all week, going all the way down to -29.5 and as high as -32.5, and even there the action seems even split. This game has letdown potential written all over it after FSU's big win against Clemson last weekend, and some of the savvy sharps out there have noticed that the Wolfpack are getting back their true No. 1 quarterback after a Week 1 injury. Is Brian Mitchell enough of a difference-maker? The gambling world seems to think so.
CarbonSports Lines Manager Michael Stewart:
"We knew bettors were going to jump all over FSU after their dominating win over Clemson. We opened FSU -30.5, and sure enough our bettors are pounding the favorite in this game. With 75 percent of the early action on FSU, we've moved this line up 2 full points from 30.5 to 32.5, and don't be surprised if we close this game 34 or higher."
No. 9 Clemson Tigers -14.5 at Maryland Terrapins (3:30 p.m. EST)
The Tigers escaped their first must-win game of the season with a narrow victory against UGA. They weren't as fortunate in their second big matchup against FSU. Tajh Boyd was turned in to a mere mortal, throwing for just 156 yards, one touchdown and two picks. That game ended Clemson's hopes for the BCS and slammed the brakes on any chatter involving Boyd as a Heisman candidate.
The loss also dropped Clemson to a 3-4 ATS record, which should raise alarms in gambling circles. But that isn't the case. The money coming in on Clemson weighs a fortune even though there are enough of those out there willing to believe that Maryland has a chance here. The Terps are in a 1-2 SU and 0-3 ATS tailspin that started when they had their heads handed to them during a debilitating 0-63 loss against FSU.
What people should actually believe is simple: we know what Tajh Boyd does against bad teams. The Tigers dropped 49 points on Syracuse, 56 on Wake Forest. The line is holding steady at -14.0 because there enough heavy hitters overthinking Clemson's mental state. That's why the line hasn't really shifted all that much. By Saturday morning, however, you'll se a market correction against Maryland. If you want Clemson at -14.5, now's the time to take it.
CarbonSports Lines Manager Michael Stewart:
"We opened Clemson -13.5 on the road versus Maryland, and we immediately took action on the favorite. I thought 13.5 was going to be high enough to write two-way action on this game, but bettors disagree with this bookmaker. The line has shot through the key number of 14, and we're dealing Clemson -14.5. Clemson's team speed can blow this Maryland team out, but I have serious doubts about their mental make up for this game. Their dream got crushed on Saturday by FSU; not sure how this team is going to rally after such a devastating loss."
No. 23 South Carolina Gamecocks at No. 5 Missouri Tigers -3.0 (7 p.m. EST)
This line opened at -3.0 for the home-bound Missouri Tigers and drifted away from them because people still have it in their heads that South Carolina is a good team. Surely, the 31-10 victory that South Carolina pulled off last year remains fresh in everyone's memory, but we've seen a bevy of revenge games this year go to the one seeking just that. The Missouri Tigers are ranked fifth in the country for a very good reason, and even if you haven't been tracking them this year, all you need to know is that they're 7-0 SU and an almost flawless 6-0-1 ATS in 2013.
Thinking about this matchup without knowing the names of the teams helps clarify the picture. Say you have a school that is unbeaten against the line, unbeaten in real life and in the Top-5 of the national rankings on one side. Facing them is a big-name program that is a paltry 2-5 ATS while posting an absolutely horrendous 1-4 ATS record in their last five road games.
Is that easier? The more attractive option is – you guessed it – Missouri. The action in general is leaning towards the Tigers at home and should continue to do so as the ostriches pull their heads out of the ground.
CarbonSports Lines Manager Michael Stewart:
"We opened Missouri -3 versus South Carolina, and we haven't had to move off that opening number. Missouri has been the biggest surprise in the SEC this season, and they've been doing very well for bettors, going 7-0 straight up and 6-1 against the spread. While we've seen even action on this game, I suspect our bettors are going to back the more consistent team in this contest."
No. 17 Fresno State Bulldogs -7.5 @ San Diego State Aztecs (10:30 p.m. EST)
I've seen this line do the hokey pokey all week long. It's gone as high as -9.5 for the travelling Bulldogs. People are very hyped on Derek Carr, the younger brother of former No. 1 pick David, and the guy can put up numbers. The problem is that he can't put up enough. Fresno State has posted a brutal 1-5 ATS record on the year against relatively fair betting lines.
Has that stopped anyone from taking the Bulldogs? Nope! Over two-thirds of the action has come in for Fresno State. That's a pretty heavy lean when you consider Fresno State's state of affairs in the betting world. San Diego State has pulled up their socks a bit with a nice 3-1 SU and ATS run, and they are a strong test, especially given the plain fact that they're at home.
Fresno State shouldn't be favored by this much all things considered, but there's a definite possibility they clear that handicap. Most of the gambling world seems to agree.
CarbonSports Lines Manager Michael Stewart:
"We opened Fresno -10 and immediately saw sharp action back the home dog in this game. We went from 10 to nine to eventually Fresno -7.5. With this being a late night ESPN game, I suspect that our bettors are going to back the favorite in this game, and we'll need the dog. I could see this line going back up to -9, but we won't get back to 10."
Join CarbonSports now and use promo code CARBON300 to get up to
$300 in free bets over 50% in deposit value with no rollover.