NCAA Football Handicapping Advice: Areas to Look at
by George Monroy - 7/17/2013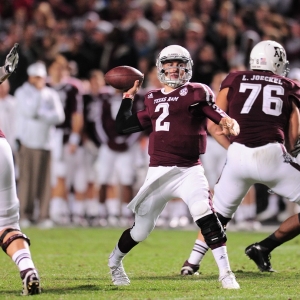 The college football season is just around the corner. The smell of leather is in the air, and bettors can almost hear Brent Musburger gearing up for another season. While the excitement for NCAA football is almost palpable, the real question on every gambler's mind is how are they going to make a profit this year? Yes, watching the games can be fun, and waking up every Saturday morning to a buffet of matchups can itself feel like pure bliss, but let's not forget the real reason behind betting on college football in the first place — to make some money.
Handicapping a college football game can feel like a nightmare at times, and pouring over game after game can be intimidating. However, the best advice that a bettor can ever receive about picking a winner is to simply do your homework. Yes, it sounds easy, but most bettors do not do it. Waking up at 8:55 am on a Saturday morning and placing your bets on a whim is not the way to be a profitable college football bettor. Let's take a closer look at the upcoming college football season and go over a few important factors to look for when handicapping a game.
Coaching
Most bettors may not have noticed, but there were a whopping 31 coaching changes during the offseason. That turnover should be a major concern for bettors, as a coach can be the soul of a college football team. There will be 31 teams probably implementing both new offensive and defensive systems, integrating players, and trying to figure out their place in the NCAA hierarchy.
The coaching changes should concern bettors particularly early in the season when things are still new. The major element that will come from these coaching changes is that many of the teams will either be extremely underrated or overrated by the bookmakers. A savvy bettor will understand this and wager on the teams that have extra value.
Early-season records
Don't be too persuaded by a team's early-season record when handicapping games during the beginning of the year. A 1-4 team is not necessarily a bad bet, while a 4-1 team is not necessarily a good bet. A huge factor in college football is strength of schedule, and a team underachieving early in the season may have simply faced their toughest opponents early in the year and will see a softer schedule toward the end of the season.
One thing that all sports bettors in general must realize is that a team's record is not necessarily an indication whether or not they are a profitable team to wager on. A team with a 4-1 record might be ready to fall apart over the next few games, while a team with a 1-4 record may be ready to make a run. It's a college football bettor's job to be ahead of the curve and not riding the tail end of a trend.
ATS records versus straight-up record
Against the spread records (ATS) and straight up (SU) records are two very different animals that gamblers need to be aware of. ATS records are an indication of how a team does against the spread and are the most important set of records a sports bettor should be looking at.
Alabama could go undefeated all season. However, if they do not cover spreads, does it really matter? Last season the Crimson Tide went 13-1 during the regular season yet was only able to produce a 7-7 ATS record. If a sports bettor spent the season wagering on Alabama — which many of them did — they would have lost money for the year. On the other hand, Fresno State had a 9-4 season but was able to go 11-2 against the spread. Remember, straight up records can be deceiving, and the only numbers that matter are the against the spread numbers. Good luck this season, bet wisely, and may the spread be with you.
Read more articles by George Monroy