Fringe BCS Championship Hopefuls Face Big NCAAF Betting Lines in Week 13
by CarbonSports - 11/21/2013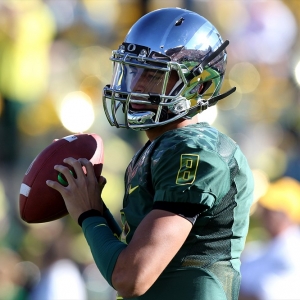 The Alabama-FSU championship match seems like a dream for most people, even though there are some people who would prefer to see either Baylor or Ohio State featured in the biggest game of the year. Right now the Seminoles have the inside track, and a cake walk schedule keeps them in the mix. How will the third-, fourth- and fifth-ranked teams do against double-digit spreads? Read on to find out.
No. 4 Baylor Bears -10.0 at No. 10 Oklahoma State Cowboys
For the better part of a decade, the Cowboys have owned Baylor, going 8-2 SU and 7-3 ATS in their past 10 meetings. When they met last year, neither team really had that much to play for, but this year the two teams have just one loss between the two of them. This is also the first time that Baylor will be favored when playing Oklahoma State.
This NCAAF betting line debuted at -9.5 for Bryce Petty and company, and it hasn't shifted all that much since, though it's still early. The idea behind creating a spread is to determine a handicap that would split the action right down the middle, and that's essentially what the oddsmakers have done here. The combination of Baylor's 8-1 ATS record and their +34.5 winning differential over their last seven games makes them a virtually automatic bet in the gambling community.
It's been no secret that Baylor's final five games of the season were going to define them. They started the home stretch with a 41-12 victory over Oklahoma (who were also ranked 10th at the time) and then continued their onslaught of touchdowns when they hosted Texas Tech in a 63-34 blowout last weekend. A win here for Baylor all but guarantees them a spot in the BCS while also creating the slim chance of a national title berth against Alabama.
Oklahoma State represents their last major challenge as TCU and Texas remain on the schedule afterwards for Baylor. With a winning point differential of +24.8 over their last five games, it's easy to see why the home-bound Cowboys have some appeal in the sportsbook. The public backing that Baylor is starting to generate could cause this line to inflate for the visitors, but it's hard to see this line moving up that far from where it is.
This is also the smallest NCAAF betting line that Baylor has faced all year. Prior to this, they've seen two -17.0 spreads against Oklahoma and Kansas, and they covered both. For all intents and purposes, this is the biggest game of the year for both teams, and all the hype surrounding a landscape-altering matchup will likely keep this game hovering around this mark.
Lines Manager Michael Stewart: "We opened Baylor -9 and saw good, two-way action at that number from Sunday until Monday morning. Monday morning we booked sharp action on the favorite, and went to 9.5 for a brief time before going to Baylor -10. We're of the opinion that the sharp action we took at -9 was sharps knowing this game was going to eventually be bet up to 10 or 10.5, so their -9 looks good, and they can either keep their bet or get off and hope for a side or middle. The public has been betting Baylor every week, and they've driven the price up on pretty much every Baylor game this season, but that's not the case with this game as we're seeing plenty of money supporting the home dog Cowboys. I don't see this line going any higher than the current number of 10."
No. 5 Oregon Ducks -21 at Arizona Wildcats
Vegas opened this matchup at Oregon -17.5, and the number quickly shot up to where it stands now. Generally speaking, oddsmakers don't like pushing spreads beyond plus/minus 3.0 from where they opened unless there are drastic injuries in play. Marcus Mariota's knee seems healthy enough to warrant some major action on the fifth-ranked Ducks.
However, it's worth mentioning that Arizona is always an insane place to play football games this late in the year. The Wildcats have a fun reputation for being upset specialists at home, but their overall home record in 2013 doesn't support that. They've just 2-2 SU and 1-3 ATS in meaningful home games this season. The tendency for teams who play Arizona late in the season is for opponents to overlook them, which is why they've created such a stir, like when they chased down USC last season at home.
However, Oregon has much to atone for after their 20-26 loss to Stanford two weeks ago. The fact that the Cardinal lost last week against USC has allowed the Ducks to bump back up in the BCS rankings. With plenty to play for – including Mariota's Heisman hopes and his draft stock – Oregon has the motivation to take this matchup as seriously as they need to. That's likely why the general consensus on this game leans towards the rebounding Ducks. By the time the weekend warriors weigh in on the line, the oddsmakers may be forced to push this line even higher, which could cause some angst amongst those that like Oregon. The Ducks are just 1-3 ATS in their last four games. Now is the time to grab this one if you like Oregon.
Lines Manager Michael Stewart:
"We opened Oregon -18.5, and all the initial money was on the road favorite. We were at 18.5 for maybe an hour before going to Oregon -19. With more money hammering Oregon at -19, we essentially skipped going to 19.5 and went straight to Oregon -20. That really didn't stop the bleeding, so we went to -20.5 and eventually Oregon -21. All this just on Monday. Since going to Oregon -21, the action on Oregon has subsided, but we haven't attracted any AZ money, and I doubt we will. I can only see this line going up and over the 21 to 21.5 or higher. Oregon's offense can do whatever they want against this very bad Arizona defense, and the problem is further exacerbated by Arizona's offense, which likes to play up-tempo, so they either score quickly, punt quickly or turn over the ball quickly. So that awful AZ defense is going to be on the field a lot in this game, and that spells trouble going up against the high-octane Ducks attack."
Indiana Hoosiers at No. 3 Ohio State Buckeyes -35
Monster lines like this can be a gold mine for the savvy NCAAF betting veteran. Case in point is the Buckeyes, a juggernaut by all standards at 10-0 SU and 6-3-1 ATS. However, they're also 1-2 ATS when facing lines of -32.0 or higher. One of those games was last weekend during a 60-35 win over Illinois facing a -34.0 handicap. A lot of gamblers see potential here for the dogs with the backdoor being left open later in the game.
Indiana is a fun team that generated 43.1 points per game before posting a lone field goal on the road against Wisconsin. That's because they lost their touchdown-churning running back to a sprained ankle. They're also just 1-4 SU and ATS in their last five games. However, this line is growing from where it started at OSU -31.5 and could very well continue to climb higher. This line could get out of control by the weekend. I don't like Indiana without their best player, but I'm also wary of the Buckeyes facing a bloating handicap. This is a great time to get in on Meyer and company now.
Lines Manager Michael Stewart:
"We opened up Ohio St -32.5, and just like last week's game vs. Illinois, all the early money is on Ohio St, and we've moved this game quite a bit in the past few days. We booked a big bet at -32.5, moving us to 33, and after going to 33, the public is hammering Ohio St in this game, and who can blame them. Ohio St needs to win games by blowing teams out if they want any chance of playing in the BCS Championship Game. And after watching Indiana get crushed by Wisconsin, Ohio St can potentially do the same thing here. We moved this game quickly, going from 33 straight to 34, eventually to 34.5 and now we're dealing 35. This is all based on money as we've seen zero sharp action get involved with this game, but I believe they're just waiting to see how high this line goes knowing the public is going to support Ohio St and inflate this line further."
Join CarbonSports now and use promo code CARBON300 to get up to
$300 in free bets over 50% in deposit value with no rollover.