NFL Survivor Pools Strategy Advice and Predictions: Week 11
by Trevor Whenham - 11/11/2013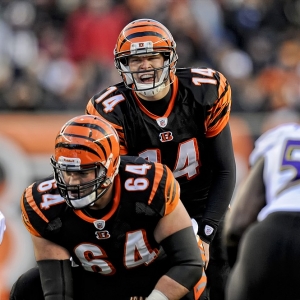 Well, it finally happened. After nine weeks of survivor pool action that had been as straightforward and relatively free of potholes as any year I have ever seen, Week 10 brought absolute carnage to most pools. In terms of games that were available to most players, there were two clear choices, and neither went well at all. Indianapolis seemed to be in good shape at home against the Rams and their backup QB. No one told the Colts when the game was supposed to start, though, so by the time they showed up they were down by more than 30 points and without any hope at all. It was as shocking as any outcome we have seen all year. Almost as shocking was the outcome in the other obvious choice — the Titans at home against the winless Jaguars. Jacksonville has been lousy all year, but they flat out outplayed the Titans in this one from the start, and deserved every ounce of this win. Jake Locker was hurt early, but that's not why Tennessee fell short.
Those two losses probably knocked most remaining people out of most pools. The only pools I still have alive are double-elimination ones where I still have a bullet left to fire. We have another tough week awaiting us this week, so there is a good chance that a lot of pools that haven't ended already are going to come to an end now. Here are the four most likely plays that are likely available to some players this week:
Cincinnati vs. Cleveland: The Bengals lost a tough one against Baltimore that they absolutely deserved to lose on Sunday, and Andy Dalton was again terrible. These Bengals rival the Seahawks, though, for their ability to be an entirely different team at home than they are on the road. On the road they are toothless and mistake-prone, and they have limped to an ugly 2-4 record. At home they are 4-0 and have looked more than sound. Here they face a Cleveland squad that has struggled to a 1-3 record on the road and despite some periods of success is still struggling to find an offensive identity. The Bengals at home should outmatch this team, even though the road Bengals lost in Cleveland in Week 4.
Philadelphia vs. Washington: I am a believer in Nick Foles. I am not saying he is the second coming of Joe Montana or anything, but he has been more than impressive. A week after an all-world performance, he bounced back last week with a three-touchdown showing highlighted by a stunning 12.7 yards per attempt. He's confident, and he is a good fit with the current personnel and system. For the first time all year the Eagles are moving rapidly in the right direction. Washington just isn't. Robert Griffin III has been a shadow of his rookie self, and they threw away a very winnable game on Thursday night. They are second-guessing themselves, they lack swagger, and they look like a team that could implode at any moment. This is a good spot for the Eagles.
Detroit at Pittsburgh: The Steelers are coming off a win, but credit for that goes more to how awful the Bills were to how good Pittsburgh was. They face a dramatically tougher spot here. Detroit doesn't make winning look nearly as pretty as they should be able to, but they just keep finding ways to win games they should win. They are a legitimate NFC contender, and this is absolutely the kind of game that a contender should be able to win reasonably comfortably.
Arizona at Jacksonville: I give the Jaguars all sorts of credit for their win this week. A team in their situation could easily have quit by now, but they came out and played their hearts out and were in control of that game from beginning to end. I expect another solid effort here, too. Arizona is coming off an absolutely incredible defensive performance in the second half against the Texans, though. Houston had been very efficient offensively in the first half, but they could do nothing after Arizona made their halftime adjustments. Combine that with an offense that was decent, and you have a team that is pretty solid — at least when facing a challenge like this one. The Cardinals are the least attractive of the four teams on this list, but would still be an acceptable pick.
Want free NFL picks? Doc's has you covered. New clients can take advantage of this great offer of $60 in free Doc's Sports members' picks for any handicapper on Doc's Advisory Board. Just check out these guys' pages and see what great work they have done making money for themselves and their clients over the years. Click here for this exclusive $60 picks offer.
Read more articles by Trevor Whenham