NFL Survivor Pools Strategy Advice and Predictions: Week 2
by Trevor Whenham - 9/10/2013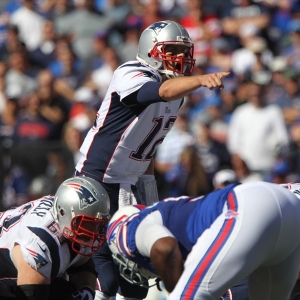 Another week of Survivor Pool action is upon us. Chances are that most people are still alive if they didn't get too fancy, though Tampa Bay's indescribably bad performance against the Jets could have been costly for some. As is so often the case in the NFL, things were not always comfortably easy for the best picks — New England and Indianapolis tried their hardest to win games they should have won easily.
We are still very early in the Survivor Pool season. At this point it is really important for players to do just one thing — stay alive. You make a real mistake if you don't pick solid, clear picks early — especially if you are in a single-elimination pool. By making it into the third or fourth week you have outlasted a large portion of the competition, and then you can get fancy and try and gamble to get the win. In the opening weeks there is no excuse other than a big upset to be sent to the showers.
This week offers two solid, straightforward picks, so no matter who you picked last week you will have an attractive option. Behind those there are at least four picks that might seem attractive but just aren't worth the gamble:
The clear choices
New England Patriots
If you didn't pick the Patriots last week then this is probably the week to do so. They didn't make things easy on themselves last week, and they have lost the surprising Shane Vereen to an injury, but they are in a good spot here. Playing at home against a Jets team that only won last week because Tampa Bay played the least-disciplined game in recent history is the kind of game that Tom Brady and company just don't lose. They are the biggest favorites on the card this week, and they are very deserving of that distinction.
Cincinnati Bengals
I do not love this Cincinnati team and just don't think that they are built to be competitive over the long run — mostly because they have the worst coach in the league. They have a very good matchup at home this week, though. Pittsburgh is just a mess. They are totally and utterly incapable of running the ball — and the loss of Pouncey for the year certainly won't help for the short term — and that makes it really hard for their passing game, which is shockingly short of legitimate targets, to get established. The Bengals will be very disappointing if they don't take the win here.
Tempting, but not worth it
Atlanta Falcons
The Falcons are favored by a touchdown, so they are going to be a popular pick. I just don't get it — not at this point. Atlanta did not look nearly as sharp as they should have in losing to the Saints. The Rams were solid in their opener, and we saw a dimension from Sam Bradford that we haven't seen in awhile. Atlanta is more likely to win than lose because they are better overall and are at home, but his is far from a pushover game and is absolutely not worth the gamble at this point.
Houston Texans
Houston is a good team and is tough at home. We saw a lot more on defense from the Titans in the opener, though, than most expected. It may or may not be sustainable, but if it is then it could make things tough for Houston. The Texans also played a very tough game late on Monday night, so their preparation has been compromised. Houston is more likely to win, but, like Atlanta, they just aren't in a strong enough position to gamble at this point when only one team has been eliminated from your consideration.
Oakland Raiders
I can't believe it to be true, but the Raiders are actually a somewhat tempting pick at home this week. They lost their opener, but Terrelle Pryor was more than decent, and they did more things well than poorly. Jacksonville, meanwhile, was completely and utterly hopeless at home — by far the worst team in the league in the opening week. While you can make the argument, actually making the pick would just be getting too fancy for your own good. Jacksonville is likely worst in the league, but Oakland is in the discussion, and to see them lose here would not be a shock.
Denver Broncos
After their all-World performance in the opener, a lot of people are going to be drawn to the Broncos. Don't do it — not here. The Giants lost to the Cowboys to show that they are far from complete. They moved the ball well, though, and scored points. They are also at home, and their QB will be motivated to make a statement against his big brother. Denver is the deserved favorite here, but there will be far better spots to use them — like at home against Oakland next weekend, or at home against Jacksonville on Oct. 13.
Doc's Sports is offering new clients free NFL picks from any handicapper on our Advisory Board. This special offer does not require a credit card, and you will never have to deal with a salesman. Click here to get your free $60 NFL picks credit today.
Read more articles by Trevor Whenham