NFL Survivor Pools Strategy Advice and Predictions: Week 3
by Trevor Whenham - 9/17/2013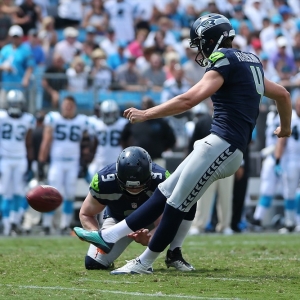 Most times, Survivor Pools are tough. You have to really strategize and very carefully consider what pick is the right one for your circumstance. This is not one of those weeks. Unless you have already used up the Seahawks and Broncos in your pool — and you have made at least one poor pick despite the wins if you have used both — then you are left with a very easy pick. If you have used neither team then the only tough choice is deciding which all-but-certain win you prefer.
The Clear Choices
Seattle vs. Jacksonville - The Jaguars are bad. Really, really bad. They have scored just one touchdown in their two games, and that was basically meaningless because the game was over. Seattle is coming off a very impressive win against the 49ers last week. San Francisco is perhaps the best all-around team in the league. However, in front of a Seattle crowd that was totally out of their minds, they melted. Jacksonville would be far from poised and competent playing in an empty stadium against no opponent. In front of a very strong defense and a very hostile crowd they are going to be completely out of their element. In their opening win the Seahawks showed they can keep their composure when things don't go their way. In their second game they showed how dangerous they can be. This isn't even a fair fight. The spread in this game currently sits at 19.5 points. That just doesn't happen in the NFL, but it is justified here. Seattle is as easy a pick as I ever remember seeing in a Survivor Pool — and I have been playing them for a very long time.
Denver vs. Oakland - This game isn't nearly as attractive as the Seattle game, but in any other week this would be as easy as it gets. The Broncos aren't as good as they have looked in the first two weeks, but that's only because they have looked close to flawless so far. They are a confident, dangerous offensive team that is firing on all cylinders. The best thing you can say about the Raiders is that they have been solidly better than expected. Of course, that's not saying much, and that doesn't mean that they are necessarily particularly good. They have not faced a very good offense yet, never mind one quite like this. They would be outclassed at home, but in Denver they are just in a world of trouble. Denver is a very confident choice here — as the 14.5 point spreads suggests. The biggest reason to use Seattle instead of Denver this week isn't the relative level of competition, though — it's the schedule. Things get tougher for quite a while for Seattle, while the Broncos have a Week 6 game against Jacksonville to look forward to.
The Best of the Rest
While I think it would be a serious mistake to not pick Seattle or Denver if the opportunity exists, there are some other solid options if you can't or for some reason won't pick one of those two.
New England vs. Tampa Bay - After games against the Bills and Jets to open the season, many of you have probably used the Patriots. You probably also have an ulcer because neither of their wins was exactly dominating. The Bucs are in a very bad place right now, and they are playing like a team that just doesn't know what is wrong or how to fix it. The Patriots have health and depth issues, but they are more than capable of exploiting the weaknesses of the Bucs while playing at home. I would feel better if New England was in a better place, but they are a solid pick.
San Francisco vs. Indianapolis - The Niners were embarrassed on Sunday night, and they aren't going to be happy about it. They are a strong home team, and they will be desperate for revenge. They generally bounce back well thanks to the strong coaching, and this is a good matchup for them. Indianapolis isn't as strong as they were last year, and Andrew Luck has yet to be at his sharpest — a trend that will be tough to reverse here against a very good San Francisco defense playing at home. The Niners are well-positioned here.
A Tempting One I'd Ignore
New Orleans vs. Arizona - The Saints are favored by as many as 10 points, but I wouldn't trust them in this spot — not with the other, better options that are available. The Saints are coming off a very pretty good showing in a win against Tampa Bay that was much tougher than it should have been. They are looking better than last year, but I have yet to see a game in which they have been as dangerous as we know they should be able to be. Arizona is 1-1 against a tough schedule and has offensive weapons, a deep defense, and the best coaching they have had in a very long time. New Orleans is a deserved favorite, but it would be far less of a surprise to see an upset here than it would be in any of the other games on this list.
Doc's Sports has been a leader in NFL handicapping for more than 40 years. Now we have a great offer for new clients. Get $60 worth of NFL picks absolutely free. No obligation. Nothing else to buy. You don't even need a credit card. Just click here to get started.
Read more articles by Trevor Whenham