NFL Survivor Pools Strategy Advice and Predictions: Week 7
by Trevor Whenham - 10/14/2013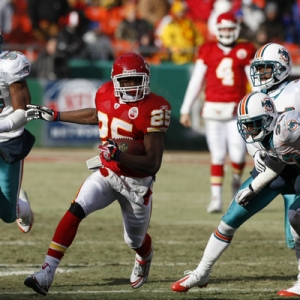 Last week in two different survivor pools I am in, I saw something happen that I really don't remember happening this late in the season before — every single person survived. It's not like they all picked the Broncos, either. There were five different teams picked in the two pools. In general, there are a lot more teams standing at this point in the season than we would normally expect. This week could start to change that, though there are still some reasonably solid picks to be made. Here's how this week's survivor pools action sets up:
The best options
Kansas City vs. Houston
If you had told me before the season started that the most comfortable pick of the Week 7 would be the Chiefs over the Texans, I would have guessed you were high. Yet here we are. The Chiefs are unbeaten through six games because of a solid offense and an exceptional defense. Arrowhead has always been a tough place to play, but now it is as hostile as ever thanks to the success. The coaching is great, and everyone on the organization believes fully in what they are doing. The Texans, meanwhile, are a mess. As we watched them get crushed by the Rams at home on Sunday, it became clear just how deep their troubles run. On top of it all, their already muddy QB situation is even muddier. This is a very tough team to trust, and they are in a brutal spot here. Despite being unbeaten, chances are pretty good that you haven't used the Chiefs in your survivor pool yet. If that's the case, then now is probably the time to change that.
San Diego at Jacksonville
San Diego is coming off a short week and has some issues. Jacksonville is Jacksonville, though. Until the Jaguars prove that they can win a game, it's hard to imagine it happening. They played their best game of the year against the Broncos, but that was still a long way from acceptable — and that including an all-World performance from Justin Blackmon. San Diego is in the driver's seat in this one and would be a very justifiable survivor pool pick.
The best of the rest
Green Bay vs. Cleveland
The Browns have been a good story, but there is one unfortunate-but-undeniable truth emerging here — Brandon Weeden just isn't an NFL QB. He made a couple of just horrifying decisions on Sunday, and he just can't be doing things like that — not at this point in his career. Green Bay has some issues, too, but they are coming off a gutsy road win at Baltimore and have won both of their home games. Aaron Rodgers is going to be able to move the ball, and the home crowd will be a big asset. I would feel better if the Packers weren't so incompetent defensively against the pass, but there are about 28 teams more able to exploit that right now than the Browns. The Packers would be a solid pick.
Miami vs. Buffalo
The Bills are moving slowly in the right direction, and in the long term I like them. Right now, though, they just don't have a QB, and that makes them tough to trust — especially on the road. Miami has been a solid squad this year, and they have had a week off to heal up a bit and to get ready for this game. They are still in decent shape in the division, but they need to keep winning — especially against divisional rivals like this. Miami should be ready and motivated, and they have the tools here to be the better team by a substantial margin. I like the other games on this list better than this one, but the Dolphins would be a solid pick.
One to avoid
Atlanta vs. Tampa Bay
The Falcons are favored by as many as 10 points here, so they will be an attractive pick in the eyes of many. I wouldn't touch them unless they were the last possible option, though. I'm in one fewer pool than I started out in because I made the mistake of trusting Atlanta at home against the Jets. I won't be fooled again. Tampa Bay is lousy, and they seem to hate their coach, but Atlanta could easily find a way to lose this one if they choose to. The Falcons have offensive woes, their defense is suspect, and, most concerning, they just don't seem to care about what is happening to them. They are moving rapidly in the wrong direction. They could easily shake out of their slump, and this game could even be the trigger, but until they start to prove they are what they should be again I certainly wouldn't want to be relying on them.
Sometimes, the best picks are free picks. Doc's Sports will give new clients $60 worth of free NFL picks with absolutely no obligation. You don't even need a credit card to sign up. Just click here and get started today.
Read more articles by Trevor Whenham