NFL Survivor Pools Strategy Advice and Predictions: Week 8
by Trevor Whenham - 10/22/2013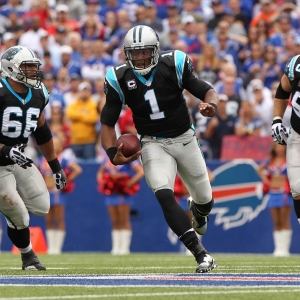 The strange, strange survivor pool season moves on to the next week. For the second straight week it was very tough to get eliminated from a pool because all of the most obvious picks came through as expected. In the pools I play, only a few people were eliminated, and they made poor choices in each case. Sooner or later we are going to see an eliminator week — a series of games that leave a path of carnage behind them. Will this be that week? I'm guessing not, but that's why they play the games.
I am going to assume at this point that pretty much everyone has used the 49ers, Broncos, and Seahawks already and that most people have used the Chiefs. If that isn't the case, though, then there is certainly an opportunity to pick any of those teams. The 49ers have a reasonably easy challenge — only playing in London adds a bit of challenge to facing the hapless Jaguars. Kansas City is at home to Cleveland and should be fine as long as they can resist looking ahead. Denver is favored by almost two touchdowns at home to Washington. As long as they can avoid a post-loss hangover and can contain RGII to some extent, they will win. Seattle plays at St. Louis on Monday night, and the injury of Sam Bradford makes that one much easier than it could have been — and it was going to be a good spot for Seattle no matter what.
Instead, let's look at three games that are more likely to be available for you and are almost as attractive as the four we just talked about:
Carolina Panthers at Tampa Bay Buccaneers (Thursday night): Chances are good you haven't picked Carolina yet, and for the first part of the season they weren't very pickable. They have won three of their last four, though, and they have scored at least 30 points in each of those wins. Cam Newton is playing with more confidence and swagger than he was over the first few games, and the team is playing really solid overall defense. The Bucs, meanwhile, are playing really lousy offense, and the defense has been weaker in the last couple of games than it should be. There is admittedly a risk picking a team that is just 3-3 and only 1-2 on the road. Carolina won their last road game handily in Minnesota, though, and Minnesota is at least as good as Tampa Bay right now. If you want to get your survivor pool action out of the way early so that you can relax for the weekend, this could be just the game for you.
Green Bay Packers at Minnesota Vikings: Did you watch any of that Monday night game this week when the Giants finally broke their winless streak? If you did then you know exactly why this is such a comfortable pick. The Vikings are truly and completely awful right now, and a short week won't help them improve in a hurry. Their QB situation is a total mess, and that means that they are really struggling to move the ball on the ground, too. They have looked really flat and frustrated the last two weeks, and this is not a good spot for them to get back on track. Green Bay has won three in a row and is playing with confidence on offense and real swagger defensively. They have a Top-5 passing offense and are facing a Bottom-5 pass defense, so scoring shouldn't be an issue. Green Bay is a comfortable pick here.
New Orleans Saints vs. Buffalo Bills: The Bills are playing surprisingly tough football recently despite playing far from their first option at quarterback. Mario Williams is finally earning his money, the team doesn't quit, and they are well-coached. As impressive as they have been given the circumstances, though, they are in a very tough spot here. New Orleans is offensively-explosive. They are coming off a very frustrating loss at New England and have had a bye week to let that setback simmer and to get ready for this game. They haven't played at home since the end of September, so the crowd will be as vocal as ever. The Saints are playing solid defense, too, so the Bills should struggle to score. It's just too much for a plucky-but-ultimately-outmatched Buffalo team to overcome. The Saints are the least attractive of these three options because the Bills are the best of the three opponents, but you still wouldn't have to lose a lot of sleep if you picked them.
Doc's Sports is offering new clients free NFL picks from any handicapper on our Advisory Board. This special offer does not require a credit card, and you will never have to deal with a salesman. Click here to get your free $60 NFL picks credit today.
Read more articles by Trevor Whenham