NHL Handicapping: Can Washington Capitals Bounce Back?
by Trevor Whenham - 2/21/2013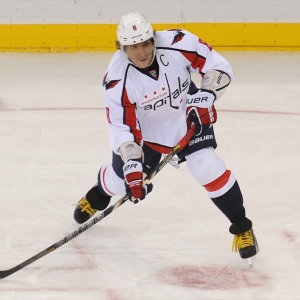 Something is rotten with these Washington Capitals. This is a team that came into last season as the Stanley Cup favorite. The core is largely the same as it was back then, but the wheels have fallen off so badly since then that not only are they at the bottom of the East, but it hardly counts as a surprise. This is a classic case study of how quickly things can turn for good teams when they don't have their chemistry right.
So, are the Capitals really this bad, or can they turn it around? How should bettors deal with them the rest of the way? Let's take a look:
Slight uptick recently
After starting the season an ugly 2-8-1 in their first 11 games, the team is playing slightly better of late, with wins in three of their last four. Two of those wins came against the equally-lousy Panthers, though, so it's hardly inspiring. They are playing a little better than they have been all season, but that's not saying much, and you still can't mistake this for a good team.
Three days off here
The Capitals played — and lost — on Sunday. Since then they have had three days off before a Thursday game against the Devils. That could be a very good thing for this team. With a new coach and no preseason it has been very tough for the team to get on the same page. Time to practice, regroup, and find their form could make a difference for this team. I'm not entirely optimistic that it will, but it's certainly better than playing a lot right now.
Ovechkin MIA
At this point I have no idea what is wrong with Alexander Ovechkin. He is an all-time great talent, but he has been a shadow of himself the last couple of years, and with 10 points in 15 games this year he's on track for not only his worst season, but a totally unremarkable one by any measure. He's exactly 10 years to the day younger than I am, so I'm sure not willing to consider he's washed up at 27. He played much better than he has now in the fall in Europe, so he still has game. He's reasonably healthy, too. It's just all about the attitude. One stat sticks out above all. In 2012 he had 109 points in 72 games, and was +45 on the season — and incredible number. Last year that plummeted to -8, and he is -6 already this year. That means he's not making the physical sacrifices, not committing to play on both ends, and just not making things happen. He doesn't seem to care. Until he starts to this team is in real trouble.
Backstrom MIA, too
Great teams are great often because they have two or more truly elite players leading the way. Bossy and Trottier. Gretzky and Kurri. Lemieux and Jagr. Crosby and Malkin. Toews and Kane. The Capitals should have that with Ovechkin and Backstrom. The latter's productions has slacked off on the same downward curve that Ovechkin's has, though — a clear sign that it is attitude and not something more that is plaguing the players and their team.
Goaltending a disaster
We are in a defensive era in the NHL, so a team absolutely cannot contend without excellent goaltending. At this point, average goaltending would be a massive improvement for this team. Michal Neuvirth is the statistical leader of the tandem, but his 3.05 goals-against average is just 30th in the NHL. Braden Holtby has led the way with nine games played, but his 3.68 GAA and .888 save percentage are just plain brutal. Until the team gets dramatically better in the nets, there is really no hope for a turnaround.
Oates has been a disaster
Adam Oates was a great player. His chemistry with Brett Hull was among the greatest things I have ever seen on ice. As a coach, though, he has been a total disaster. It's hardly his fault, though. He was put into a practically impossible situation here. This is his first head coaching job and his first year with this team. With no preseason he had no time to get the team on his side. The team quit on Bruce Boudreau and got him fired. Then they ate Dale Hunter alive and chased him out of town after just 60 games. Now the team knows they can outlast any coach, and there is no reason Oates can give that he should be any different. It's another hopeless situation for the most frustrating team in the league.
Read more articles by Trevor Whenham